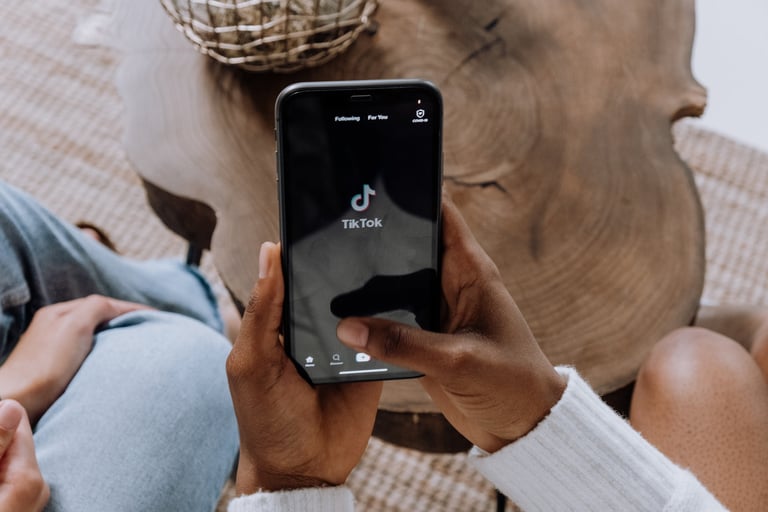 ---
In August 2020, Instagram unveiled what some would say was their response to TikTok's short-form video, Instagram Reels.
Since then, the topic of Instagram Reels vs TikTok continues to be at the forefront of social media marketing. This is due to the fact that using social media platforms - and in particular, video content - to reach audiences has been a valuable component in digital marketing strategies.
It's without a doubt that both social media platforms share similar aspect ratios, editing capabilities, and more. With these similarities, the two platforms are often thought of interchangeably. However, there are some key differences that can impact video marketing results. This includes how users engage with your video posts and overall content.
To best take advantage of social media video marketing, let's first explore the pros and cons of Reels and TikTok and discover which platform is best for your strategy.
Reels vs TikTok: A brief history
Entrepreneurs and young people alike have grown to love TikTok. In 2020, the social media app skyrocketed in popularity, becoming the most downloaded app worldwide with 656 million downloads.
Despite TikTok's more youthful, less polished image, brands continue to show interest in the app. The site is dominated by product-related posts and suggestions. Advertising has a golden opportunity here and marketers are taking notice, raising their TikTok spending by 84%.
As for Instagram Reels, recent Instagram stats show that Reels is one of the platform's most popular features. New Reels features enable marketers to cover all of their bases when it comes to visual content on Instagram, alongside Stories, carousels, and even longer-form video clips.
In the early days of Reels, most brands would simply cross-post their content from TikTok. That quickly changed when Instagram announced that the TikTok watermark would be deprioritized by their algorithm. This has not only reduced direct cross-posting, but it also encouraged brands to reconsider what they should do with Reels in general.
Popular among eCommerce brands, Reels are typically used to show off products in action, highlight collaborators and influencers, and hype up announcements.
What's the difference between Reels and TikTok?
While both platforms have many similarities in how they appear to end-users, there are five key differences that all content creators should be aware of.
Video editing
TikTok has been a trailblazer when it comes to setting trends and propelling users to virality. This is partly due to the platform's creative flexibility when it comes to in-app video editing. As a result of the wide variety of effects and themes available, filters are quite popular on TikTok.
Furthermore, TikTok has many different features that provide creators with many ways to connect their audience with their content. These features range from filters to templates to audios. TikTok's voice effects, voiceover capabilities, and closed-captions seem to perform well for all users. Due to this flexibility, TikTok for marketing may prove to be more useful.
Under the right circumstances, TikTok videos can even inspire systemic change. For example, in 2020, University of Oregon basketball star Sedona Prince created a compelling TikTok showing the women's abysmal weight room at the NCAA DI Women's Basketball Championships in comparison to the men's that went viral and contributed to major change toward equitable resources.
On the other hand, video editing on Instagram Reels can be rather limited. Filters and effects are categorized under the same umbrella, so you're only able to select one to use. This not only limits the creator's creativity but results in less versatile content within minimum variety.
Nonetheless, although effects are limited, they are generally more polished and professional. Instagram has always been about image and presentation, and they take this further by allowing users to upload a separate thumbnail photo for a video. Meanwhile, TikTok limits you to only a frame from the video itself for your thumbnail.
When it comes to in-app editing, TikTok reigns supreme. Users can add virtually limitless filters, custom audio, and more without any additional software. Although Reels offers fewer editing capabilities, its filters look sleek and professional, lending your brand a more sophisticated image.
Video Length
While both platforms are centered around short-form video, there is a slight difference in video length options.
TikTok once was limited to just 15 to 30-second videos. Now, they offer the ability to record 10-minute videos with a 3-minute interval option as a plus. The video length allotted by TikTok may feel short compared to the 30-second maximum on Instagram Reels.
However, the length of your video may be determined by your target audience. TikTok's audience is, predictably, younger.
Statista reports that nearly half of all platform users are under the age of 30, with 25% under the age of 20. Reels, on the other hand, has a wider range of users.
According to research, teenagers account for a smaller proportion of users, while nearly half of all users are between the ages of 25 and 44. Let's not forget the 2.3 percent of Reels users who are 65 or older.
In addition to your target audience, it's worth considering the type of content you're producing. Is this a product demonstration or a product review video? Depending on the type of video content you want to create, the difference between shorter and longer videos may be significant.
TikTok is unquestionably the best platform for connecting with Generation Z. It provides a captive audience ideal for organic brand building. However, Reels are an excellent choice when you want to reach a more mature audience with higher purchasing power.
Audio and music
TikTok and Reels both provide a wide range of audio options that can elevate your short videos to the next level. Of course, there are differences that contribute to the Reels vs TikTok debate.
While Reels has succeeded in providing a diverse range of audio options, it pales in comparison to TikTok's vast library. TikTok gives users access to music libraries and even highlights trending audio, so content creators can try their luck at going viral.
Furthermore, TikTok has demonstrated its ability to provide indie artists with a platform to promote their own music. Users are also constantly creating and uploading new sounds, which can spark new trends. You have a variety of options, whether it's music or a humorous sound effect created by another TikTok user.
Reels take a different approach because copyright protection is more important to the Facebook family of brands. Instead of TikTok's massive database, you get a more manageable library of royalty-free music in your videos. You can also upload your own voiceover or sound effects.
If audio or music is an important part of the content you want to create for social media video marketing, you should go with TikTok.
Sponsorship and ads
Both platforms are rolling out new ad features, and rightfully so. Many social media marketers and influencers have probably noticed how popular short videos are for ad revenue. While Instagram has a leg up on TikTok in the eCommerce space, TikTok isn't far behind.
TikTok puts a much greater emphasis on creator-based ads and campaigns versus Instagram's more traditional, "shoppable" ads via Reels. TikTok's appeal to Gen Z and Millennials stems in part from its ease of becoming a monetized influencer.
Although small businesses do not use TikTok advertisements as frequently as other social media platforms, the platform does provide paid advertising options. TikTok has a plethora of paid promotional options for businesses and influencers on the platform including In-Feed Ads, TopView, Brand Takeovers, Branded Challenges, and Branded Effects.
On the other hand, Instagram Reels ads are a new type of ad placement on the platform. Ads are now supported in the Reels tab, the Explore page, and your Feed once a user taps into the Reels scroll.
With the variety of ways, Reels appear to Instagram users — particularly in areas where people who don't follow your brand live — your company has the opportunity to reach new audiences all over the world.
Using influencers and brand ambassadors
Paying an influencer to promote your brand provides a captive audience with a high level of loyalty. Fans respond to paid posts when it comes from a trusted source, like a favorite athlete or musician.
It's easier for sponsored posts to go viral on TikTok because it doesn't require fans to repost content. Alternatively, a Reels video must connect with fans on a deep level to inspire them to repost.
Athlete influencers tend to have a strong relationship with their fans, making them a great option for brands. For example, American football player Lois Cook garnered more than 13,000 views on a TikTok video promoting a helmet with an upside-down visor. Fans genuinely care about her opinion, driving sales for the helmet.
Even if you're company has no presence on either TikTok or Instagram, brand ambassadors and influencers can still get high-impact awareness through strategic posts.
Analytics
When it comes to social media marketing, keeping track of analytics is essential to determining success and ROIs.
Instagram users previously had to rely on general Instagram analytics, however, the platform has now rolled out Reels-specific data and insights. This covers metrics such as plays, interactions, reach, "likes", comments, and saves.
TikTok analytics tracks both the overall profile and individual video performance. This includes big-picture metrics like total playtime, average watch time, and geolocation. TikTok also shows you Sounds your followers listened to, which can help you decide what Sound to use next.
Ultimately, TikTok offers more advanced metrics that can help you pinpoint your target audience and replicate successful campaigns. However, Instagram's recent update provides Reels-specific data that helps marketers better understand previous campaigns.
Find the best video marketing platform for your brand
If you're still not sure which platform is best for your social media strategy, we recommend trying both! Both TikTok's rapid growth and the popularity of Reels signal the importance of short-form video moving forward. Given their similarities, you can easily take your original video and edit it on the respective platforms. It doesn't hurt to test your content on both platforms and see which one performs better.
Analyze what your goals are and who you're trying to reach, and determine which platform is best for your business.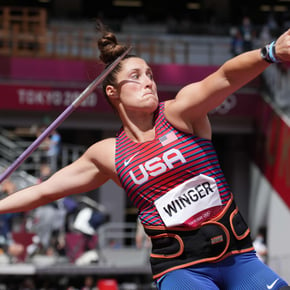 Kara Winger
Kara Winger is a four-time Olympian in the javelin, as well as a World Championships medalist and the current American record holder. She completed her final season as a professional athlete ranked #1 in the world (2022). She works at Parity as Senior Director, Integrated Marketing.