 ---
Women's sports - both professional and collegiate - are experiencing all-time high viewership and new levels of fan engagement.
According to Twitter, there has been a 30% increase in conversation about female sports leagues in the last year alone. Forecasters predict a massive increase in the popularity of women's sports, and brands are lining up to score lucrative deals with current and prospective stars. These endorsements are mutually beneficial for brands and female athlete influencers alike.
Women athletes can play the marketing game, too
As women athletes get more mainstream attention and acclaim, they also begin to command bigger compensation both as players and influencers. Despite this, most female athletes earn significantly less than their male counterparts. For example, this season the average NBA player will earn roughly $5.4 million in basic salary, while WNBA players will earn about $120,600. That's 44 times more. Although there are many contributing factors to this, including that the WNBA season consists of fewer games (36) than the NBA season (82), the disparity in pay is still atrocious.
This lack of equal pay has inspired many women sports stars to form partnerships with leading brands to supplement their income. Sports fans are notoriously loyal, giving women athlete influencers remarkable marketing power when it comes to recommendations and endorsements. Brands are competing to sign contracts with women sports influencers like Serena Williams, Suni Lee, and Simone Biles.
5 Benefits of partnering with women athlete influencers
1. Gain consumer trust
Companies around the world are increasingly reliant on influencer marketing as younger generations remain skeptical of traditional advertisements. In fact, over half of audiences of all ages trust influencer marketing, according to Nielsen.
In the sports world, 66% of people trust sponsorships from the athletic events they watch. Marketing women athletes offers a great opportunity to connect with consumers on a deeper level and prove that your company genuinely cares about equity.
2. Expand your audience
Marketers who cast a wide net will inevitably attract a larger swath of the population and boost sales in the process. For example, brands Adidas and Nissan have partnered with beloved tennis star Naomi Osaka. This not only gave them access to the Japanese market (Osaka competed for Japan at the 2020 Tokyo Olympic Games) but also made a global impression since 40% of Osaka's fanbase is in the United States.
Bear in mind that "sports" is a broad term that includes e-sports and gaming. Female gamers are an often neglected demographic, despite the fact that they make up 46% of all gamers in the United States and 40-45% of the Asian gaming community. Companies that can address this market, or similarly underrepresented markets, will be well-positioned to earn goodwill from the public and create a strong brand image.
When it comes to fan engagement, women sports influencers boast higher numbers than other public figures. According to Nielsen, the top ten most influential women gamers have an engagement rate of around 11.7% on promoted posts. That is nearly three times the amount for celebrities with a similar number of followers.
3. Be seen as a changemaker
Although 54% of customers expect brands to take a stance on social issues, it's up to each individual business to decide whether or not it should make a statement on a particular topic. Partnering with outspoken athletes can deepen connections to your target audiences by tying your company to meaningful causes through association.
Ultimately, athlete partnerships that center on vital social issues are a great way to stay relevant and inspire your customer base. Sports stars have huge platforms through which they can share their personal beliefs and struggles with their fans. As examples, Michael Phelps, Simone Biles, and Cari Rocarro have used their platforms to tout the importance of mental health—especially in high-pressure and competitive environments. Allyson Felix has used her stardom to bring more attention to Black maternal health issues. Angel City FC captain Ali Riley created a cooking show to showcase her passion for food and eating more sustainably.
4. Reach growing fanbases
Over the course of a season, prominent athletes have dozens, if not more, of built-in media opportunities. From games, to press conferences, and lifestyle interviews, women sports influencers are building fan loyalty even when they're not actively playing.
Many athletes use this momentum to gain substantial social media followings and lucrative athlete partnerships. With increased consumer interest, athletes can dramatize their life—confiding in their fans through injuries, transfers, tournaments, and more.
When women sports influencers develop a successful athlete partnership, supporters are predisposed to consider their recommendations seriously.
5. Increase revenue and engagement levels
Even athletes with relatively small social media followings still boast high engagement rates. Influencers with one to five thousand followers, called micro-influencers, managed an engagement level of 5%, compared to an average rate of 0.56%.
It's no surprise that companies are flocking to women athlete influencers, given that athletes with even moderate popularity have nearly ten times the fan engagement as everyday users. A recent Influence Marketing Hub report indicated that every dollar invested in influencer marketing resulted in an average $5.38 ROI. Some campaigns even managed to make $18 for every dollar spent.
Create a mutually beneficial partnership with women athlete influencers
As younger generations turn away from legacy media like television, radio, and print ads, marketers are getting creative to hold their attention. Social media influencer marketing is a powerful tool to get traction and build trust across demographics.
Women's sports leagues are on the rise and forward-thinking companies are forming partnerships with leading female athlete influencers. Not only does this create a positive brand image for your business, but it also provides a proven return on investment.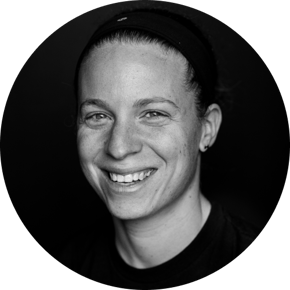 Alana Casner
Alana Casner works at Parity as Vice President of Content & Strategy. Her background includes 15 years of content creation and digital partnership experience. Prior to joining Parity in 2021, she served as Director of Creative Strategy at The Players' Tribune, a role in which she focused on cornerstone activism initiatives like women in sport, LGBTQIA+, mental health and more. As a multi-sport collegiate athlete while at Pomona College, she competed as starting point guard and also in Track and Field.