Updated February 16, 2023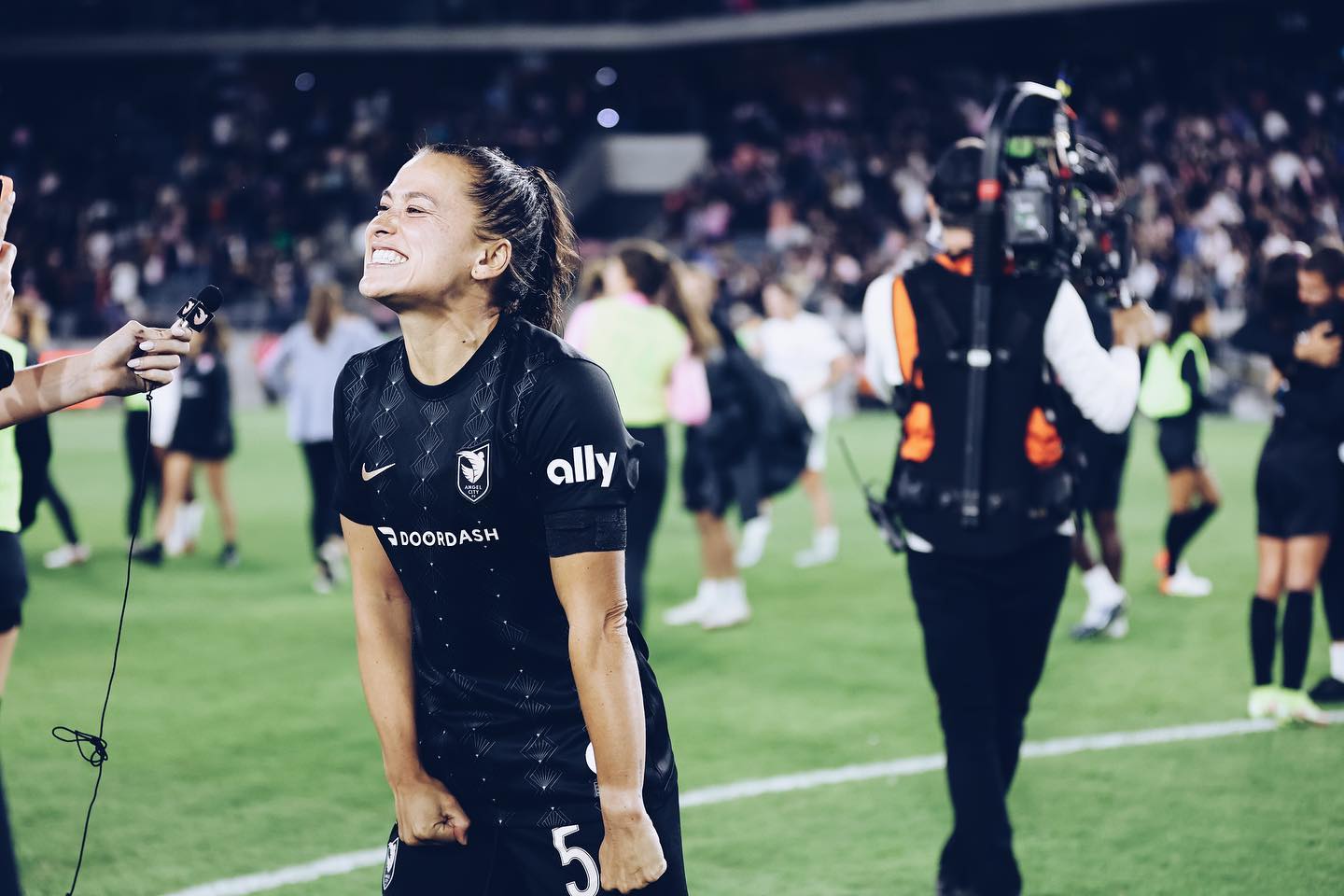 Angel City FC Captain Ali Riley speaks with media post-game at Banc of California Stadium. (Ali Riley Instagram)
Within the past few years, have you made any changes to your typical grocery list? Maybe you've swapped cow's milk for cartons of oat, or ordered a latte with coconut milk rather than whole. Other days, you might toss a block of extra-firm tofu into your shopping cart, or put away items at the sight of ingredients you can't pronounce.
"Veganism" is a major buzzword that has risen to popularity in the wellness industry, defined as a lifestyle where all products derived from animals must be omitted from one's diet, cosmetics collection, wardrobe — everything.
Those who aren't ready to give up butter or eggs completely can still abide by a mostly plant-based diet. There, the primary focus is on the consumption of vegetables, fruits, nuts, seeds, and whole grains. Less processed, more whole food.
Nowadays you can find a plethora of vegan or plant-based food alternatives in most supermarkets. Restaurants, too – even Cracker Barrel introduced Impossible Burger breakfast sausages.
The increased accessibility of vegan products has made it far easier for people to take their own approach to veganism, and it shows — in 2021, the global plant-based food market was valued at a whopping

$40.2 billion

!
Brands such as No Cow have responded to the opportunity with an extensive variety of protein products based on their vegan, soy-free, and low-sugar formulations.
These plant-based protein options are becoming an overwhelmingly popular choice among athletes, both elite and recreational. Even those that don't adhere to a plant-based diet are open to products boasting high-quality protein in order to build and maintain muscle.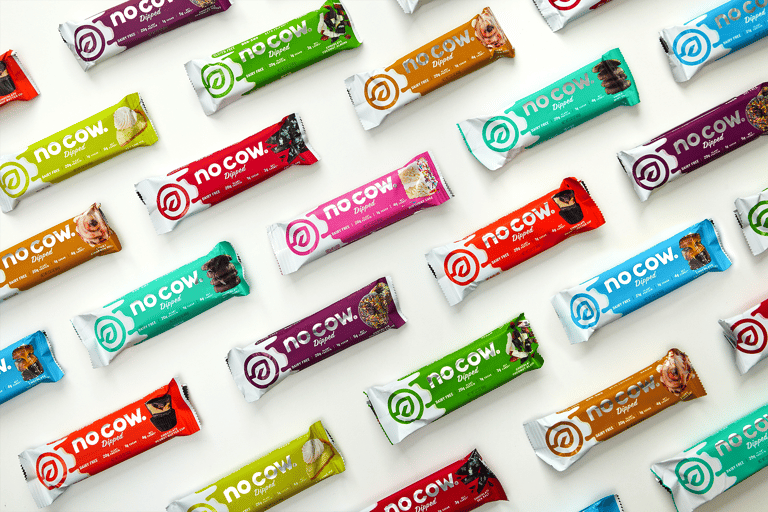 No Cow boasts a variety of protein bars and powders with low sugar and zero dairy, gluten, or GMOs. (No Cow)
Whether it's for taste, health, ethical, or environmental reasons, more people than ever are interested in consuming plant-based products. People around the world are increasingly interested in taking better care of themselves, and that's reflected in the now $1.5 trillion global health and wellness market.
---
To learn more about the nuances of choosing a specific diet as an elite athlete, we spoke with the Captain for both the New Zealand national team and NWSL's Angel City FC, Ali Riley, about her experience as a certified health coach, self-proclaimed flexitarian, and future vegan cookbook co-author!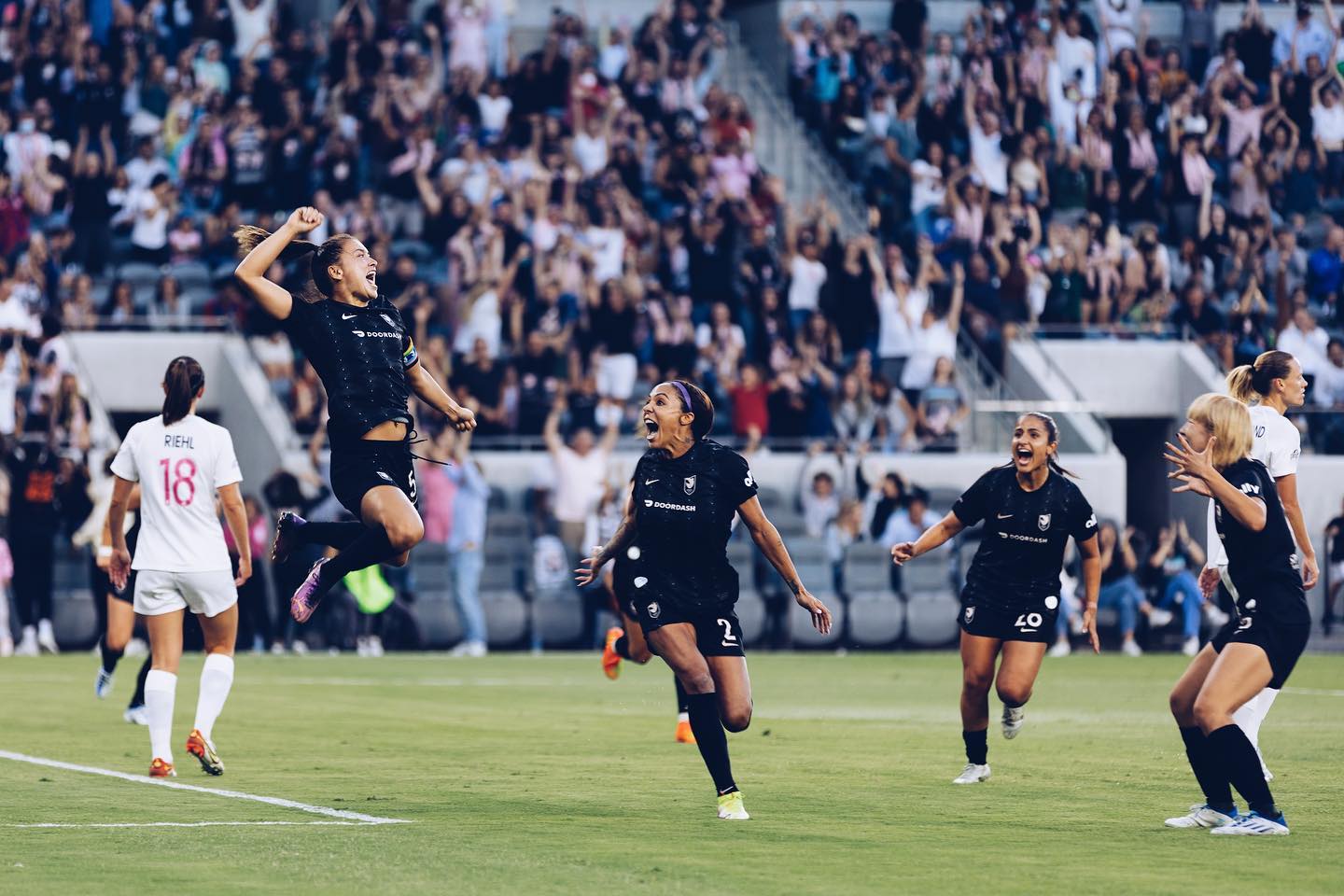 Riley celebrates with Angel City FC teammates (L-R) Sydney Leroux, Lily Nabet, and Jun Endo. (Instagram: Ali Riley)
Riley's plant-based lifestyle began when she was drafted to play soccer in Sweden post-college graduation. It was the first time she had lived alone, and she found herself in the grocery store struggling to decipher the food labels.
"Everything was in a foreign language! But, it was the first time I thought about what I was putting in my body and why."
That initial curiosity blossomed when she returned to the States and joined the NWSL's Orlando Pride where she met teammates Toni Pressley and Marta, both of whom happened to be vegan.
"[Toni] was the first close friend that I had who was really informed and passionate about eating plant-based.

She's strong, athletic, and not what I pictured a vegan to be,

which I imagined to be really skinny and weak, someone who maybe didn't get enough iron.
I started to explore a little bit more into elite, professional athletes who are vegan and they didn't fit the stereotype I had in my head at all."
With more research, Riley stumbled upon "flexitarianism" — a diet that encourages eating mostly plant-based foods, while allowing animal products in moderation or by choice. Riley's approach to flexitarianism allows her to hold on to the recipes and meals she feels are a core part of her identity.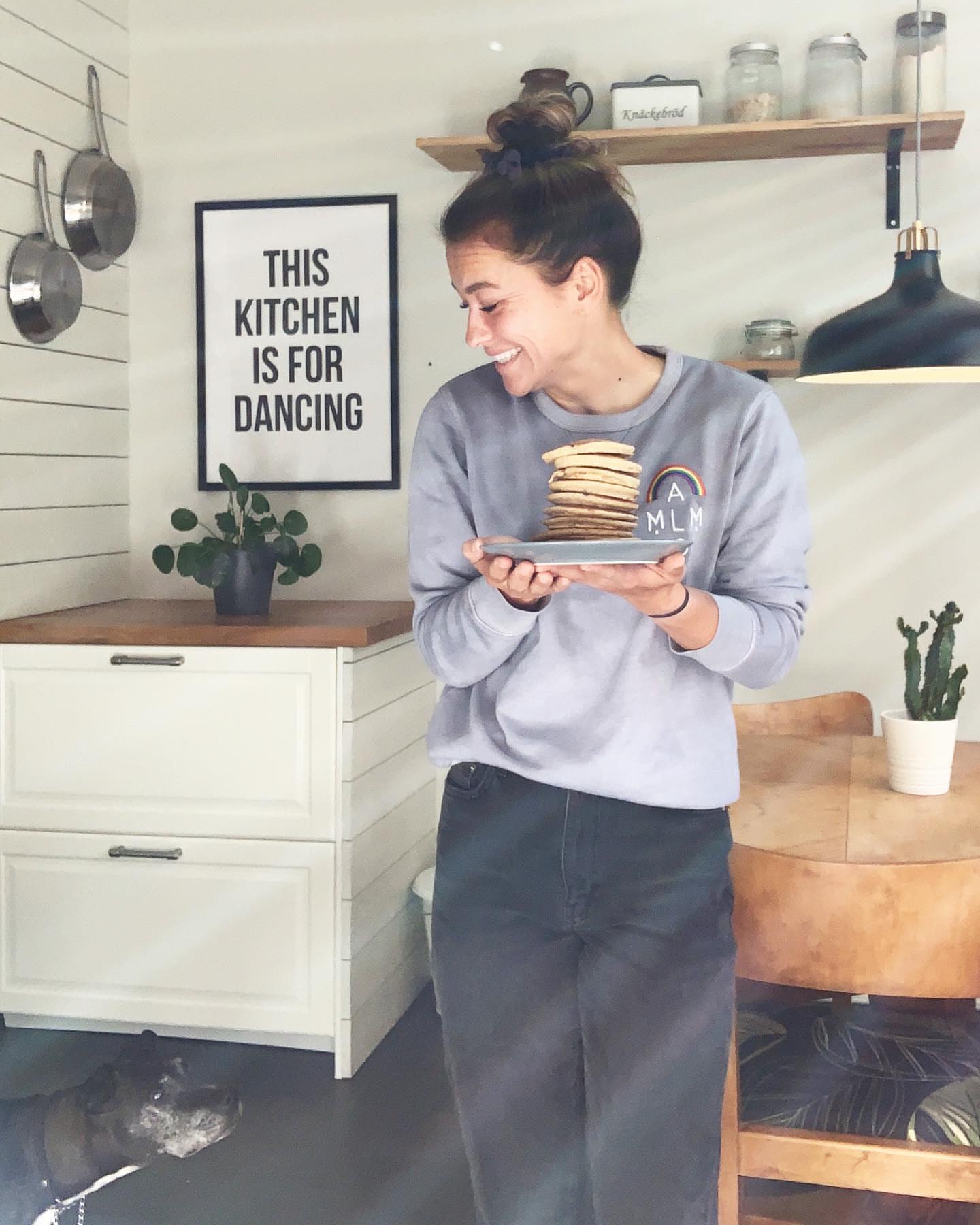 Riley tests recipes while living in Sweden in 2020. (Ali Riley Instagram)
"I don't buy meat or cook meat at home, but if I were to go to your house for dinner and you were to cook me your favorite dish, I would eat it, and I would be so happy for such an amazing, connected experience."
"Char siu bao is one of my favorite foods in the entire world, and it reminds me of going to dim sum with my grandparents who have since passed," she continued. "I don't want to give up something like that. For me, that's where being a flexitarian comes in."
These connected experiences include taking in the culture of places she's traveled to for tournaments through food. As a three-time Olympian with four FIFA World Cup appearances, Ali has explored the world a few times over. She's touched down in places like New Caledonia, Russia, and Papua New Guinea. Sometimes, the only vegetarian option offered the night before a game might be a salad — in those moments, Riley would eat the chicken for dinner.
Besides the flexibility that this lifestyle allows her, Riley feels that consuming fewer animal products has improved her quality of sleep, digestion, and recovery on a daily basis. She feels "lighter without feeling weaker."
These experiences were the main motivation behind the Girls Gone Veg brand, which she and former teammate Toni created together and plan to turn into a cookbook next year.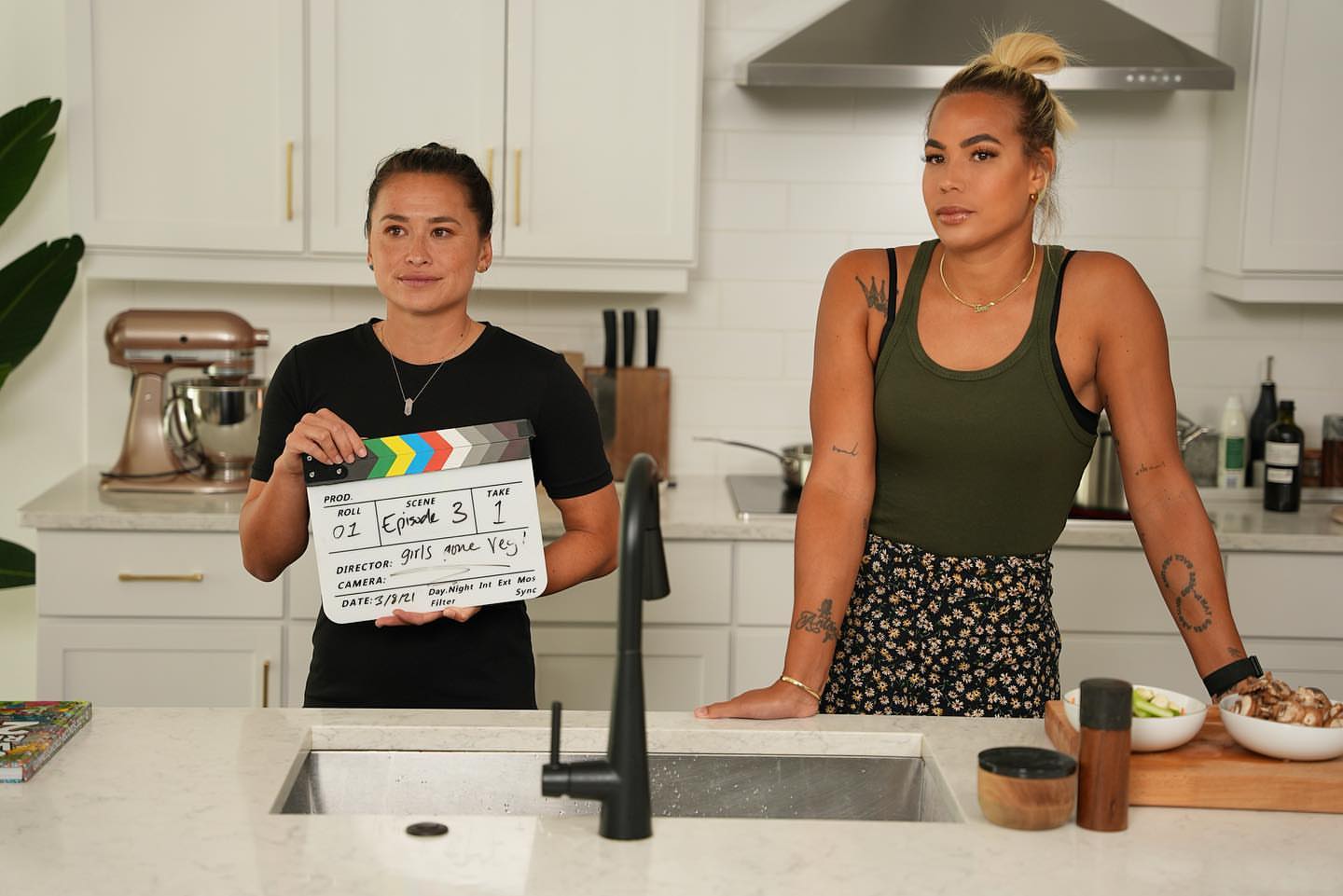 Riley and We Are Girls Gone Veg co-creator and former Orlando Pride teammate, Toni Pressley. (Toni Pressley Instagram)
Several brands have also jumped on the flexitarian bandwagon in an attempt to appeal to the growing variety of "trendy" specialty nutrition choices – such as vegan, paleo, and keto, as examples. The New Primal creates organic and food-sensitivity products that authentically connect with multiple audiences.
As for Riley and her cookbook, currently slated for 2023, she says that "Whether you're 100% vegan, or if you're just thinking about adding a meatless Monday into your week, or if you have a friend who's vegan that you want to be able to bake cookies for — this cookbook will be for everyone. It's not super strict and it's genuinely how we eat."
More importantly, Riley hopes to shine a light on a lesser-known disparity in the sports world.
"For me and Toni, we're selling this cookbook for so many reasons, but one of them is that it's an additional source of income since we're not at the same place as male athletes are."
What's so different with having women athletes write cookbooks is that for the most part, we cook for ourselves," she continued. "I know a lot of the top male athletes have their partners or other chefs helping them out in the kitchen. Meanwhile, we're hustling. I think in that respect, our cookbook also shows the darker, unfortunate reality that women athletes live in."
Even with the additional work, Riley recognizes the privilege in being able to choose her dietary restrictions and that not everyone has access to specialty or pricier plant-based products. Inexpensive items such as beans, rice, and in-season produce can be much more affordable than processed meat substitutes.
The environmental impact that consuming less meat has on the planet is another motivating factor.
"Knowing that I'm helping the environment, not hurting animals, and putting amazing nutrients into my body... it makes me feel good when I have that kind of energy."
When she isn't cooking, Riley enjoys using plant-based substitutes in her baking as well. "I have a black bean fudge and a black bean brownie recipe, but I've been using the big, super big white beans, and they have such a mild flavor and one of the white beans has even more protein than chickpeas."
With more than 72K followers on Instagram, the certified health coach is influencing tens of thousands with positive eating habits and fueling bodies to perform at their best.
"That's my priority - to make other people feel good, make an impact in the community, and try to make the world a better place.

When I fuel my body in the right way I have more energy to do that."
Here are some of Ali Riley's favorite plant-based substitutes for grocery staples:
Ripple Milk

Oatly oat milk & cream cheese

Violife cheddar shreds

JUSTEgg in a scramble with cauliflower rice
You can follow Ali's culinary and athletic adventures on Instagram at @rileythree.
---
We work with brands big and small to engage their target audiences, utilizing our 750+ athlete roster to develop impactful influencer campaigns. Schedule a chat with our sales team today!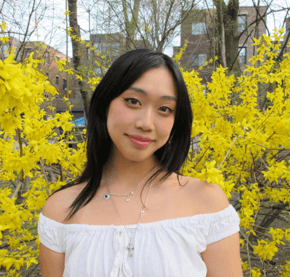 Emmy Ma
Emmy Ma works as a Content Intern at Parity. She has been involved with the company since 2021, not long after retiring from professional figure skating at age 20. During her athletic career, she represented both Taiwan and Team USA at international events. She graduated from Boston University in 2022 with a B.A. in Advertising and a minor in Psychology.