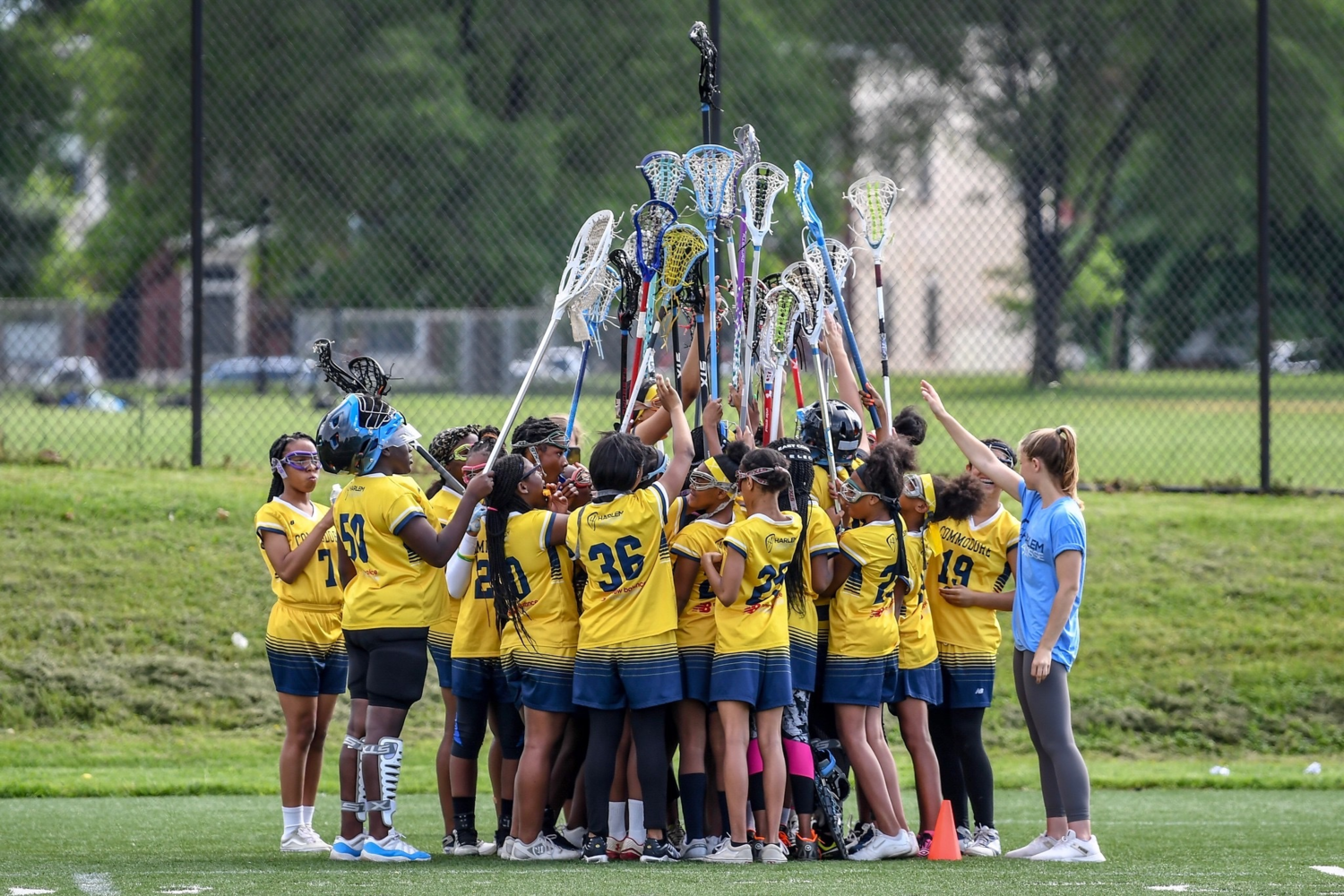 Photo credit: Harlem Lacrosse
Thursday, June 23, 2022, marks the 50th anniversary of the passage of Title IX, which states: "No person in the United States shall, on the basis of sex, be excluded from participation in, be denied the benefits of, or be subjected to discrimination under any education program or activity receiving Federal financial assistance."
Since the historic legislation's passing in 1972, we've seen the ripple effects of allocating more resources to women's sports including the creation of the WNBA, inclusion of women in major sporting events such as the Boston Marathon, and younger generations of sports fans with women athletes to look up to.
Despite all of this incredible progress, Title IX still doesn't hold the same standard of quality for facilities and funding for women's tournaments.
According to the Women's Sports Foundation, in 2019-20,

only 30% of the $241,400,778 allocated to recruiting athletic talent was spent on female athletes

— that's $166 million more for male athletes!

When it comes to scholarships, "if athletic departments offered athletic opportunities to female athletes proportional to enrollment, they would have had to

award an additional $750 million in athletic scholarship assistance."
But what about the National Collegiate Athletic Association? The NCAA, a multi-million dollar nonprofit charged with upholding integrity and fairness in collegiate athletics, is in fact not legally responsible for upholding Title IX. In 1999, the Supreme Court ruled that while NCAA member schools receive federal funds, the association's receipt of dues makes the organization itself not subject to the same law.
A prime example of this is the now-viral Tik Tok posted by Sedona Prince that showed the abysmal weight "room" provided for women compared to men at the 2021 NCAA DI Basketball March Madness Tournament. The list of inequities for the women's teams didn't stop there-- they were offered lower quality meals, smaller branding on courts, restriction of the use of the term "March Madness" to the men's tournament, and uneven access to outdoor space and COVID-19 testing.
This triggered NCAA authorities to perform a gender equity report that stated much of what we already know: "Gender disparities in the NCAA championships stem from the structure and culture of the NCAA itself" (NCAA).
---
Parity athletes weigh in
To learn more about the impact Title IX on current and former collegiate athletes, we surveyed nearly 40 Parity athletes on their experiences. Respondents represent a variety of sports including basketball, track and field, softball, and more.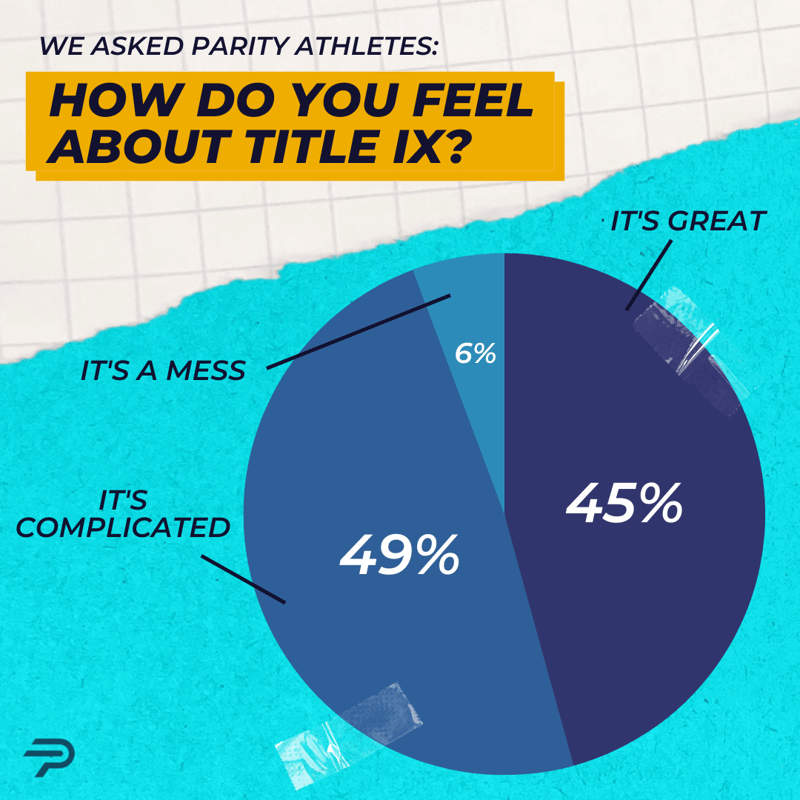 The majority responded that Title IX positively impacted their lives by giving them athletic scholarships up to the Division 1 level, mental health support, and opportunities to compete professionally during and after college.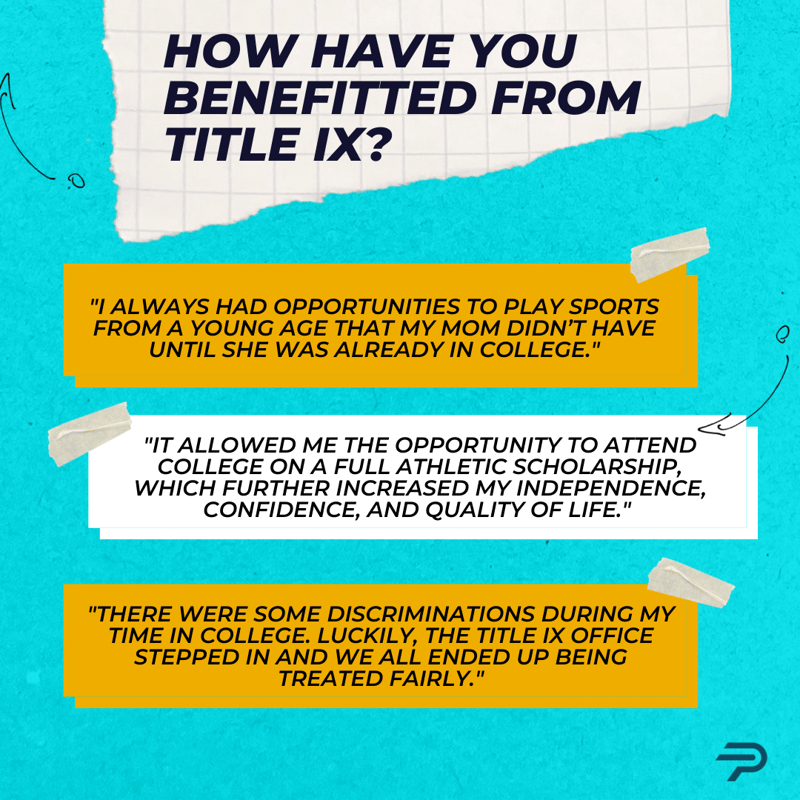 While the law allows women the right to pursue their athletic dreams and get paid to do it, some pieces of the puzzle are still missing. One athlete was surprised to find that " athletic departments don't have to spend the same amount of money on men's and women's programs — just a proportional amount."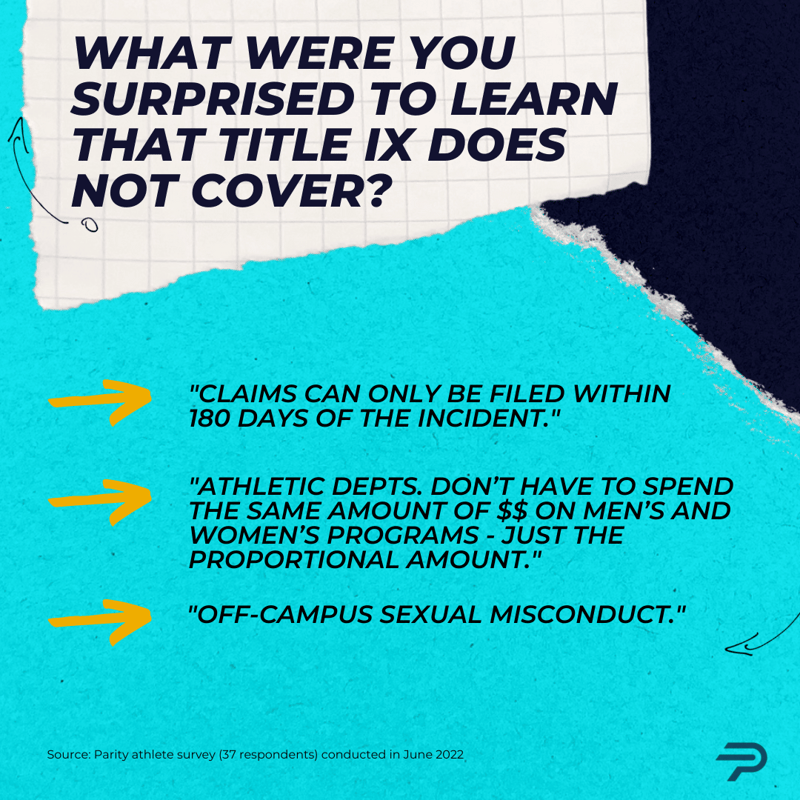 Others revealed that Title IX does not protect cases of off-campus sexual misconduct and athletes not yet in high school. In addition, athletes talked about restrictions in Title IX, stating that "claims can only be filed within 180 days of the incident" and the "potential for both male and female sports to be eliminated from schools."
As women's sports become more profitable and popular, even being identified as the current (and future!) greatest growth area in the American sports industry, it's obvious that merely offering women the ability to compete is not enough.
At Parity, we're working with our vast community of 750+ women athletes to provide them with the pay they deserve through meaningful partnership opportunities. With our platform, we strive to bring more awareness to these disparities and propel the intentions of Title IX forward.
As part of our efforts, we've partnered with Demand IX to encourage all to sign a pledge to fight until the full promise of Title IX is real. Learn more and make the commitment here.
---
We work with brands big and small to engage their target audiences, utilizing our 750+ athlete roster to develop impactful influencer campaigns. Schedule a chat with our sales team today!
---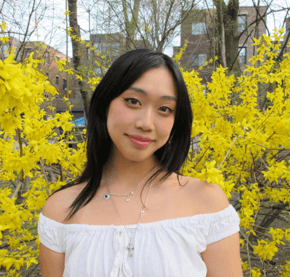 Emmy Ma
Emmy Ma works as a Content Intern at Parity. She has been involved with the company since 2021, not long after retiring from professional figure skating at age 20. During her athletic career, she represented both Taiwan and Team USA at international events. She graduated from Boston University in 2022 with a B.A. in Advertising and a minor in Psychology.