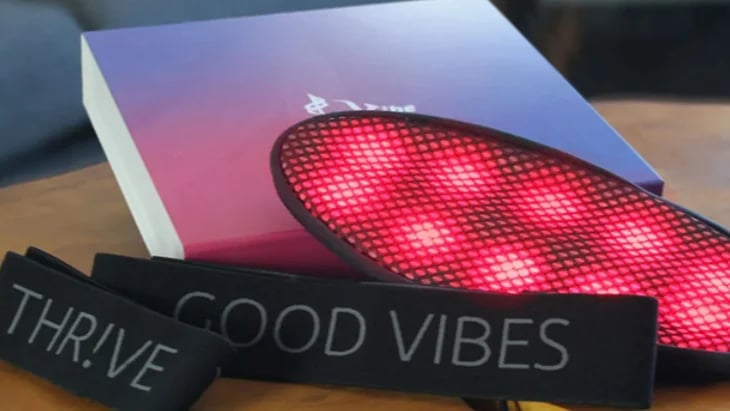 The fitness tech market is growing exponentially and the number of products, brands, and options to choose from can be overwhelming. Read on to learn more about the industry and how athlete testimonials can set a brand apart from the rest to boost reach, authenticity, and client loyalty.
---
The global obsession with movement and health during the pandemic has been matched by a vast array of tech products made to support anyone's fitness goals—whether you're a professional athlete or still working from home.
Given the high demand, fitness tech is rapidly advancing to improve the amount, accuracy, and reliability of the data with which people can quantify and analyze their latest workouts with, while other products exist to support quicker recovery.
The increased availability of information—including heart rate, oxygenation, movement, sleep, and beyond—has given coaches, trainers, and athletes the opportunity to make "data-driven decisions to perfect their training quality, avoid injuries, and improve physical and psychological shape."
In 2022, wearable fitness tech was named the top fitness trend, and it shows — consumers are expected to spend over $90 billion on wearable fitness technology like smartwatches, heart rate monitors, and GPS tracking devices by the end of the year.
The Apple Watch is one of the leading smartwatches that also serves as a powerful fitness tracker that collects more information than just steps taken or calories burned. Metrics like blood oxygen levels and body temperature for menstrual cycle tracking are built into the device.

At the 2020 Tokyo Olympic Games, the Australian swimming team utilized Apple Watch technology to maximize their training to win 21 medals, nine of which were gold.
More people have become aware of the importance of recovery as a crucial component of fitness as sustainable approaches to a healthy lifestyle have reached the mainstream.
The WHOOP band is another fitness tracker that is focused on supporting the user's sleep and recovery, rather than calories burned or intense physical exertion.

The band presents three numbers for users each day: 1) Strain, which is accumulated through workouts and non-exercise activity thermogenesis, 2) Recovery, informing users how much strain they should put out for peak performance, and 3) Sleep, measuring the amount and quality of z's the user had that night.
RELATED: The financial and mental costs of recovery as a pro athlete
"The data and guidance for sleep, recovery, and training is invaluable," nurse and CrossFitter Olivia Tompkins said in an Insider interview. "It brought balance to my life and an understanding of how the conditions of your body change every day. It tells me what my body is ready for, how much strain I can take so no workout is wasted… my training has hugely benefited—I've had no injuries since."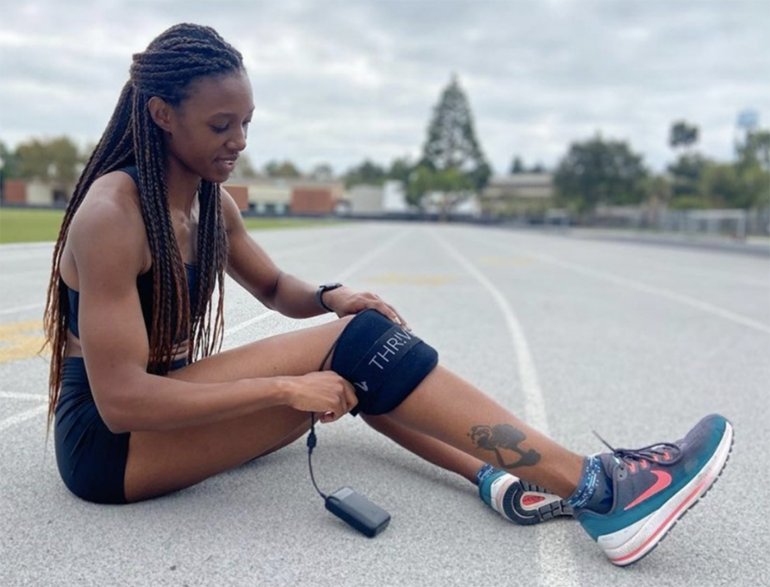 Pro track and field athlete Jaide Stepter Baynes for DNA Vibe
In addition to tracking recovery for training purposes, tools like DNA Vibe's Jazz Band use proprietary Intelligent Light Technology to increase blood flow and oxygen flow, reduce inflammation, increase the production of ATP (a naturally occurring compound in the body that fuels increased cellular energy and vitality), and stimulate the synthesis of amino acids and proteins.
We spoke with Parity weightlifter, CPA, and mother of two, Kristi Brewer about how she has incorporated DNA Vibe's Jazz Band into her busy lifestyle.
"Everyone can benefit from sleep, nutrition, and hydration, but the reason I like DNA Vibe is because I can use it while I'm working, coaching, driving. The biggest benefit is its wearability of it. The power pack allowed me to move around."
"There's a small heat component because of the red light, so the heat warms up the muscles and there's also a small volting. That's the immediate effect. But it's definitely not a quick fix, which I'm not a fan of anyway. Using it consistently over time was when I would notice more muscle recovery. I would usually get up from my desk feeling stiff, but if I was using the Jazz Band, my muscles would be warm and relaxed."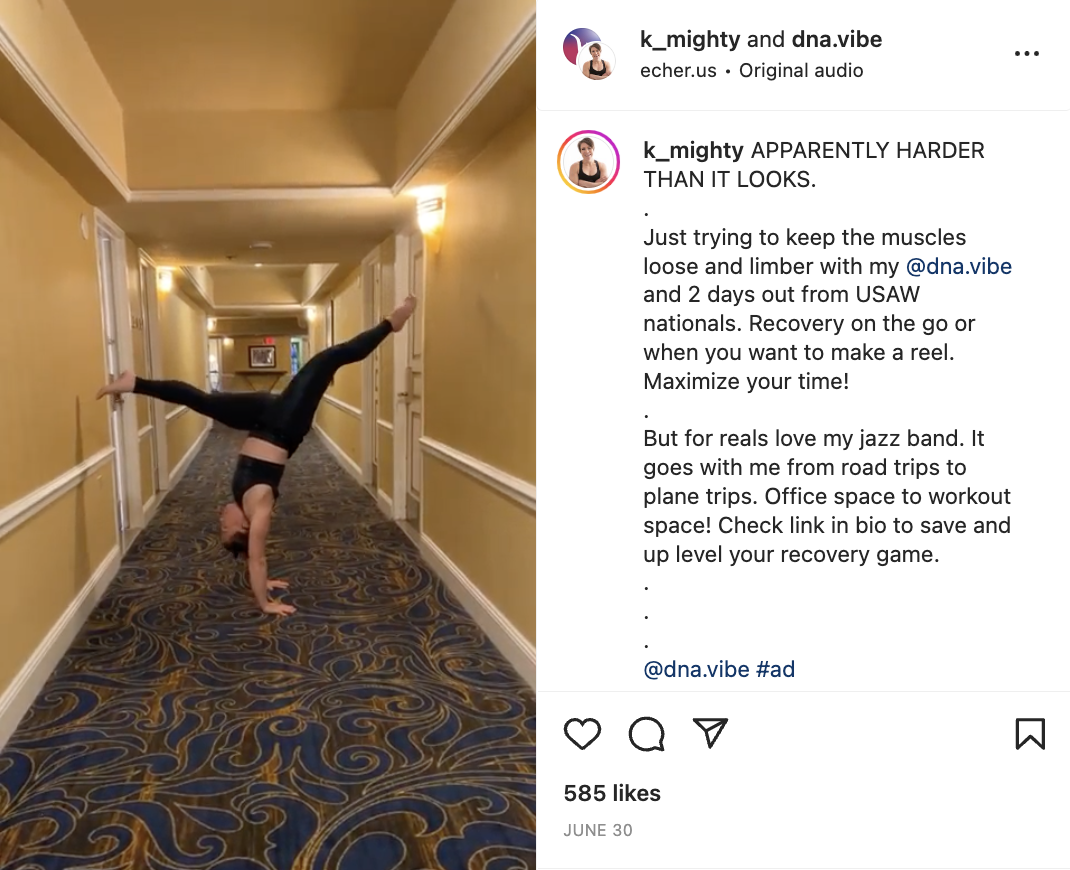 Screenshot from Kristi Brewer's Instagram ad campaign for DNA Vibe
A detailed testimonial from an aspirational customer, such as a professional athlete, can go a long way toward building more brand trust and sales leads. Specifically, using video to demonstrate a brand's effectiveness has proven to be 35% more likely to result in sales than static imagery alone.
When you hear stats like 84% of consumers trust online reviews as much as personal recommendations or that testimonials can increase conversions on sales pages by 34%, it's hard to doubt the effectiveness.
Authentic testimonials from elite women athletes for your fitness tech brand are an incredible way for your company to differentiate and establish credibility amidst the ever-growing wearables market. Their positive feedback is as powerful as it is versatile and can be quoted in all sorts of marketing campaigns with less overall content creation needed.
Read more about how women athlete influencers can help you connect with your audience and change your brand's marketing strategy here.
---
Follow Parity on Instagram, LinkedIn, Twitter, Facebook, and TikTok to stay up-to-date on news surrounding elite women athletes and sports marketing.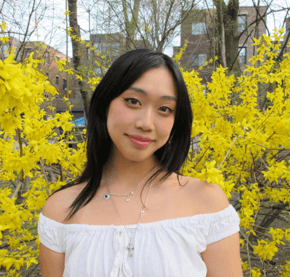 Emmy Ma
Emmy Ma works as a Content Intern at Parity. She has been involved with the company since 2021, not long after retiring from professional figure skating at age 20. During her athletic career, she represented both Taiwan and Team USA at international events. She graduated from Boston University in 2022 with a B.A. in Advertising and a minor in Psychology.