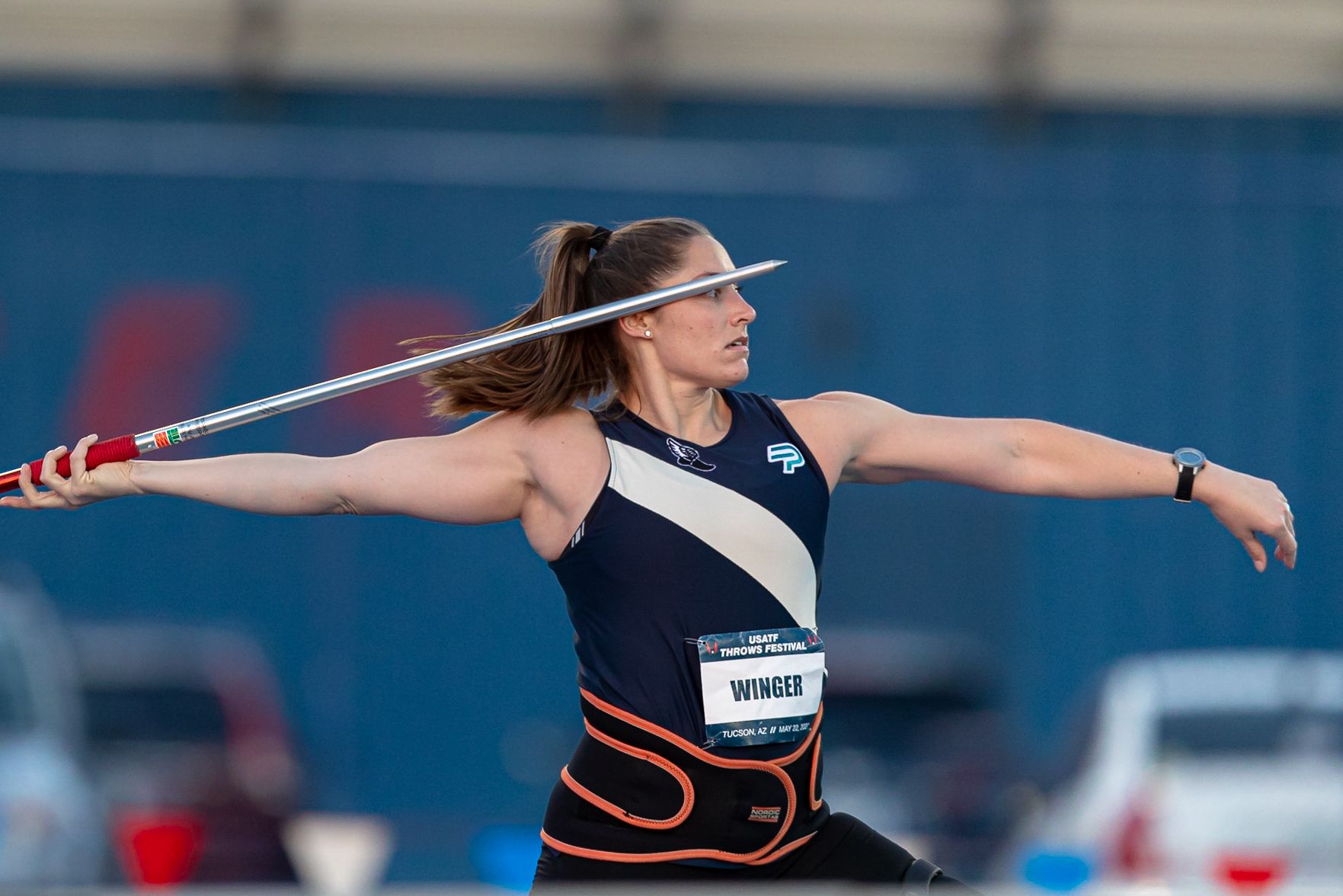 Photographer: Crash Kamon @dupont_photo_; Staff photographer, @vaultetmagazine
Kara Winger, four-time U.S. Olympian in women's javelin throw and 2022 World Championship silver medalist, is having a year. In her final season as a competitive athlete, the 36-year-old fought to overcome both physical and mental setbacks to achieve her dreams.
Below, she reflects on how she learned to draw strength from in between life's adrenaline rushes, which ultimately helped her throw a 68.11m (223.45 ft) world best and American record in September.
---
Every quiet moment—whether in celebration, devastation or middling contemplation—is where I found my strength. Whether I was propelled forward by victory or forced to keep chasing my dreams despite the sadness following a defeat, silent reflection showed me the way.
I wasn't just shy as a child, I was quiet. Contemplative, observant, careful. Listening, learning, then applying knowledge—sometimes with such intensity that the outside world disappeared. I don't think I ever had to filter out noise to focus, because I simply didn't hear it.
I've always thrived in the quiet of my own mind, paying close attention. Feeling, rather than verbally describing, how my body adapts to a new movement. Observing myself as if from above when a problem doesn't quite resolve how it should, and shifting accordingly.
A lengthy career with a healthy dose of injuries has given me a lot of solo reflection opportunities. In those lonely moments—when I'd failed, collapsed in pain, or was lost in the depths of the process of returning to form—I knew that only I, and very few others, would notice if I didn't make that return. I never had the illusion that javelin was the most important thing in the world. I was acutely aware in every one of my recoveries that, while those few important folks' support mattered a lot to me, I was the one who cared the most.
All that time as a successful javelin thrower has also provided me with countless joyful moments: Lying in bed alone after celebrations with loved ones—eyes still wide open with lingering adrenaline, playing all the lovely experiences over in my head that led to whatever victory, milestone, or medal kept me awake. Gathering memories that might inform future pursuits of this feeling again. Relishing the payoff of being quietly so proud of my efforts, my heart just as bursting as it was after my hand released the javelin, and my throat just a bit more constricted with overwhelming happiness.
My favorite moment after a great throw is the silent balloon of pride that fills my chest when I know that I put my best effort out there—a small expansion of my unique space in the world.
Never exactly sure what the result will be, I don a huge smile and ecstatic posture, waiting eons for the distance measurement to show up on the board. I don't whoop or holler; I automatically absorb, rather than release, that magnificent energy. Similarly, no words are uttered in the hugs that mean the most. Just mutual, connected joy.
Through two ACL tears in my block leg (2012 and 2020), a more significant shoulder surgery than I thought (2015), many back spasms, calf tears, and hundreds of minor bumps in the road, I'm incredibly proud of representing my loved ones well, enjoying the heck out of my javelin career of 20+ years, and ending my time as an athlete on my terms, literally on top of the world.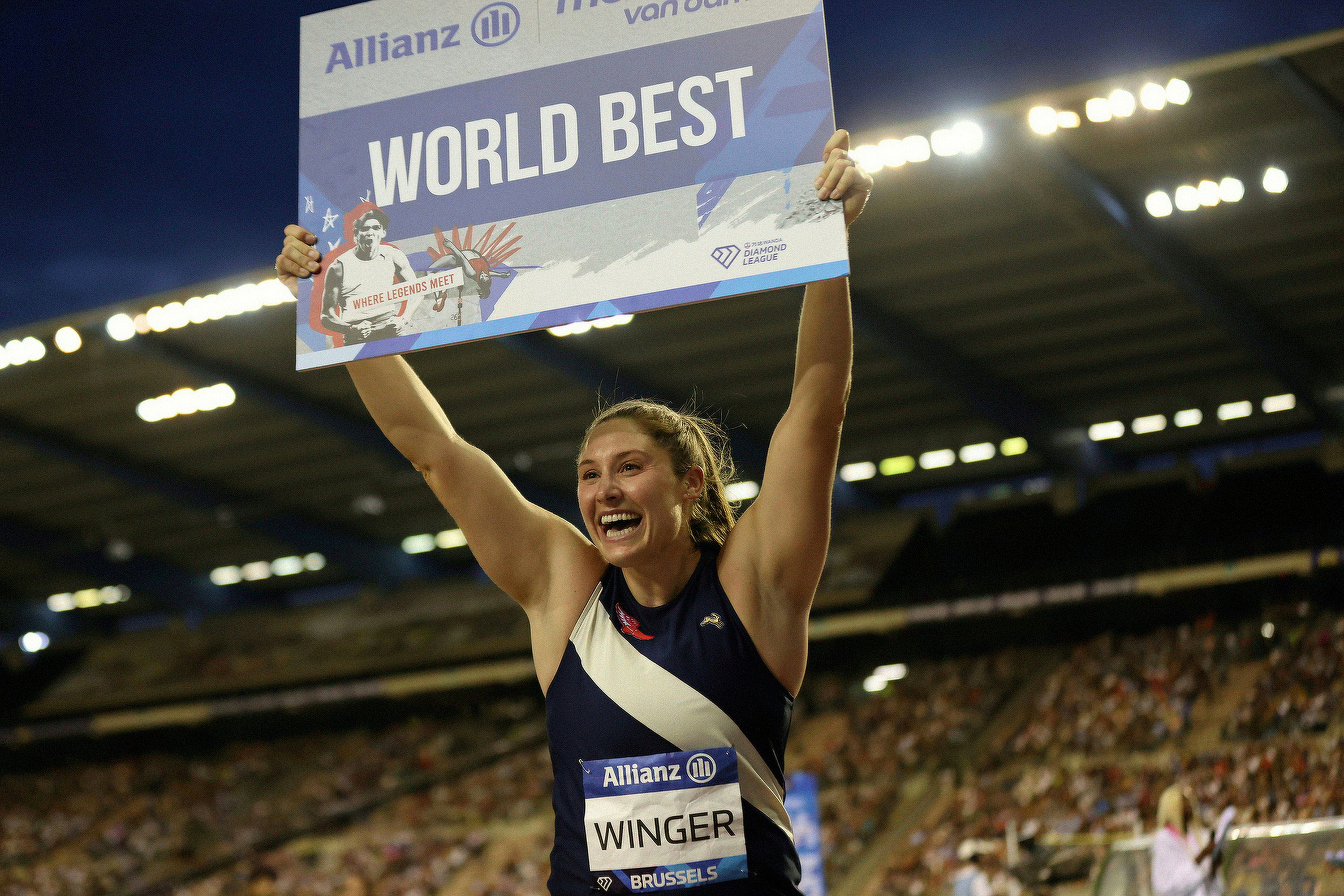 Kara Winger at 2022 Diamond League Brussels on September 2, 2022. Credit: World Athletics
I recently learned that 45% of people who tear their ACLs don't return to sport.
Although I had completed my season when I learned this—body intact—silent tears streamed down my face. I know what it's like to sit in echoing doubt and wonder if the athletic ability you define yourself by, is now, in fact, the thing you defined yourself by.
I have amazing medical teams to thank for my two full returns, but I remember that doubt. Trapped in its deepest parts, I knew I would still do my absolute best. Even if I broke again.
I started 2022 in pain still, and am ending it elated. I truly didn't know how my knee would do until the first practice back in January. I gained momentum, opened well, and then had to wait for my calf to heal. That's how it's always been: Fits and starts. Hope, then rebuild.
I knew I could do it, but it was also very, deeply & truly, okay if I couldn't. After the Tokyo Olympic Games, I did not need anything else from my javelin life. But in my final season, I got more than I dared to dream.
I've had so many expansive, important quiet moments in my two decades as a javelin thrower. Moments in which I knew other people were there for me, but I chose to also be there for myself. The building of trust in my own decisions happened in the dead of night, happy or sad, but always profound.
Through every up and down, gathering my thoughts in solitude while the world swirled around me has been my constant.
What follows are some of those most pivotal moments.
---
Support her.
Just before my teammate's 2007 domination of the championship season, she mended our friendship. We took the opportunity to spend time together, talked about issues we'd had, and healed a relationship that we both knew was important, even in our mutual stubbornness. I told her recently how grateful I am that she led the way in continuing to support one another.
The 2007 season is the only one I ever missed. And because I'd laid in bed at night for weeks after we repaired our bond—promising myself that I would be happy for her no matter how sorry I felt for my injured self—I was happy when she became NCAA Champion. I could support her even in the depths of my own misery: I found solace in someone I loved succeeding, while I licked my own wounds as well.
Do your best.
My first ACL tear happened at the 2012 U.S. Track & Field Olympic Team Trials. I made the team and competed in London anyway, on that completely severed ligament. The ACL is the one that holds your femur in place, prevents it from wiggling around in your leg.
The afternoon before that second Olympic Games, I climbed to the top of the bleachers at our training facility and sobbed. At each sharp intake of breath, each desperate vacuum of oxygen, I still knew I would do my best the next day despite the pain and fear and swelling. And I did. I proved to myself how tough I am.
Unfair.
Even before my husband and I got Maddie the Dog, I walked a lot. I suffered a left shoulder injury at the hands of a "chiropractor" in the middle of a phenomenal 2015 season, and the subsequent surgery's timing left no room for error before a third Olympics (Rio 2016). So, I walked. I thought. No headphones or distractions, just my rage, unfairness, disbelief, frustration, and relentless desire to overcome this thing that hadn't been my fault. And I did. Thirteenth place (one shy of the final) is still very painful. But I made it and kept moving.
Measuring up.
I've worked with phenomenal agents for meet access. Their other clients are multiple Olympic champions, world record holders, and the best of the best from every corner of the globe. I was that person when I signed with them, but spent many middle years not measuring up to their other athletes, and to the promise that my younger self had been.
Every time I failed internationally, embarrassment for my agency was part of the turmoil I felt while I cried in the empty bellies of every major stadium in the world.
In 2018, finally, I threw a European personal best and got third at the Diamond League Final. Sharing a moment of sneaky tears in a trembling hug with my agent told me more than words could express—that she had always, also, believed.
Tokyo.
I'm used to the deafening silence of night in the Olympic Village after failure. What I didn't expect in Tokyo was the same profound quiet, but for a different, more powerfully humbling reason. After learning that I was voted to carry the American flag into the Closing Ceremony, I could not sleep. The restlessness that had always applied to my shortcomings on the field of play had been replaced by the deepest gratitude to my fellow athletes who lifted me higher than I'd ever been on my own.
In the quiet of those final Olympic nights, I cycled through imposter syndrome thoughts to finally land on the realization that it didn't matter what I thought, but that others chose me. I better honor that, and therefore, them.
A necessary shift.
When I asked my former coach to lunch, I really thought we were on the same page. We'd both said, "I only want to keep this going if it's good for both of us." I meant it, and I know she did too, at the time, but the idea of something and its sudden reality are very different.
I can't decide if it would have been more or less awkward to be in the privacy of one of our homes when I told her that I wanted to be coached by my husband for my final season, rather than her. It would have been easy to fill the awful quiet of her realizing what I'd said with a "just kidding," or, "let's figure this out actually," but it wouldn't have been right, for me.
It took a lot to stay in that terrible silence and know that it was temporary, that this conversation with a friend of 16 years was inevitable if I really wanted to spend my last season the way I had recently come to dream about—with Russ by my side. If I wanted to share a year of celebration and traveling the world together as we used to when he was also still an elite thrower, that torturous, gut-wrenching quiet had to happen.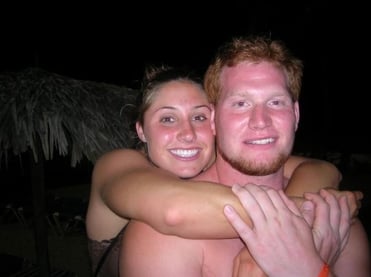 Left photo: Kara Patterson and Russ Winger meet at an elite competition in the Dominican Republic (2006); Right photo: Kara and Russ Winger celebrate her Diamond League Final win in Zurich (2022). Credit both: Kara Winger
Therapy. Introspection. Strength.
I started therapy right before 2022, and I did not see the immediate tears coming. They stemmed from that necessary shift (see story above), but over time, my favorite thing about sessions was the forced introspection brought on by difficult questions from my practitioner.
I now know how normal this is (to ask a question and wait for an answer), but its profoundness to me has informed my interaction with the rest of the world. Of course I should wait for a second, fully digest a thought, and then respond. I'm kinder—even to myself—as a result.
This quiet reflection lesson definitely aided communication with my husband in my final year, coming into play when either one of us had a technical idea or input on our new roles as coach and athlete. I think I always needed to appease former coaches with quick answers and reassurance that I was listening with words.
With Russ, longer stretches of thinking weren't uncomfortable, and contemplation was followed by wiser words and building deeper trust.
Relief on both sides at seeing true consideration for each others' thoughts propelled us forward.
My own soundtrack.
When I'm asked to pick out a walk-up song, I start sweating. I love music, but I don't need it like some people seem to. In 2022, I savored silent practices.
When I work or read or cook or exist, I don't need a soundtrack. It was freeing to realize that I could bring the same silent, intentional, deep focus to a throwing session and bask in each precious remaining attempt.
I loved my many evening training sessions alone, almost as much as the ones with Russ. Colorado spoiled me with sunshine (there were very few days I was chased inside this year), and the tree next to my runway helped me track my rapidly-dwindling sessions with its seasons. Sunsets during cooldowns brought me peace.
Focusing on positions without musical distraction was incredibly effective. When I threw by myself, I didn't even need to translate my own feelings into words. Lifting my right arm one inch higher and wrapping my shoulders a little further was me finely tuning my instrument. Fluidity and rhythm came easier with my feet on the runway setting the baseline of my own song. Acceleration was my favorite crescendo.
Your internal monologue is wildly fast, super important to decision-making and goal pursuit, and can be trained with intentional directing. Removing the noise to finally "hear" it was my favorite. I remembered how to trust myself.
"Go be bored."
The miracle of my second ACL recovery didn't come easily. That year was—to put it simply—chaotic. I'd developed a backyard hammock habit in 2020 and tried to keep it up in 2021, but there just wasn't time. In 2022, when stress started to creep in, whether a big meet was coming up, or Russ could just tell I needed a break, he would say, "go be bored," and hammock time ensued.
No phone, no book, just me—length of time unknown and monitored by Russ. Uninterrupted moments to further hone the skills of listening to myself and trusting my instincts.
Anticipation.
A stadium full of people clapping, all at once, for you alone, roars, but that's not what I hear as I sprint down the runway. The pauses between slow claps are electrically-charged anticipation. Eagerness for the next moment, to find out what's going to happen. Between each clap is a giant stretch of time that lets me create my own reality as I focus on cues we've practiced, in powerful, sharply-focused silence. The collective intake of 20,000 breaths as the javelin rockets from my hand makes my pounding heart stop, and I could live there forever, knowing that I did my best for that specific crowd.
Common ground.
My chest balloons with pride for my friends almost the same way that it does for me. Throughout all of my injuries, what kept me coming back wasn't glory, it was belonging.
Competitors from the Czech Republic, Australia, Latvia, and fellow Americans all felt the same anticipatory nerves before every meet, we got annoyed with officials when call rooms took too long, and we've experienced that same elation of performing when it matters.
We're all good at this one weird thing, and just like my college teammate, we can support each other and still focus on our own successes. Youthful jealousy transforms into mutual appreciation over time.
I love watching competitors contribute to the stadium's rhythmic clap for me and doing the same in return. There's an unspoken understanding that we all love it even more for the human connection. We belong to the javelin, and to each other.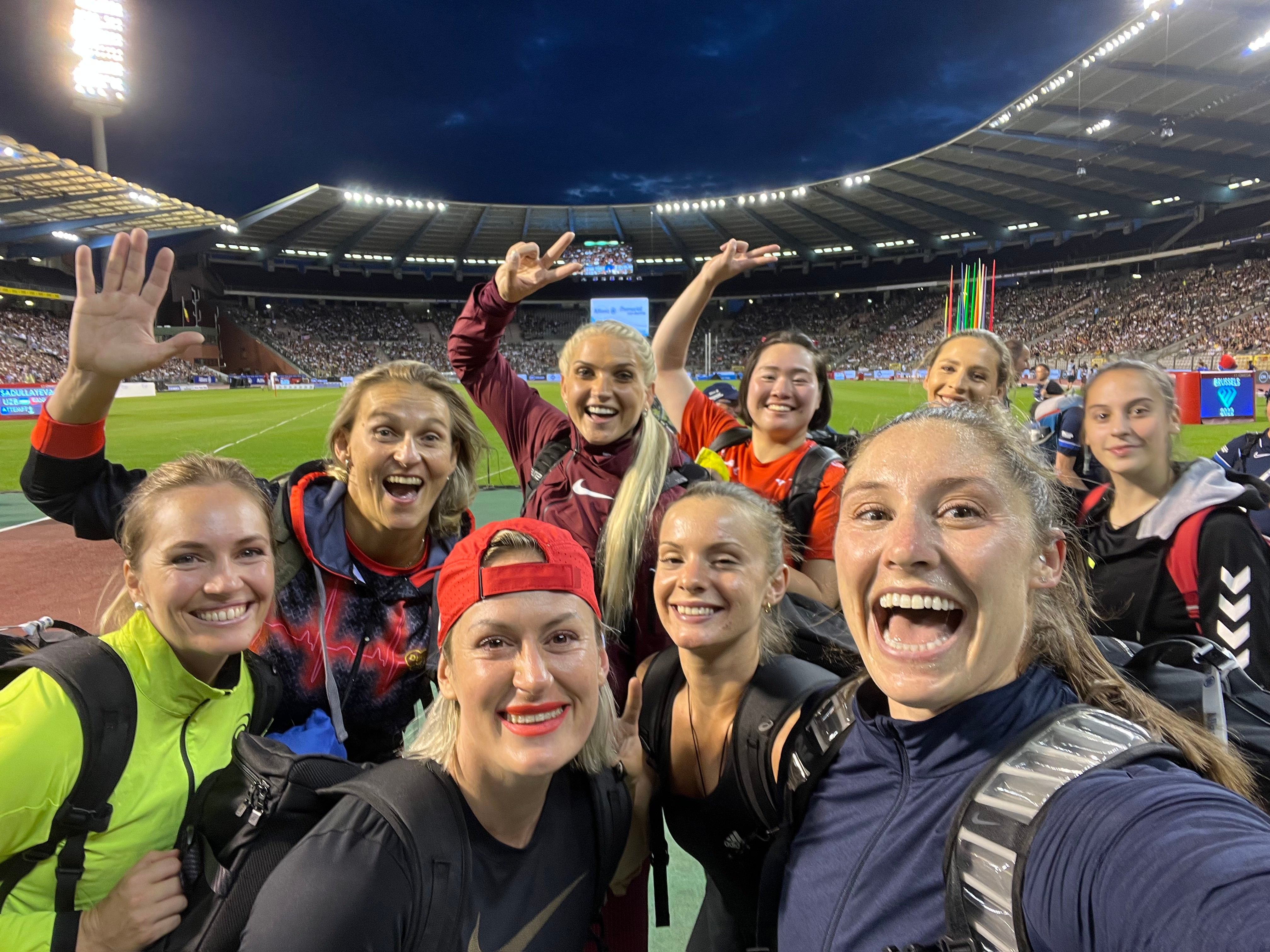 Kara poses with fellow javelin competitors at Diamond League Brussels. Credit: Kara Winger
Shock.
It took me 12 years to throw a personal best after my first American Record in 2010. Twelve. That's three Olympic cycles. More than a decade. A literal third of my life. I got kind of close in 2015 (66.47m), had a bunch of torturous 64-meter attempts, and truly loved the process anyway. But when people ask me why I decided to retire, I want to challenge them to stick with something they love for that long without objective proof of improvement.
When I finally threw 68.11m on the most perfect evening in Brussels on September 2, 2022, the shocked silence when I jumped into Russ's arms was perfect. The stadium continued to echo with cheers of support, but his love, solidity, and perpetual comfort drowned all of that out in our mutual ecstatic relief. My work—our work—here was done.
After the final meet of my career, we flew home. In the white noise of the airplane, leaving Europe and my javelin career as the number one thrower in the world, smiling periodically at my husband sleeping next to me, I tried to write about my final season.
I haven't been able to until now, and I still don't think these words are quite doing it justice.
I lived in frustration, disappointment, injury, and relative failure for so long that I grew comfortable describing those things. I know how to overcome them. But until this season, I had only overcome them to a certain point.
I've continued to sit in awed contemplation of all of my dreams finally coming true. I think it's okay to just be deeply satisfied.
True fulfillment from my athletic career feels like a quiet, no soundtrack, solo practice: Like I can feel my feelings fully but they're so big and wide that words don't gather them tight enough to describe.
Their complexity only deepened with the understanding that I am who I always thought I could be, and in an alternate universe without injury, I could have been her the whole time.
But we live here, in this reality, and it's perfect.
---
Kara lives in Colorado with her husband, Russ, and their beloved dog, Maddie. She has been part of Parity since its launch in 2020 and currently serves as senior director, integrated influencer marketing.
Her commemorative NFT, "Journey to 1," is available now on the Parity NFT Marketplace. Every purchase also comes with a limited edition t-shirt designed by Katie Shaffstall.
Fans can follow Kara on Instagram at @karathrowsjav.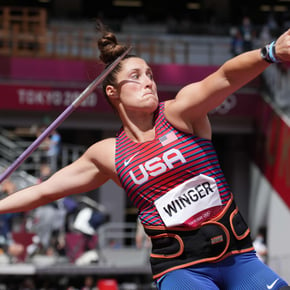 Kara Winger
Kara Winger is a four-time Olympian in the javelin, as well as a World Championships medalist and the current American record holder. She completed her final season as a professional athlete ranked #1 in the world (2022). She works at Parity as Senior Director, Integrated Marketing.