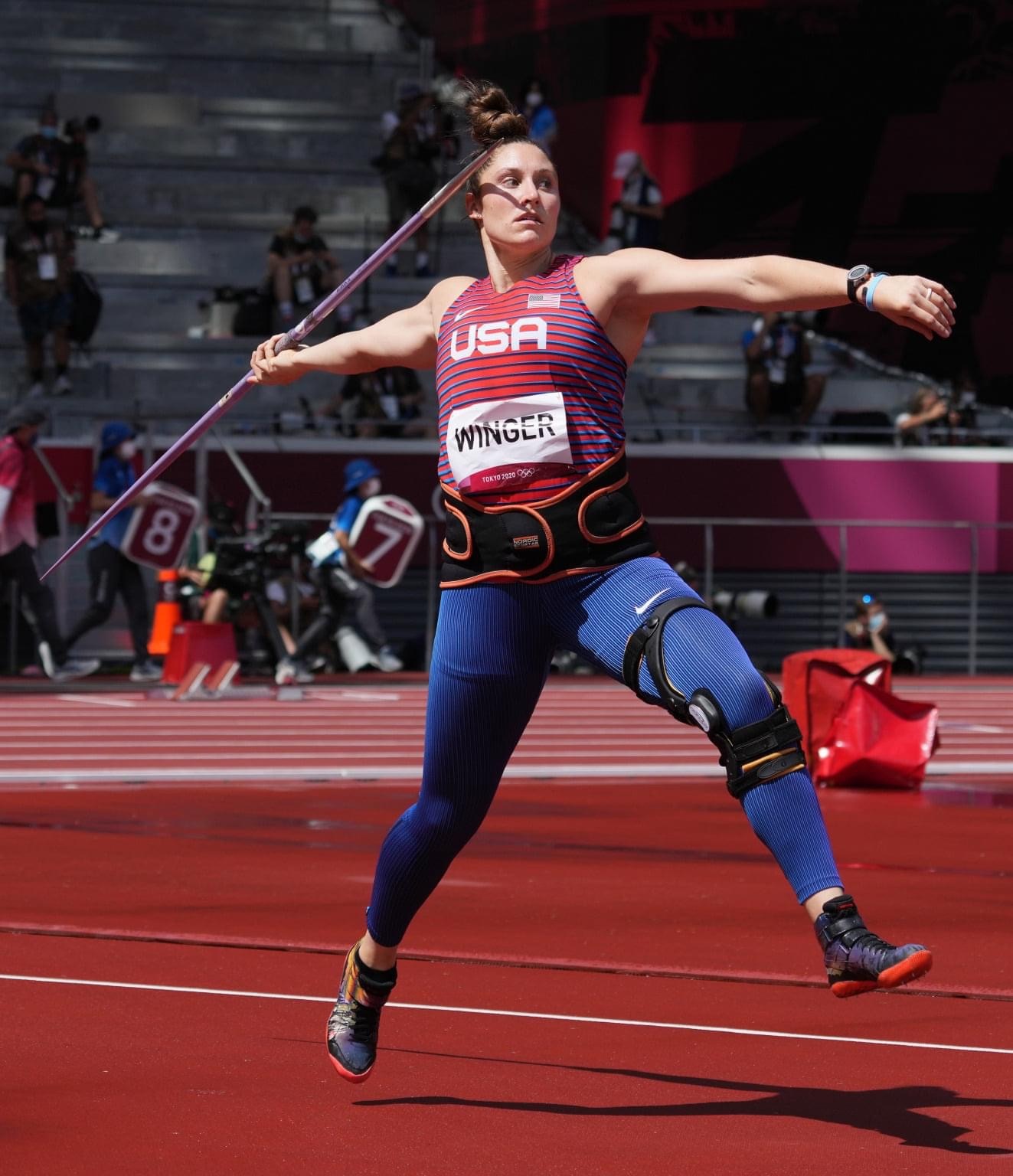 Kara Winger at the Tokyo 2020 Games / Getty Images
I was always the new kid growing up. It was easier for me, a shy kid, to play rather than talk, but talking got easier with teamwork and effort in sports. I tried everything I could, but eventually fell in love with the individual challenge of throwing the javelin. I started playing sports to make friends, and more than twenty years and four Olympics later, those friends made everything worth it.
Before Tokyo, I would tell people that I was very young, very injured, and then very close to my dreams. Tokyo was all of my first three Olympics, wrapped into one powerful, emotional, incredible final Games.
At 22 in Beijing, I had thrown the Olympic standard only once. I was really young, yes, but like many first-time Olympians, I was mostly really overwhelmed. I wanted to take everything in, and I did, maybe to the detriment of my performance, but maybe I just needed to get my feet wet. Soak up the experience.
In London in 2012, I threw four meters further than I had in my Olympic debut, despite competing on the torn left ACL I suffered in the course of qualifying. I think that first ACL tear was still my most devastating blow: My first professional season in 2010 showed so much promise (American Record, top 10 in the world, etc.), then everything changed. You don't get to be a two-time Olympian unless you compete though, so there I was, taped and braced extensively. I got to find out how tough I am.
A left shoulder surgery in the Fall of 2015 meant I'd only competed twice before traveling to the first ever South American Olympic Games in 2016. My husband, Russ, was in Rio as my coach: The guy who knows me absolutely best, who can make me laugh when I'm at my saddest. Top 12 in field events get to compete in the Olympic final, AKA the medal round. In Brazil's stadium, I threw just over 200 feet (61.02m), and got 13th. That's a record: I still own the furthest ever women's javelin mark at the Olympics to not qualify for the final.
Kara Winger at the Rio 2016 Games / Getty Images
I thought I'd experienced it all, and then Tokyo rolled around.
I had great results in 2019 (PanAm Gold, a big victory and big marks in Belarus, 5th at Worlds), and felt awesome about using the momentum I had from the prior year too (European personal record and top 3 finishes at the biggest meets of 2018), but embraced the pause in life and my career that Olympic postponement meant. I trained at home with one of my best friends, and planned one competition, just to see what COVID training meant by the numbers.
It went well. I threw a top-10 global mark and had a blast proving to myself that I can succeed in any training situation. But I also tore my ACL again. And what I thought would be a dream lead-up to a final Olympics turned into the most challenging year of my life.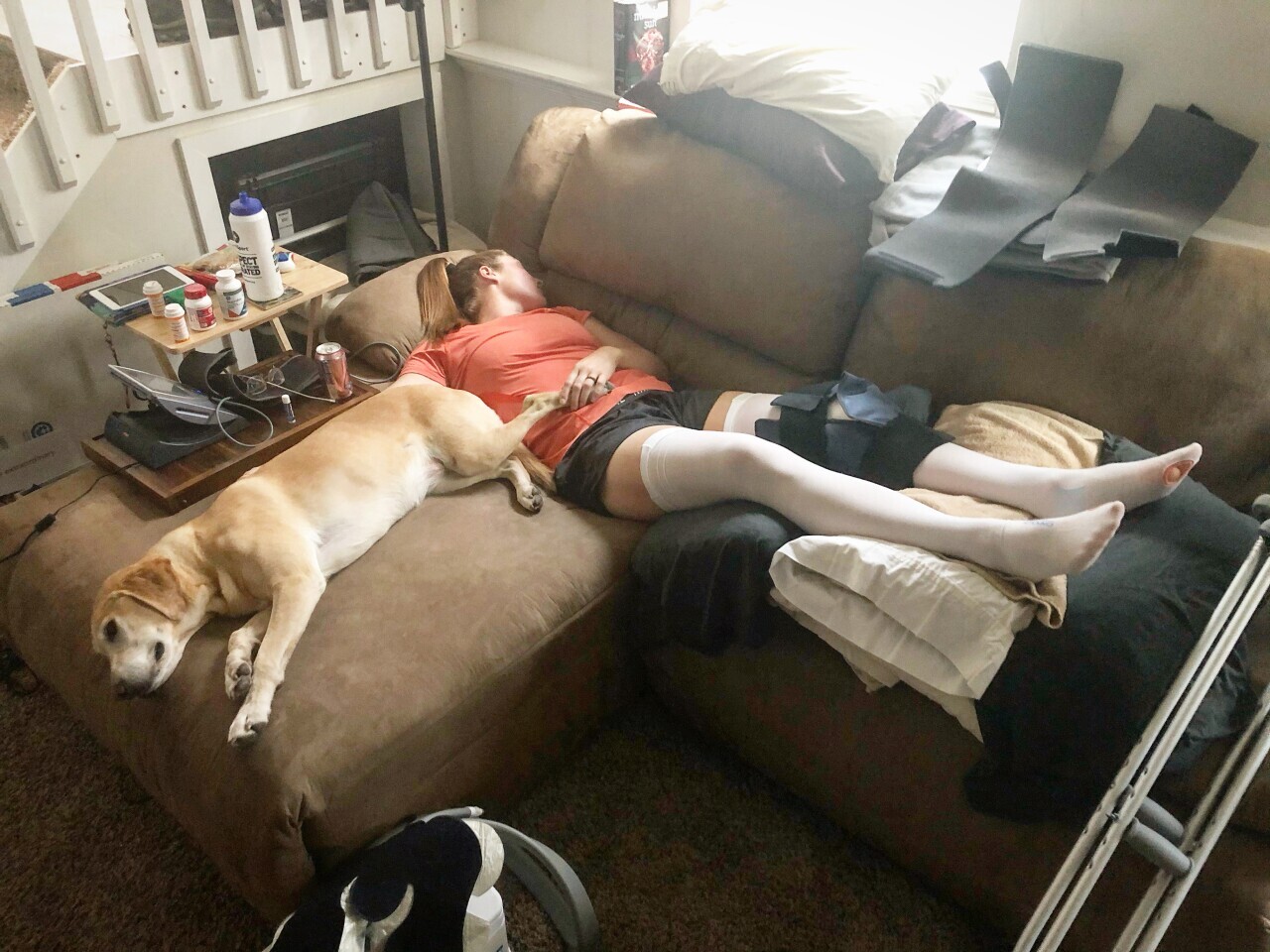 Photo Courtesy of Kara Winger
I experienced serious disappointment in my first three Olympics, but the Games are extremely uplifting too, no matter how often you lapse into self-pity. That grief cycle is vicious, but Olympic spirit bolsters you.
Failure on the Olympic stage is incredibly isolating. Living in too-small rooms with temporary and thin walls, I've always cried quietly in the dark, careful not to distract roommates who still have their shot at glory. In solitude, I read supportive messages from well-meaning people and try desperately to go back in time. My deepest sadness is reserved for my family of course, and I'll never forget the instant sobs that escaped me when I finally was in Russ's arms on a train platform after 13th place in Rio.
Being a Track and Field athlete for the United States, though, means that I get to be teammates with undisputed superstars. Living and training at U.S. Olympic Training Centers for as long as I have, I fangirl over athletes across all sports, too. In my deep disappointments, I have always taken refuge in others' victories. I get to bear witness, celebrate, encourage, and maybe notice and remember moments that might not make the headlines. In contrast, when things don't go well for teammates, I can be there, too. I've probably lived it.
Distracting myself from my own performances by lifting others up has always made my Olympics worth it, but I never needed people to notice my efforts. I was happy to feel like I was a small part of it, even if I knew I wasn't.
That's why what happened in Tokyo will always make me cry with overwhelming gratitude.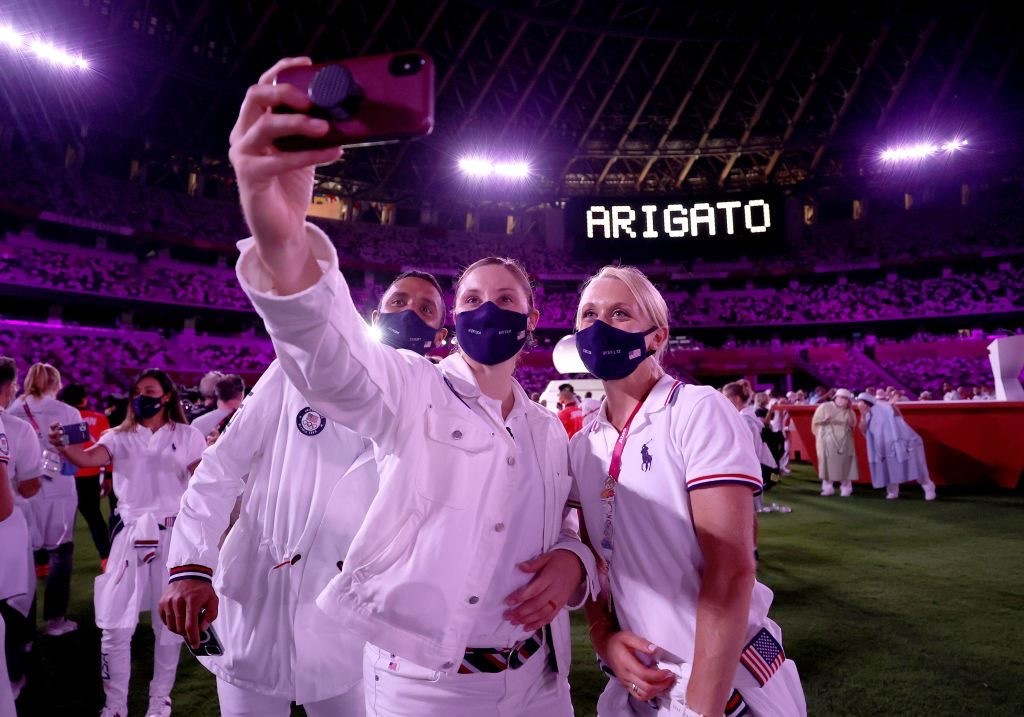 Kara Winger Tokyo 2020 Closing Ceremony
I had already decided that this would be my last Games, even before I hurt my knee again. Giving myself a deadline has provided really helpful urgency for me, and my injury helped me double down on my commitment to just my final two seasons (I'll retire at the end of 2022). I've left the Olympics with uncertainty in the past, and I think that life path question mark is the thing that leads many athletes directly into The Olympic Blues. Making this big career decision long before it was upon me meant I walked into my last Olympic Village with my eyes and heart wide open just like I did 13 years ago, ready to soak up all of this final experience.
The fact that families and spectators couldn't come to Japan - and that we weren't allowed to go anywhere - meant that we got to spend a lot of time together! The TVs spread around Team USA's building were always surrounded by athletes from various sports, watching their own events but also learning about new ones from the people who are best at them in the world. Guessing games on elevators about what sport someone does are a daily occurrence in the Village, and I got past my introverted nature of letting awkward silence settle a few Olympics ago to take advantage of those fun moments. After more than a year of social distancing, I could instantly tell that I wasn't the only one who had been lonely. Elite athlete friendships are very unique: You've probably bonded with these people during other high-pressure but awesome times in each others' lives, or you're doing so right then, so the energy around every interaction is next level. The undercurrent of being in this group of incredible athletes is that it's almost time for everyone to be the most incredible athlete they've ever been. It takes a while to get used to that and learn to harness it, but it's mostly extremely fun. I remembered so clearly being comforted by this excited atmosphere after my injured second Games.
I didn't make my fourth Olympic final, and familiar, haunting disappointment set in. A new feeling, though, was a very deep peace around understanding that I would never be a finalist; my business here was done. I know I did my best with my circumstances, four times over, and I had one big reason that this was still my favorite Olympics.
The talented, strong, diverse, amazing women of USA Track and Field elected me their Captain.
It's quite surreal to sit in a team meeting and hear women from multiple event groups shout your name when prompted to nominate a Captain. We all know that imposter syndrome is common in women, and the feeling was absolutely that, combined with the deepest humility and gratitude. I truly enjoy paying attention to and celebrating others' stories, and, caught up in my own drama and just trying to survive, never expected that those awe-inspiring women would lift me up in this way. It is the honor of my life.
When captaincy led, through two rounds of Team USA voting, to my election as Closing Ceremony Flag Bearer, I could not (and still can't) believe that this was real life. That these phenomenal peers had always, apparently, seen me.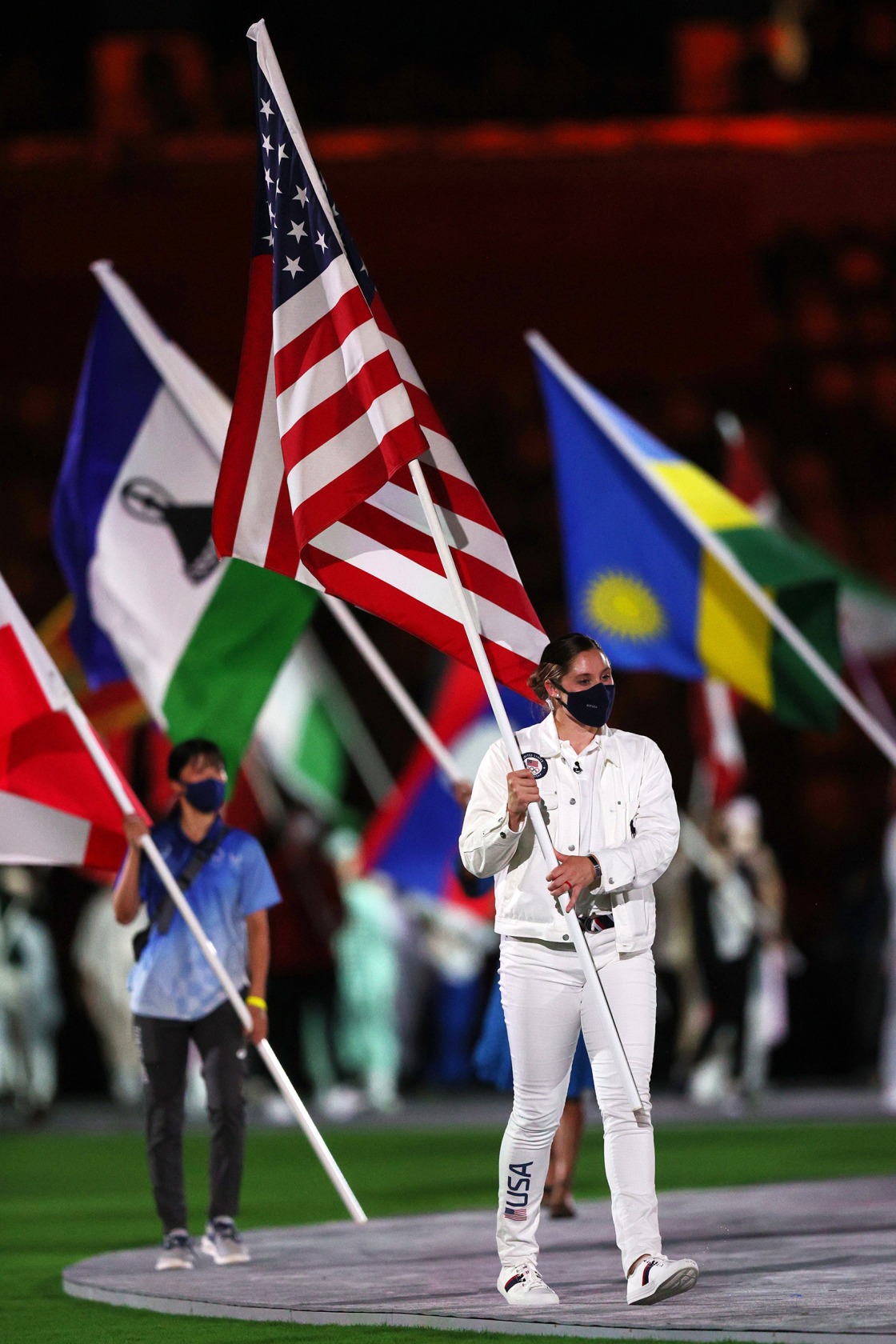 Ezra Shaw / Getty Images
I was the only 4- or 5-time Olympian on Team USA in Tokyo who owns no medals. In my darkest moments, I still think, "this was the COVID Olympics, no one better was still around," and, "probably ten people voted." I had a day or so to worry about what the Twitterverse would say when they found out I would carry the flag. When the few mean tweets came ("tell us why she deserves this honor," "better choices," etc.), I cried hard seeing messages of support from years of decorated teammates far outweigh the negative stuff.
The true magic of this selection is that it happened during this Olympics, one so focused on mental health and athlete well-being. The root of my overwhelming emotions about the honor of being elected flag bearer is a simple thing every human is after: Acceptance. As an American Olympian, it's difficult to find your place if it's not on the podium. The messages I got from teammates past who hadn't met their own Olympic expectations were the most powerful: "Reading this news makes me feel like my journey was worth it, too," and, "I see myself in this story."
Of the five Olympians who made their fourth or fifth trip to the Games in Tokyo, three of us were women of Track and Field. Brittney Reese, the undisputed G.O.A.T. of the long jump, and Allyson Felix, the most decorated U.S. Track and Field Olympian of all time, are the other two. I've known and cheered for them since 2008, and when they're on those medal stands, what I see are the small moments. Training in the Beijing fog with Brittney at 7am every day of our first Olympics, and her quiet steadiness laced with biting wit. Laughing with Allyson about our dogs on massage tables in Rio, and agreeing by the Tokyo elevators that we were both just, simply, so happy to be there. I hope that everyone knows this feeling: There is truly nothing like the special lump in your throat that forms when your friends succeed.
Maybe they felt that for me, too, when I stepped into the Olympic stadium as Closing Ceremony Flag Bearer 13 years to the day after the Beijing Opening Ceremony that made me an Olympian. People think the number 13 is both lucky and unlucky, and that is spot on for my journey: The heartbreak and misfortune are balanced by the inspiring moments, deep connection with fellow humans, and simple joy of sport. I started sports to make friends, and in the end, those friends lifted me up in a way I never could have imagined, can never repay, and will never top. The ache I have about my own unfulfilled potential is now dimmed by the understanding that the cliche is true: How you treat people and carry yourself is, in fact, more important than what you accomplish.
Four Olympics, no medals, all gratitude. I need nothing more from my final season, so I'm just going to enjoy the end of this unbelievable ride.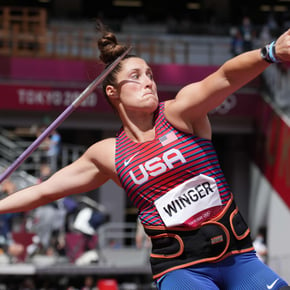 Kara Winger
Kara Winger is a four-time Olympian in the javelin, as well as a World Championships medalist and the current American record holder. She completed her final season as a professional athlete ranked #1 in the world (2022). She works at Parity as Senior Director, Integrated Marketing.