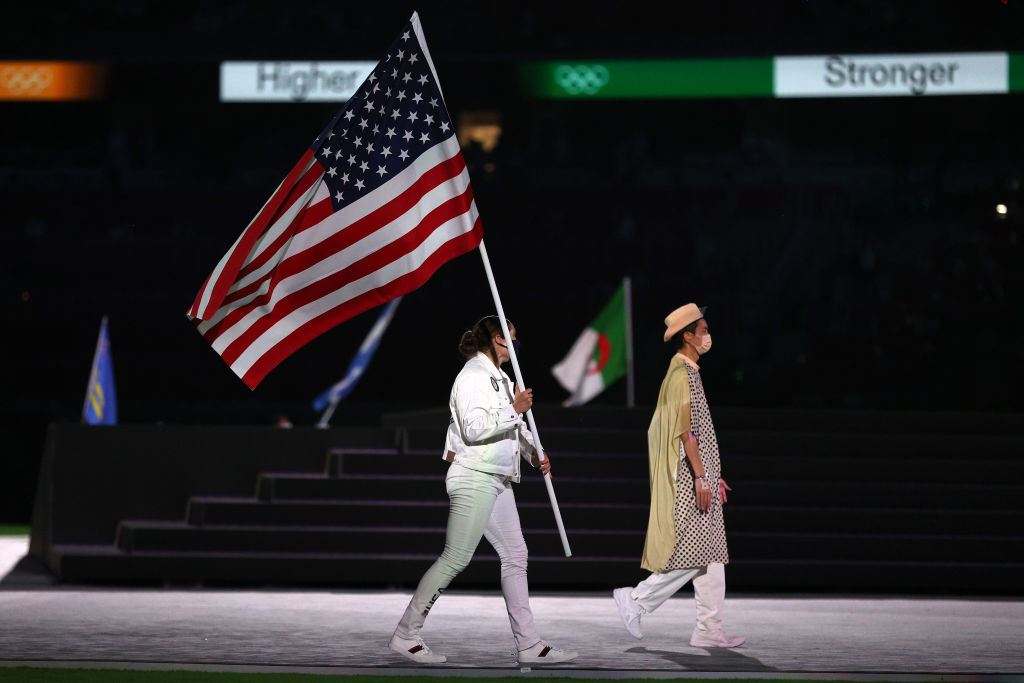 Photo: Kara Winger, Team USA
On July 26, exactly a year before the Paris Olympic Opening Ceremony in 2024, we at Parity hosted a webinar to answer that question, and advise you — brand marketer — on how to work with women athletes before, during, and after the Games!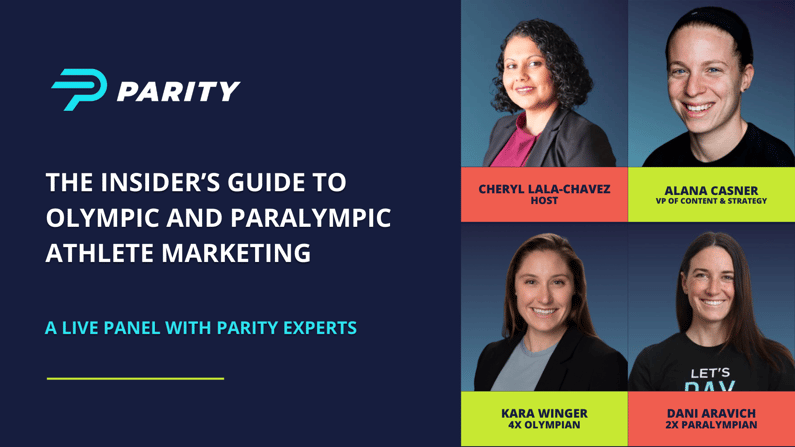 Did you miss it? We'll lay it out for you again.
Rule 40, in a nutshell, protects the exclusivity of Official Olympic Partners by limiting digital and other advertising capabilities of non-Olympic Partners and participants in the Olympic and Paralympic Games, during the period of the Games. It's designed to distinguish Non-Olympic Partners from Official Olympic Partners by preventing the former from using Olympic and Paralympic logos, associated hashtags, language, and more in their marketing efforts surrounding the Games.
Don't know if you're an Official Olympic Partner? Then you're, respectfully, probably not. But don't fret — there's still time and ways for you to capitalize on Olympic & Paralympic athlete storytelling! Yes, the Olympic Rings and the Paralympic Agitos are impressive marketing tools, but there's so much you can do outside of them to harness the power of women athletes for your brand. One of my (me, Kara, 4x Olympic Javelin Thrower) favorite sayings is, "The Olympics aren't every four years: They're every day." Support a woman athlete in her daily, powerful, moving journey to the world's biggest sporting event and beyond, and watch your customers — her fans — reward your investment. An Olympic or Paralympic career does not happen overnight: Be part of it now, and lean on Parity to help you still be part of it during the Games period. We know our athletes, and we know how to help you navigate Rule 40 to celebrate the entirety of these women's incredible journeys.
What TF even is this "Rule 40"?
A statute of the Olympic Charter, Rule 40 was enacted in 1991 in an effort to combat potential ambush marketing during the Olympic and Paralympic Games. Ah, the Games: That very powerful sports marketing period that the International Olympic Committee (IOC) and International Paralympic Committee (IPC) are financially incentivized to protect for their official partners.
Who TF does Rule 40 apply to?
Those who must abide by Rule 40: Non-Olympic Partners, and participants in the Games (including competitors, coaches, trainers, and officials). Rule 40 does not apply to alumni or fans.
The enforcers of Rule 40: The IOC, IPC, and associated National Governing Bodies associated with the Olympics and Paralympics. It's an IOC/IPC rule, but NGBs (National Olympic and Paralympic Federations and Committees around the world) are ultimately tasked with enforcing punishments for violations.


When TF is this rule in effect?
The period of Rule 40 enforcement typically begins 9 days prior to the Opening Ceremony of either Games (Olympic or Paralympic), and extends until 3 days after the Closing Ceremony. The IOC Rule 40 Period dates that will apply specifically to Paris 2024 will likely be released when updated guidelines are published this September (don't worry, we'll let you know how that update goes)!
Where TF does Rule 40 get enforced?
Advertisement, marketing, promotions, etc.— digital or otherwise. Non-Olympic Partners are restricted from using Games-identifying language, tags (hashtags included), merchandise, anything Olympic or Paralympic-associated in any version of their marketing during the Games period.
Why TF does this rule exist in the first place?
To protect the financial investment Official Olympic Partners have made in the Games and the rights to Games symbology.
How TF does anyone work around this?!
Over time, through athlete input and collaboration with the powers-that-be, Rule 40 restrictions have eased to allow brands and athletes to interact with each other in marketing ways during the period of the Games. The key is to not associate products, services, or otherwise of Non-Olympic Partners with the Games themselves! This might all make more sense with an example: Let's say you — brand marketer — call Parity and ask to work with a pool of our 850+ incredible women athletes in the lead-up to Paris 2024. Here's what to expect:
1. First, we'll design a campaign. Once we have a plan in motion, we'll execute on the campaign with these impressive women in all the ways that have nothing (yet) to do with the Olympics or Paralympics, but everything that establishes them as authentic ambassadors for your brand. Then, to prepare for the Games, move to step 2.
2. Use the Rule 40 Permissions systems to obtain advertising permissions around the athletes you are working with. For local (U.S. territories) marketing plans, use the USOPC's permissions system and communicate with the sport governing body of the athletes you sponsor, too. Internationally, obtain permission from the IOC! (These portals will be updated soon for Paris, and Parity will be on hand to help!)
3. Plan specifically for the maximum seven points of marketing (as of Tokyo 2020 and Beijing 2022…maybe the numbers will change with Paris - we'll let you know!) you will be granted permission to post per individual athlete during the Games period. Athletes can post "thank you" notes, and brands can post good luck, congratulatory, or generic messages, as long as certain guidelines are followed. Athletes can post about themselves as Olympians or Paralympians, in the Village, in competition shots, training, on and on. But can't associate non-Olympic sponsor brands with those posts in any way that would lead viewers to believe that the brand is an Official Olympic Partner. Athletes can post thank-you notes to their individual, non-Olympic partners, but must use generic imagery and language to accomplish the same goal of not leading followers to believe that that brand is an Official Olympic Partner, if they're not. Brands can use athletes in advertising and post about them on social media in congratulatory, good luck-granting, or generic ways if, again, they do not attempt to associate themselves with the Games. Photos used in such campaigns can't contain Games symbols, language, tags, or otherwise, and cannot imply that a product or service of a non-Olympic partner propelled that athlete to the Games. These brand-led posts must also be specific to individual athletes, not groups of athletes, to avoid the assumption that the brand has somehow funded a team at the Games. See some examples below:
4. Continue to support the women athletes whose Olympic and Paralympic dreams you bolstered through your partnership, long after the Games are done! Medal celebrations post-Paralympics and Olympics are a fabulous opportunity for the fans of this athlete to associate your long-term partnership even further with her. You were there before her moment, so help her celebrate after (outside the Games window!), and further solidify your brand's place in her fans' hearts. But what if she fails? This is a thing that I did, four times. I felt quite alone in falling short of my own expectations on the world's biggest stage, each time. But you know who was there for me? Some loyal, non-Olympic sponsors, and the fans, friends, and family who knew those entities had been there for me through it all. They all cared about me as a person exactly the same off the podium as if I'd made it onto one. What a perfect opportunity for a values-driven conversation a brand can lead around mental health, community, and the bravery to try your best.
5. Repeat. Change the world, story by story, breathtaking women's sport moment by breathtaking women's sport moment.
Let's run through that again:
Sponsor women athletes.
Feature them in your marketing. Pay them. Tap into their wildly relatable lives, marketability, and vulnerable willingness to share their journeys.

If you're a Non-Olympic Partner, let the USOPC and IOC know that you support those athletes, and plan to feature them during the Games in the ways you always have.
You don't typically associate yourself with the Olympics and Paralympics, right? So keep the focus on the athlete and how she fits with your company outside of the Games, for the brief period of the Games, per usual.

Celebrate once the world's biggest sporting event is over with those athletes, and by continuing to invest in women's sports.
Keep in mind that Olympic and Paralympic fans aren't held to Rule 40 restrictions. If you invest in a woman athlete, her fans will notice. Your genuine involvement in her athletic career and entire journey will be celebrated by the devoted audience she has grown in the (probably) niche sport she belongs to. You might reach a new market. You might change the world.


Learn more about what we do here or request a consultation with our team of women's sports activation experts here.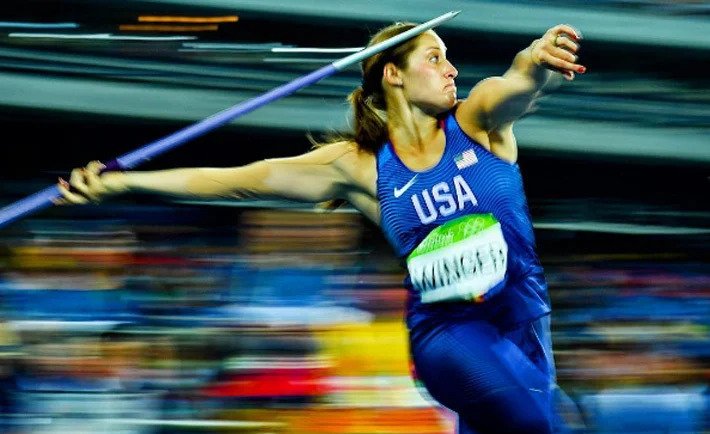 Photo: Kara Winger
---
About Parity
Minority-founded in 2020, Parity's mission is to close the gender income and opportunity gap in professional sports. By developing high-impact collaborations between brands, professional women athletes and their fans, Parity has proudly put more than $2 million in the pockets of women athletes, attracting dozens of brands to the movement in the process. The platform offers connections to more than 850 women athletes from 70+ sports, including well over 200 Olympians and Paralympians. For more information on how to tap into the rapidly rising influence and popularity of women athletes, visit https://paritynow.co or follow us on Instagram, LinkedIn, Facebook, X (formerly Twitter) and Threads.
---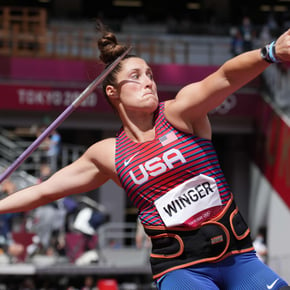 Kara Winger
Kara Winger is a four-time Olympian in the javelin, as well as a World Championships medalist and the current American record holder. She completed her final season as a professional athlete ranked #1 in the world (2022). She works at Parity as Senior Director, Integrated Marketing.