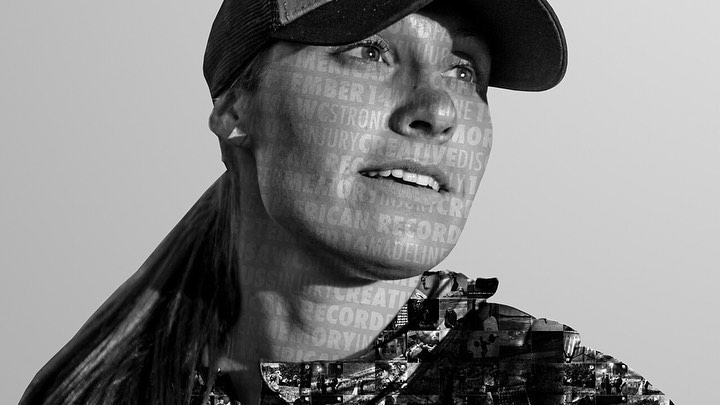 Credit: Parity
When I graduated from Purdue in 2009, I did not know that I'd make money as a professional javelin thrower.
At the time, there was no NWSL, and the USWNT hadn't yet gone on their Olympic, World Cup, and pay equity tear. The WNBA was struggling. Serena Williams dominated, duh, but Naomi Osaka was just 12 years old.
At the age of 23, I'd made my first Olympic and World Championships teams, but we didn't have the prolific social media sharing of niche information that we do today. I couldn't DM a role model or tag them in a tweet. I had to track down a phone number and make a call, and that sort of extroversion has never been my jam.
Simply, I had no idea what I was doing, but turns out I was more prepared for the journey than I could have known. All that mattered was I loved throwing javelin and wanted to keep doing it however I could.
In an era in which the world was still disregarding women's value in sport, I had a fabulous support system, tools, and luck to help me discover my own.
---
How do you define your value? Is it monetary, or something else?
Is your value the number behind a dollar sign, or the way you feel valued by yourself and others? Can you quantify self-confidence or empowerment? What is it worth to be a good teammate? How do you value yourself when your performance suffers? What is the value of a woman athlete? Dream of dreams, what could it be?
I realize now that not all women, let alone people, have this: Growing up, I knew I was loved. I was told I could do anything, and not in a way that told me I had to, but in a way that calmly encouraged me to be great at whatever I decided to pursue.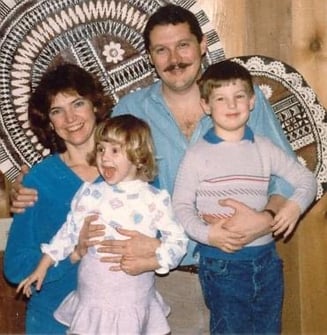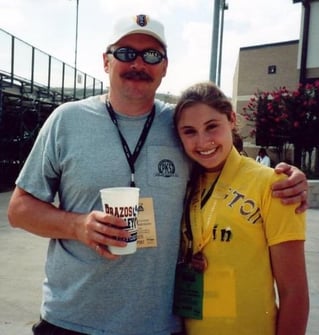 1. Parents Rona and Bruce Patterson hold a three-year-old Kara and her brother Craig. 2. Kara with her Dad at the 2004 Junior USATF National Championships. Credit: Kara Winger
I watched my parents work hard, support each other and their kids, and—simply—love life. We had beloved pets that were well taken care of, comfortable homes to live in, and I never detected a hint of the financial sometimes-scraping-by that I now know was going on. We moved a LOT, but we had each other, and I had the blissful ignorance of knowing that life was good and that I could make my future good, too.
Growing from that place of privilege meant that I had a massive safety net: I could make bold choices early in life, like going far away from home for school, because I knew just who to call when I felt lonely.
My parents paid the portion of my tuition that wasn't covered by athletic scholarship until I earned a full ride. A $5000 check upon graduation was my push out of the financial safety net, but the emotional one remained: I sought advice from my Dad on reviewing contracts and how to invest…there was always an open door to discuss decisions I was pondering.
After college, I nabbed an agent with connections and signed a well-structured shoe contract (after sending it to my fine-print-reviewer, Dad). I crushed it on the runway early on. I made more money than I ever thought I would as a javelin thrower.
My Mom had shown me how to keep purse strings tight, so I lived way below my means. So much so that when I tore my ACL for the first time back in 2012, I could float the two years it took me to return to form. My frugality and a good contract meant I could pay for my own health insurance and was able to purchase a home on my own (way back in affordable 2013).
Once I was healthy, my second shoe contract was one-third of what I'd built the first one up to be, but over time and through its structure, it grew. After my third Olympics, second major surgery, and, ahem, 30th birthday, I thought I had a renewal in the bag. I was very wrong.
I'd spent a number of years enjoying financial support from this company, and too many of those years not living up to my—or my contract's—expectations.

A lot of my disappointing results during that time were due to injury, but when the elimination of that source of income coincided with my thirtieth year of life as a woman athlete, the coincidence was devastating.
Throughout those early years (2009-2016), I was doing other stuff, too:
I got to see my family in Washington for long weekends, often.

My love Russ and I got married in 2014 and self-renovated the house.

I spent quality time with beloved friends that are strong, smart, honest, and funny women.

I got my MBA with an Accounting concentration via a USOPC scholarship program.

Russ and I accidentally adopted Maddie the Dog.
A lot of life happened during those years that showed me my value outside of sports! My support system loved seeing me win, but they were the exact same if I lost.
What I learned most during that time period was that I truly loved taking part in my sport. That was enough for me. Participating not only afforded me self-confidence, fulfillment, and incredible experiences, but also connections to people with the same fervent passions as me.
To find my value not in the outcomes, but in the simple chance to test my limits, and share that experience with those who care to come along for all of it, has always been a gift.
---
I hope we all ("we" as in humans) want a state of being where we're paid what we're worth while maintaining our values. As I navigated the early part of my professional career, women emerged who were doing just that.
For example, Sanya Richards-Ross organized and motivated a group of athletes at the 2012 London Olympic Games to speak out about the restrictive advertising regulations of Rule 40.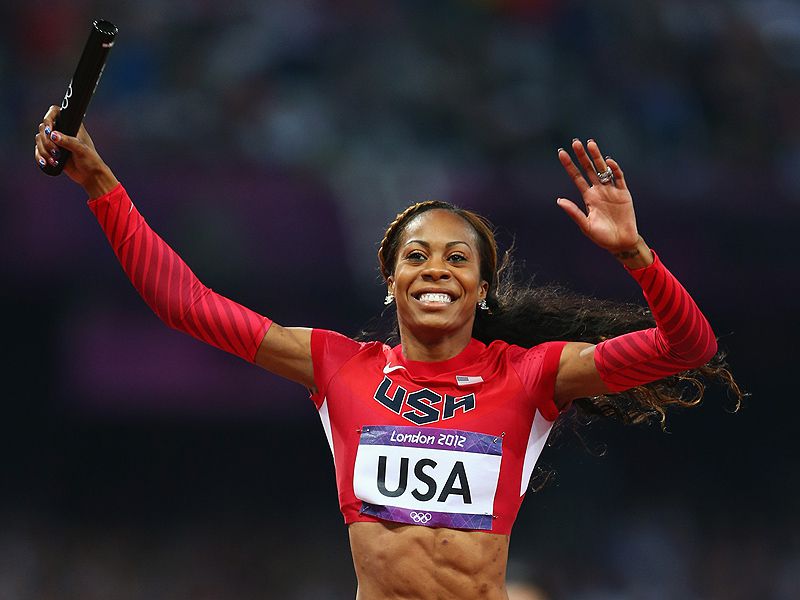 Credit: Michael Steele/Getty
To understand that rule, imagine if LeBron or Stephen Curry weren't allowed to appear in advertisements just before, during, and after the NBA Playoffs.
---
It's easy to let hardship diminish the value you place on any endeavor, and injury definitely threatened to beat me down.
Combined with the outside indicator that a company didn't value me as much as they used to, I might have not made it.
Each time I experienced something that told me I should stop throwing, I still loved it, deeply, and wanted to keep going. That was enough. I valued myself and the journey.
I never got another big sponsorship. I spent a year or so DMing companies and asking my agents what was possibly out there for a 31-year-old non-medalist. I let my first sponsor string me along for two seasons. Ultimately, I accepted that some other version of income was going to have to support the remainder of my javelin career.
Enter, Parity.
I worked here full-time during my last two years as a professional javelin thrower: I accepted my offer mere weeks after suffering my second ACL tear. Two smaller sponsors, NYAC and Tracksmith, whose values align with mine, also had spots on my jersey.
At my final Olympic Games in 2021, my teammates in Tokyo gave me the honor of a lifetime by electing me the Team USA Closing Ceremony flag bearer. They saw my worth.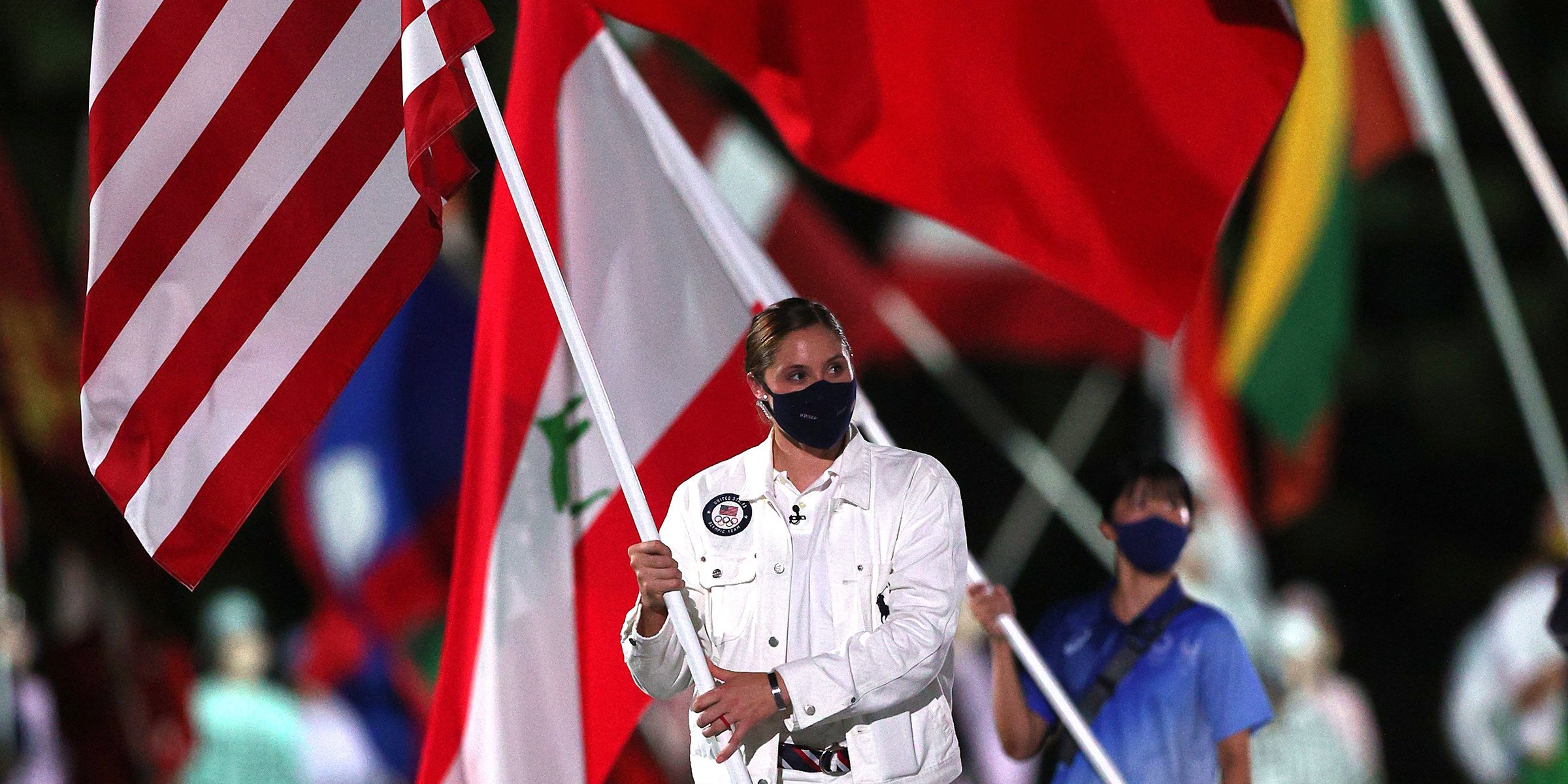 Credit: Ezra Shaw/Getty Images
I also treasured time with my husband as my technical coach in 2022; adored sharing big moments with my strength coach of 13 years; and had an absolute blast with my favorite teammate, competitor, and dear friend at each meet and training session we shared.
My parents, who've been at three of my four Olympics, but hadn't yet seen me in a World Championships final, got to witness their daughter make history in Eugene.
This final season, when I fully realized that my value didn't lie in results, but in how I navigated the experience, I became the #1 javelin thrower in the world.
---
What if I hadn't had the head start that I did, though? I know how lucky I am, and while I'm incredibly proud of sticking around for as long as it took to finally realize my dreams, on my terms, I'm more proud of the women around me, doing the same and more in their own sports:
I'm not sure that I could have first fought for inclusion at the Paralympic Games and then been forced to take legal action to keep the medals I earned, like

Brenna Huckaby

.


I absolutely cannot imagine withstanding horrendous comments about my worth after enduring ten months of Russian incarceration, like

Brittney Griner

.


I'm in awe of women who start in one sport, then transition fabulously to another, all while championing body positivity (I'm talking about

Mary Theisen-Lappen

).
As hard as it can be for us women athletes to do what we love without being externally valued for it, it's much harder to abandon that love, and to know that by doing so, you abandon your work for the next generation.
---
What if more people invested in (incredible) women?
What if more entities recognized that we've always had to find our own value, and see that our stories are therefore relatable, inspiring, and worth investing in? Even more amazing stories would emerge, I bet. More profound tales of women crushing it.
Investment in women athletes would mean freedom for women to explore the bounds of our athletic potential in ways we've never been quite able to, and it would mean the ability to tell the stories that can further push our presence in the larger world of sport.
When I asked my agents back in 2016 if they could find me another title sponsor, I gave them information for negotiations: At the time, my expenses per year before travel were about $20,000 (mortgage, utilities, gas/car, food, and Maddie the Dog stuff), so I asked for $30,000 per annum. No companies signed on.
In 2022, I spent money kind of with abandon. I had stuck around in the javelin throw for long enough to know what worked for me, and had saved from the start, plus I now had full-time support from Parity and a deadline on my athletic career. I knew I could spare no expense and feel good about giving my last season everything I had.
United earned $15,351.29 from me on flights to and from competitions for myself and my husband/coach. A total of $9,446.41 went to our AirBnBs.
As my accomplishments stacked up in 2022, I couldn't help but tally hypothetical income in my head, based on what my original contracts had been.
With a ninth U.S. title, a World Championships silver medal, American Record, Diamond League victory, Area Championship, and distance, U.S.-, and world-ranking bonuses, my income would have been in the neighborhood of $150,000. That is more than I ever made in one season as a younger, "more valuable" athlete.
I did earn some prize money, hooray. In a lot of ways, the chip on my shoulder created when I became a "free agent" served me really well.
I got to pay my friend Katie to paint shoes for me to compete in: I wore my heart on my feet. She had creative freedom to cover up some of the manufacturer logos, because no manufacturers were paying me to wear their shoes.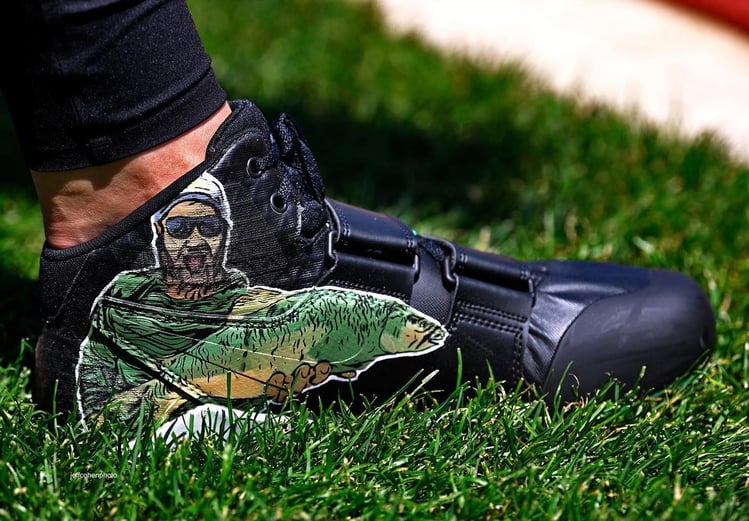 Credit: Jeff Cohen
After I medaled at Worlds, I had no obligation to visit a sponsor hospitality suite or make appearances, I could just spend time with my loved ones, and Slack the co-workers who watched live like always.
When I threw a personal best for the first time in 12 years, only Russ and a few wonderful competitors were there to celebrate with me, and that was absolutely perfect.
I truly was competing just for me and the people who have been here cheering me on for years, and I was already at peace with the idea of true satisfaction being my take-home pay.
The bottom line is that women athletes already know their intrinsic value. We accomplish incredible things, often in spite of little financial support, and almost always while supporting ourselves through means outside of our athletic pursuits.
In the world I come from (Olympics), the misunderstanding that athletes must be amateurs (aka not paid) to compete on those stages persists, even though the official rules have allowed professionals for half a century, and the blindfold should have been ripped off for the public when the Dream Team got to Barcelona in 1992.
At Parity, I love that my job is to see women athletes' self-identified value and match it with income opportunities that align. I get to know them through our proprietary surveys and observation of how they tell their own stories, and then relay that unique, powerful perspective to brands.
Imagine listening to a woman when she tells you her interests, passions, and aptitudes, then presenting her with a job that will let her shine in the specific ways you heard. That's what we do.
It is a joy to know stories of athletes I'm a huge fan of, and tell brands about that woman for the first time they will have ever heard her name. I cannot count the number of times I've heard "Wow, that's incredible," or, "I can't believe I've never heard of her" during presentations and they bring me all the motivation to make sure that stops being true for more women.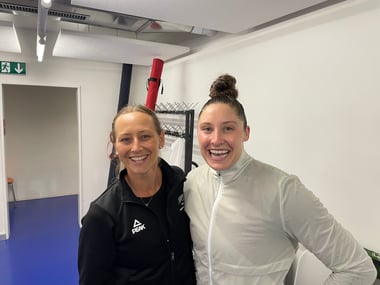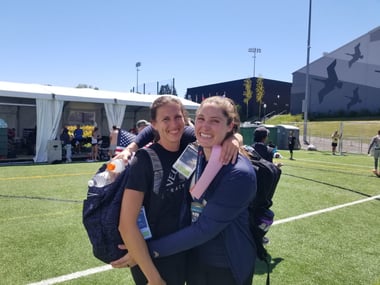 Fellow Parity athlete Tori Peeters and Kara at a competition in Lucerne; Parity athlete Ariana Ince at the 2022 USATF Outdoor Championships. Credit: Kara Winger
We've done the work to see our value. We invite you to see it, too.
I want to be clear that I LOVED my journey. But could I have gotten further if my financial value stayed consistent? I hope the next generation gets to find out.
---
Kara Winger is a four-time Olympian in the javelin and holds both the current American record and the world's best throw. She works at Parity as Senior Director, Integrated Influencer Marketing.
She lives in Colorado with her husband, Russ, and their dog, Maddie.
You can follow her on Instagram at @karathrowsjav.
---
Follow Parity on Instagram, LinkedIn, Twitter, Facebook, and TikTok to stay up-to-date on news surrounding elite women athletes and sports marketing.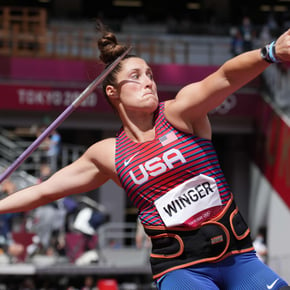 Kara Winger
Kara Winger is a four-time Olympian in the javelin, as well as a World Championships medalist and the current American record holder. She completed her final season as a professional athlete ranked #1 in the world (2022). She works at Parity as Senior Director, Integrated Marketing.