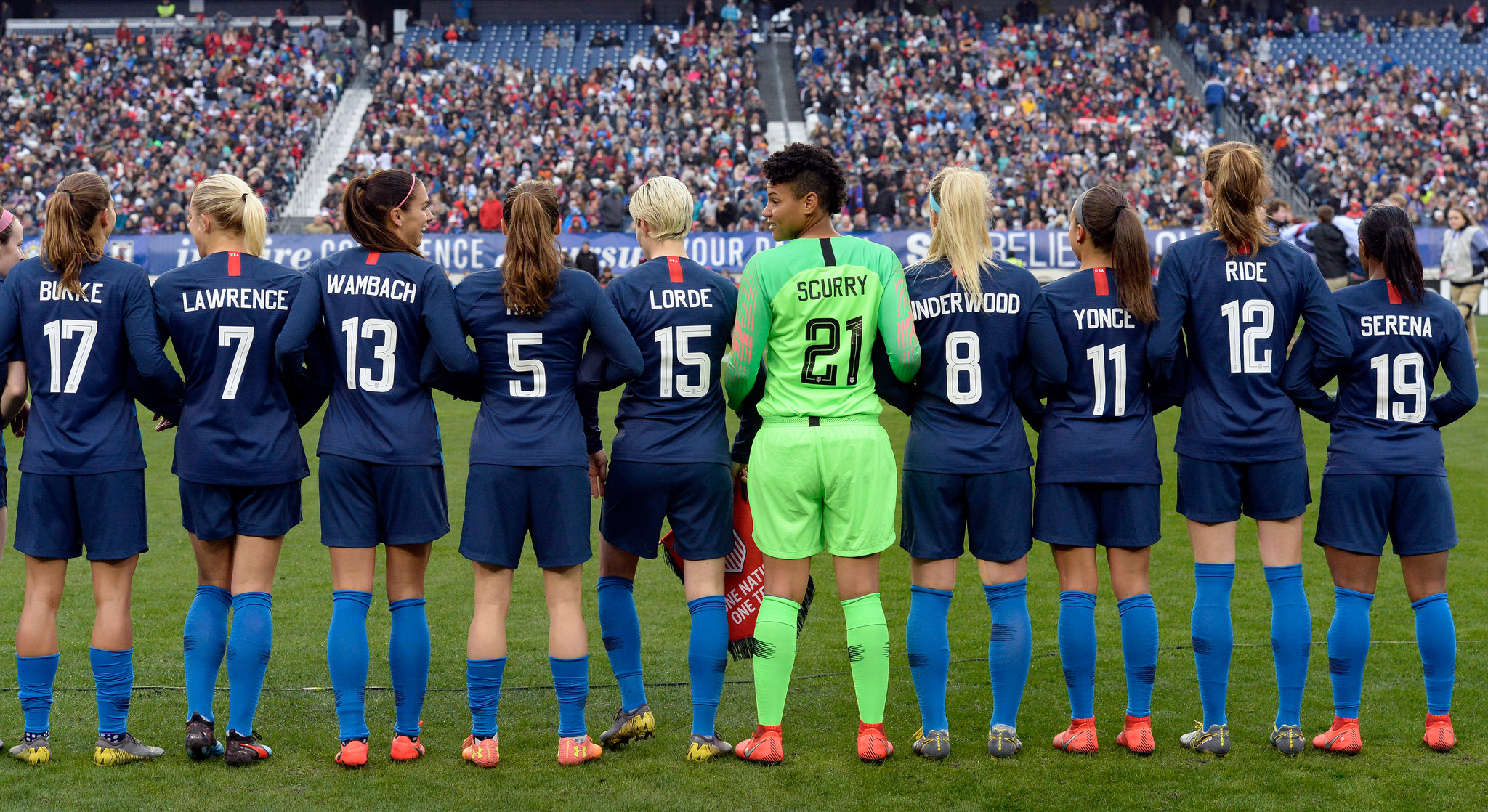 ---
It's about damn time. Women sports athletes are earning long overdue support—both from fans and from the sponsorship industry.
A recent study indicated that 84% of sports fans, including 51% of male fans, show an interest in women's sports.
A growing group of elite women athletes is paving the way for future generations. From high-level performance to era-defining activism, these pros are changing the rules of the game.
Read on for our comprehensive (but not exhaustive) list of the biggest women's sports stars of the past decade.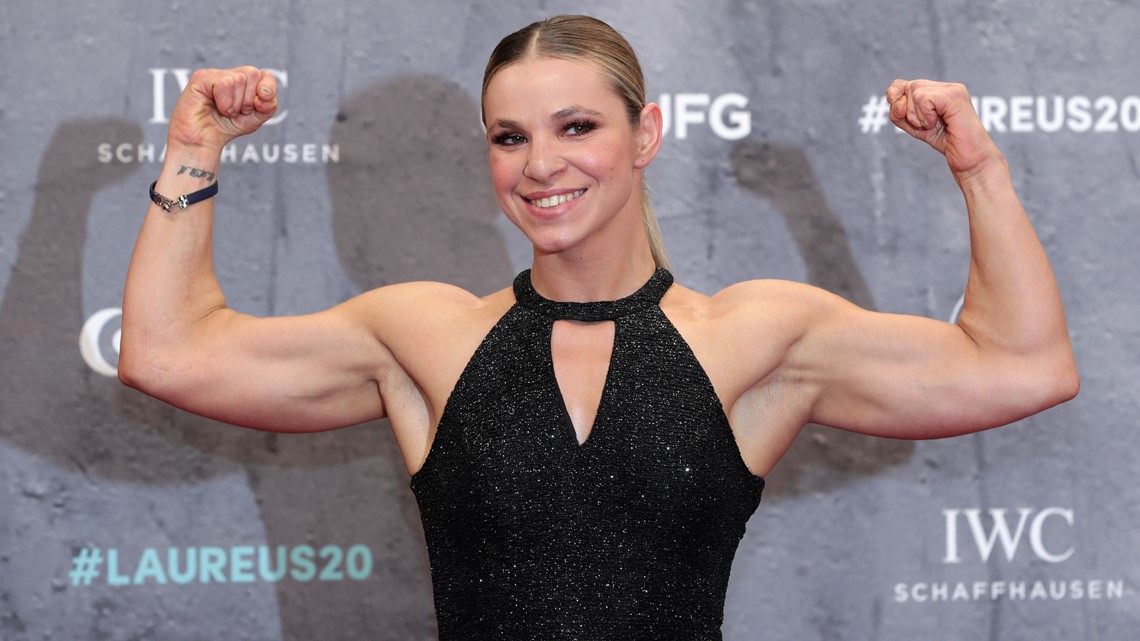 Credit: Michael Sohn / AP Photo
10. Oksana Masters
Instagram followers: 39.6K
American Paralympic champion Oksana Masters first came to prominence for rowing and cross-country skiing. She secured the first U.S. medal in trunk and arms mixed double sculls at the 2012 Summer Paralympics in London.
After 2012, Masters began focusing on para-cycling and earned two gold medals at the 2020 Paralympics. Masters, who are of Ukrainian descent, grew up near the Chornobyl disaster site and suffered severe birth defects. She was born without weight-bearing shinbones, has webbed fingers with no thumbs, and six toes on each foot.
Her inspiring success in the face of adversity sparked deals with Apple, Southwest Airlines, and ESPN.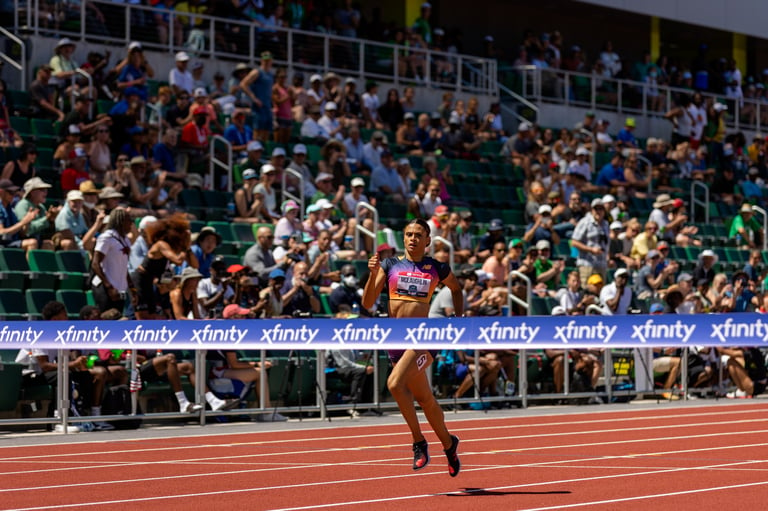 Credit: Josh Gurnick
9. Sydney McLaughlin-Levrone
Instagram followers: 1.1M
After winning the 2020 Olympic gold medal in the 400-meter hurdles, Sydney McLaughlin-Levrone became a household name. She holds both the world record and the Olympic record for the 400-meter hurdles and was the first woman to break 52 seconds in the event. McLaughlin-Levrone first competed in the Olympic Games in 2016 when she was only 16 years old, making her the youngest track and field Olympic team member in almost 40 years.

Off the track, Sydney has been an outspoken proponent of mental health. After leaving the Rio Olympics without a medal, she almost gave up on running altogether. She took time to address her mental health and came back stronger, ready to take on the competition and boasting a new mindset. Her inspirational story resulted in lucrative deals with Tag Hauer and New Balance, among other brands.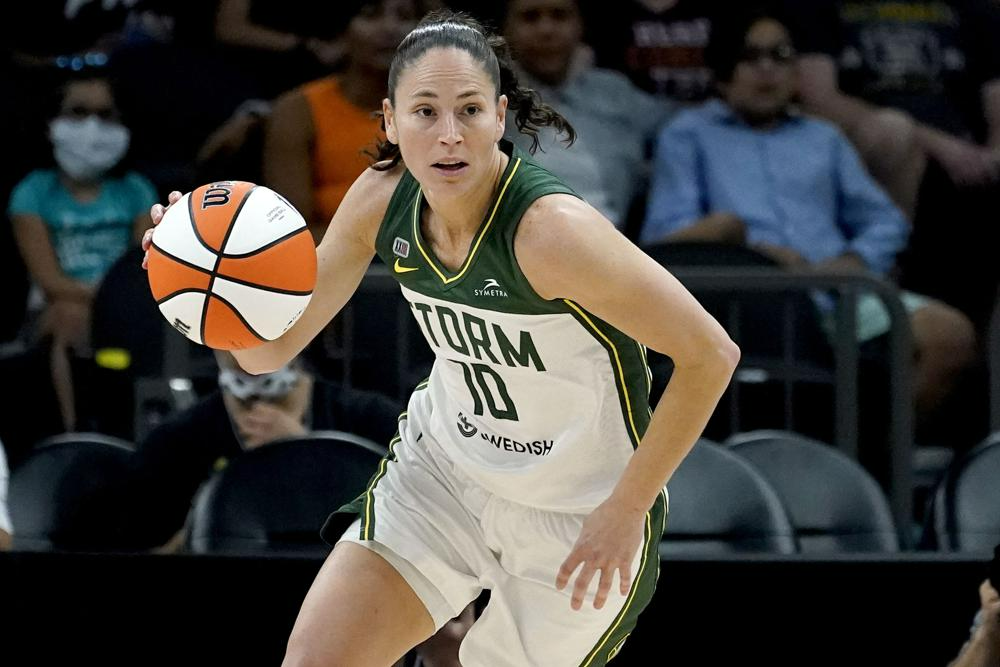 Credit: Matt York / AP Photo
8. Sue Bird
Instagram followers: 682K
One of the most celebrated WNBA players of all time, the recently retired Sue Bird has four WNBA championships, two NCAA championships, and four FIBA world cups. Fans voted her one of the top fifteen WNBA players in 2011 and she is one of only two basketball players — male or female — to win five Olympic gold medals.
Bird came out as lesbian in 2017 and revealed she had been dating soccer star Megan Rapinoe. The now-engaged couple was the first same-sex couple on the cover of ESPN magazine and was featured in a lucrative Nike ad campaign in 2019.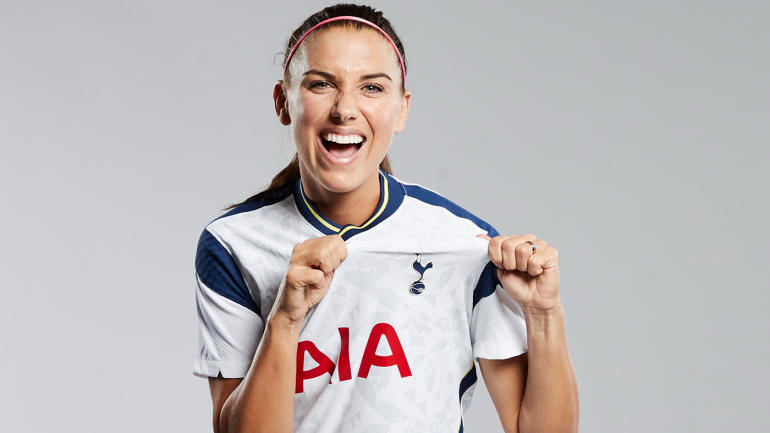 Credit: Naomi Baker / Getty Images
7. Alex Morgan
Instagram followers: 9.6M
American soccer star Alex Morgan is captain of both the San Diego Wave and the U.S. national team. The legendary striker is one of only two players to score 20 goals and 20 assists in one calendar year. Morgan is a multiple FIFA World Player of the year and has three Olympic Games appearances under her belt.
Off the pitch, she teamed with Simon & Schuster to write a series of books aimed at middle school students. With nearly 10 million followers on social media, Morgan has scored lucrative endorsement deals with Nike, Panasonic, AT&T, Chobani, McDonald's, P&G, Mondelez International, and Coca-Cola.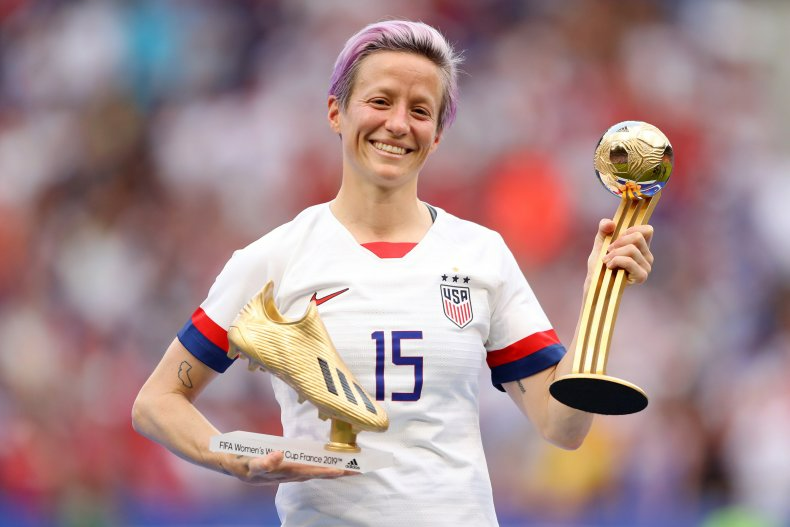 Credit: Richard Heathcote / Getty Images
6. Megan Rapinoe
Instagram followers: 2.2M
Named the best FIFA Women's Player of 2019, Megan Rapinoe is renowned both for her incredible on-field play and off-field activism. The midfielder brought home gold at the 2012 London Summer Olympics, 2015 FIFA Women's World Cup, and 2019 FIFA Women's World Cup.
An outspoken advocate for LGBTQ+ rights, Rapinoe publicly supports organizations like Gay, Lesbian & Straight Education Network and Athlete Ally. She also scored multi-million dollar endorsement deals with brands like Procter & Gamble, BodyArmor, Hulu, Samsung, Nike, and LUNA Bar.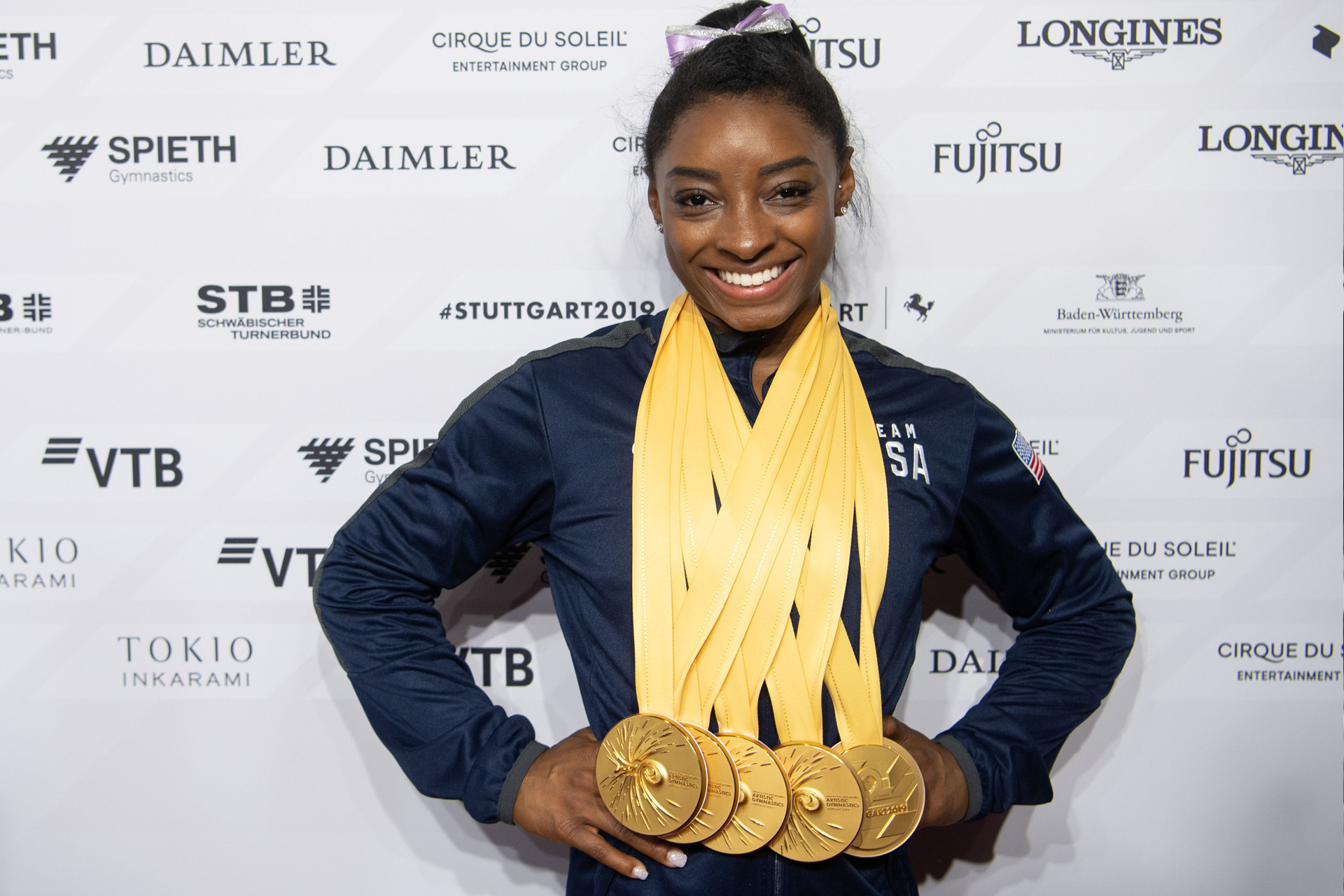 Credit: Marijan Murat—Picture Alliance / Getty Images
5. Simone Biles
Instagram followers: 6.8M
Virtually unrivaled in the world of gymnastics, Simone Biles holds the most World medals at 25, and the most World gold medals at 19. Biles even has several signature skills named after her, including the Biles 6.4 and the Biles II. Despite a shaky 2020 Summer Olympics, many consider Biles to be the greatest athlete ever to compete in gymnastics.
Biles struggled with mental illness during her most recent Olympic Games appearance and used the opportunity to elevate the importance of mental health. As an assault survivor, Biles uses her platform to advocate for other survivors. She even testified in front of the Senate Judiciary Committee to raise awareness of assault in college sports. Over the years, Biles scored endorsements with Kelloggs, Procter & Gamble, The Gap, United Airlines, and more.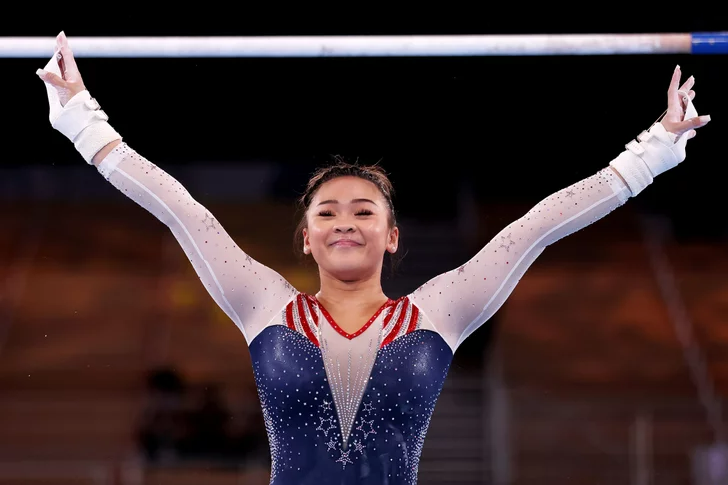 Credit: Jamie Squire / Getty Images
4. Suni Lee
Instagram followers: 1.7M
With six gold medals and world championships, Suni Lee is tied for the ninth most decorated American female gymnast of all time. Not only did she win gold at the 2019 World Championships and silver at the 2020 Summer Olympics—but she is also the first Hmong American to compete in the Olympics.
Lee has publicly addressed racism in her personal life, including a horrifying incident when she was pepper-sprayed while in Los Angeles filming Dancing with the Stars. The 19-year-old gymnast can take advantage of new NCAA rules to earn endorsements while studying at Auburn University—although she hasn't publicly announced any corporate partnerships.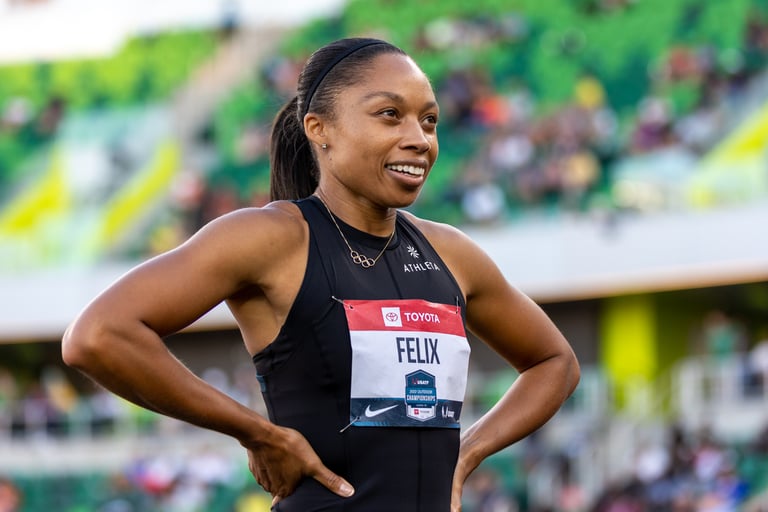 Credit: Josh Gurnick
3. Allyson Felix
Instagram followers: 1.1M
Track and field star Allyson Felix is a ten-time U.S. national champion in the 200 and 400-meter events. As of her retirement in 2022, she is the most decorated woman in Olympic track and field history with 11 total medals from five consecutive Olympic Games. In the 4x400 relay, Felix holds the world record for the fastest split ever by an American woman.
She uses her platform to advocate for maternal health rights and even testified before Congress with her own pregnancy and delivery story. Her successful shoe brand, Saysh, was created specifically with women's athletes in mind.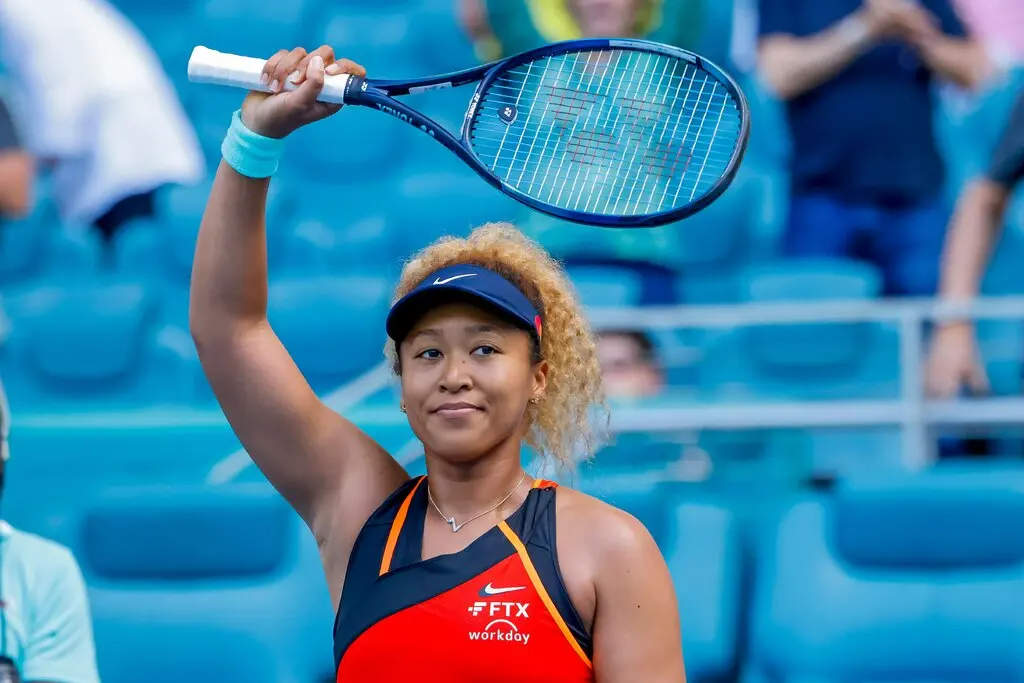 Credit: Erik S Lesser / EPA, Shutterstock
2. Naomi Osaka
Instagram followers: 2.7 million
With four Grand Slams under her belt, Naomi Osaka is one of the most talented tennis players in history. Osaka has been consistently ranked number one by the Women's Tennis Association, making her the first Asian woman to hold the top ranking. Off the court, Osaka gained many fans for her vocal support of the Black Lives Matter movement and consistent dialogue around the importance of mental health. Sports Illustrated named her "Sportsperson of the Year" in 2020 for her high level of gameplay and activism.
At only 25 years old, Osaka has earned more than 21 million dollars in prize money alone. Despite this impressive figure, Osaka's prize money pales in comparison to her endorsement earnings. A string of deals with Nike, Adidas, Airbnb, Nissan, and Levi's earned her 34 million dollars in 2020 alone—making her the highest-paid women athlete of all time.
The following year, she shattered her own record by earning 60 million dollars in a twelve-month period, $55 million of which came from endorsement deals.
She is currently expecting her first child and will soon add "mom" to her list of titles.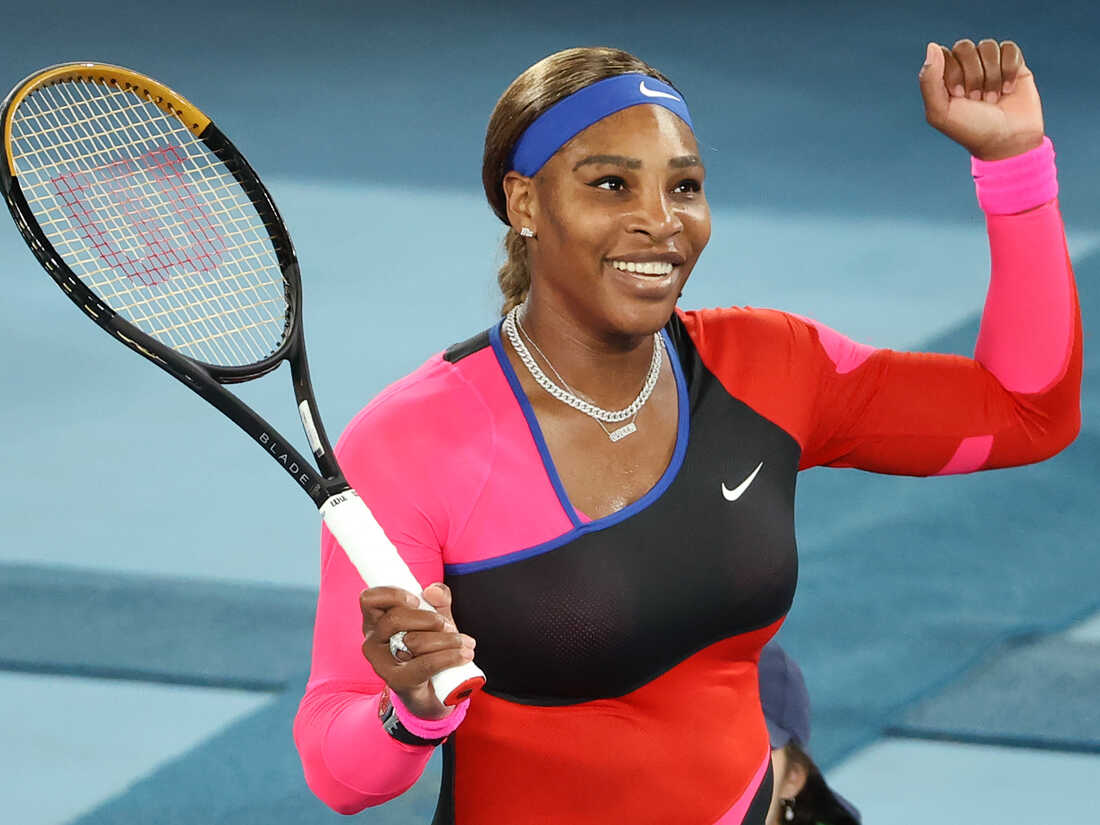 Credit: David Gray / AFP, Getty Images
1. Serena Williams
Instagram followers: 15.1M
In the pantheon of influential women athletes, Serena Williams is undoubtedly at the top. The legendary tennis star has 23 Grand Slam titles and was ranked as the top player in the world for 319 weeks. She and her sister Venus are undefeated in Grand Slams doubles, with 14 titles. Williams is also known for her extensive charity work and activism, including partnerships with UNICEF, Equal Justice Initiative, and the Purple Purse Project. The NAACP honored Williams with the President's Award for her work with the Black Lives Matter movement.
Unsurprisingly, Williams is one of the most endorsed athletes in history with a signature collection on the Home Shopping Network, a partnership with Delta Airlines, and a $40 million deal with Nike. Williams also has a sustainable clothing line, a board seat at Survey Monkey, and serves as the CSO of Aston Martin.
In 2022, Williams announced her retirement from tennis, leaving an incredible legacy and moving on to philanthropic pursuits. She also plans to use her investment firm, Serena Ventures to support the businesses of women of color.
The list can go on
Each of these influential women athletes brings their own unique perspective to the world of sports—and their diverse stories are attracting fans in record numbers.
As women competitors gain more popularity, the business world is taking note. Influencer campaigns with women athletes perform well across numerous platforms and corporate sponsorships are at an all-time high.
Now is a great time for brands to partner with women athletes. Let Parity help you make the most of the opportunity.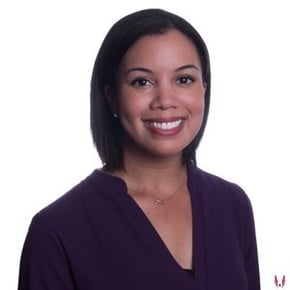 Ashley Mitchell
Ashley Mitchell works at Parity as Director of Marketing and Communications. Her background includes a decade of experience working in sports communications and public relations.