Debunking antiquated myths about women's sports 👇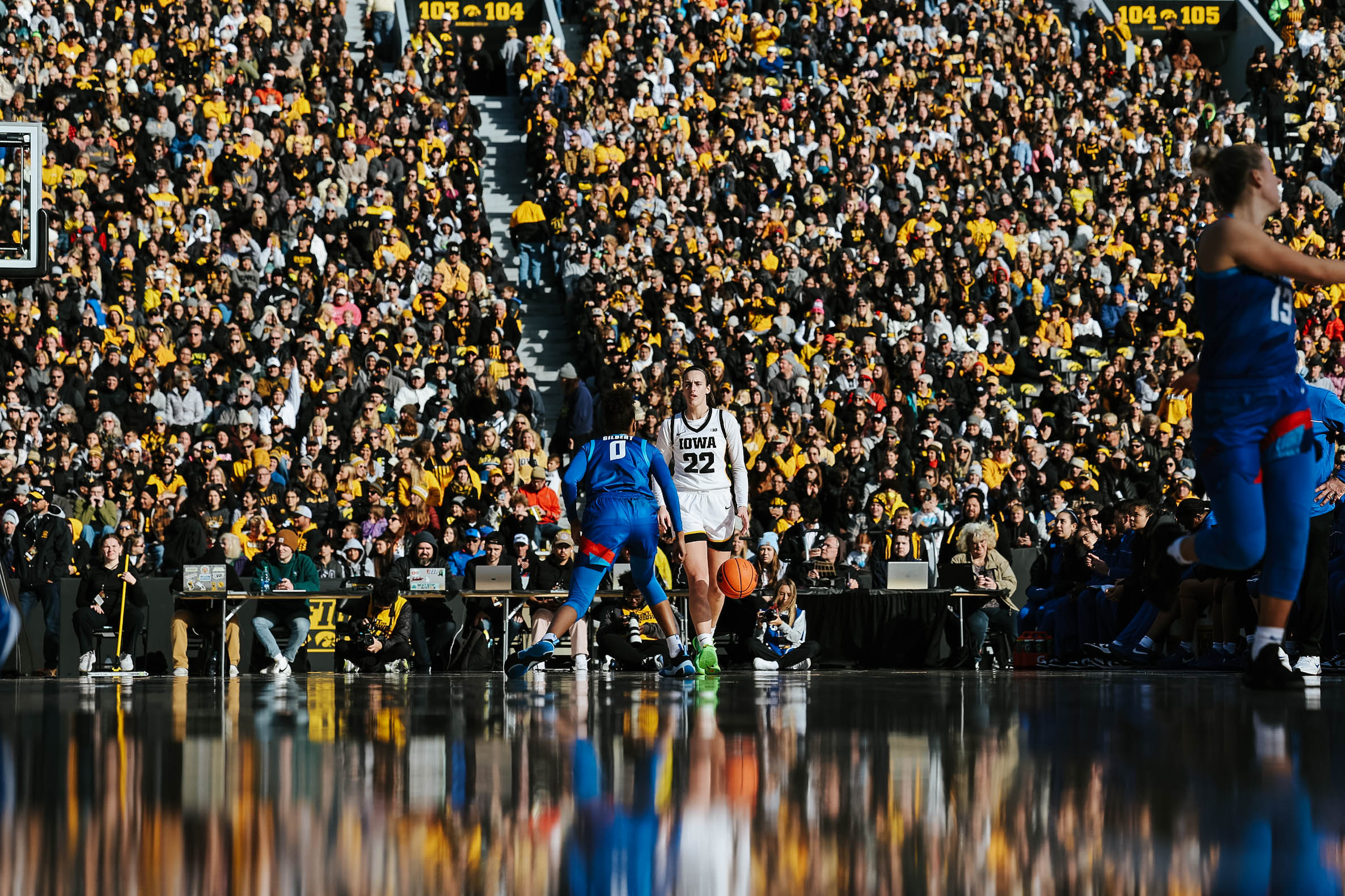 Image: Iowa Women's Basketball
We see the words posted across social media all the time: "No one cares about women's sports."

They're usually shared by keyboard warriors: folks who not only doubt the viability of women's sports, but also seem to take pleasure in putting them down. Realistically, it's not likely that the minds of these cyberbullies will ever be changed - but it's important to keep in perspective that their words will likely have little impact on the overall growth of women's sports. However, what does pose a serious threat to the growth of the industry is the misogynistic myths & stereotypes that are out there that have been around for so long that they've become widely accepted as facts.

So, let's set the record straight and use actual facts to debunk 6 of the most common antiquated myths about women's sports.
Myth 1: No One Cares About Women's Sports
Let's start at the beginning. By the numbers, this statement is simply false. Here are 3 examples that represent billions of people (literally billions) who care about women's sports.

🏀 The 2023 March Madness National Championship game between Iowa and LSU had 9.9M viewers, making it the most-viewed women's college basketball game on record.
🏐 This August, 92,000 fans attended a Nebraska Volleyball game, setting a new world record for the largest women's sporting event.
⚽ An estimated 2 billion viewers tuned in to watch the 2023 FIFA Women's World Cup.
Myth 2: Men Don't Care About Women's Sports
Actually, 51% of women's sports fans are men. Next.
Myth 3: Women's Sports Will

Never

Be As Popular As Men's
The reality is, the popularity of women's sports is not only rising; in some cases, women's sports are actually more popular than men's. Here are a few apples-to-apples comparisons where with all things being equal, women's sports drove greater results than men's:
🎾 3.4 million viewers tuned in to watch Coco Gauff vs. Aryna Sabalenka in the US Open women's final, while the men's final between drew 2.3 million viewers.

⚽ The NWSL's 10th season in 2022 drew 43% more attendees than the MLS's 10th season in 2006.
🥎 The 2022 NCAA's Women's College Softball World Series final game drew 1.74 million viewers, outperforming the final game of the Men's College Baseball World Series.

What do these examples all have in common? 💡
In all of these instances, the women's event received similar investment, coverage, and resources as the men's event. These examples show that when women's sports receive adequate investment, the sky's the limit in terms of popularity.
Myth 4: Women's Sports Are Less Exciting Than Men's Sports
Perhaps the most common myth about women's sports is that they are simply less exciting than men's. This stereotype is rooted in the false notion that women are inherently less competitive or physically less capable than men. Anyone who holds this belief has either 1) never watched elite women's sport, 2) has really been influenced by patriarchy to believe that traditional masculine traits are more socially desirable than traditional feminine traits.

And while it's certainly subjective to decide what is exciting and what isn't, in my opinion, watching Serena Williams win 23 grand slams, seeing Caitlin Clark drop 46 points in a single game, watching the USWNT win 4 world cups, and seeing Simone Biles perform the Yurchenko double pike vault (a skill now NAMED The Biles II on Vault) is as close to objectively exciting as you can get.
Myth 5: Brands Are Better Off Sponsoring Men's Sports Than Women's
This might be our favorite myth to debunk at GOALS. Currently women's sports receive just 1% of global sports sponsorship dollars, which sends a loud message that brands currently find it more valuable to invest in men's sports over women's. However, there is new data coming out all of the time that proves that it's arguably better business to invest in women's. For example:
💰 A report commissioned by The Office for Women in Sport and Recreation found that for every $1 corporate sponsors invest into women's elite sport, they realize $7.29 in return, and that early sponsors of women's sport are currently benefiting from more than $650 million in customer value annually.
🛒 A second report developed by The Collective at Wasserman determined that women athletes drive 2x more engagement on social media than men, and fans of women's sports are 54% more aware of brand sponsors + 45% more likely to consider or purchase from a brand sponsor compared to men's sports.
Myth 6: The WNBA Would Be More Popular If They Lowered The Rim
To these people I ask: Do you have any data to prove this - or is this just a "hunch" you have? Are there case studies that prove that the popularity of the NBA comes exclusively from the frequency of dunks? Are there survey results that show that lowering the rim would be the magic trick to putting WNBA fandom on par with the NBA's - even despite the reality that the NBA has significantly more broadcast support, marketing dollars, and general media coverage?

If this information exists, I'd love to see it. In the meantime, let's focus on things that we know can contribute to increased popularity of sports properties - like having more media coverage, more primetime broadcast opportunities, and more investment into the marketing of players & teams. We actually know that when you make women's sports accessible, more people watch and become fans. (And if you're looking for concrete examples of that, see above.)
In 2019, Alexis Ohanian wrote: "Facts don't care about your feelings: people want to watch women's sports."


The next time someone tells you that 'no one cares about women's sports' or presents you with one of these antiquated myths, challenge them with the facts. Even though these misconceptions run deep, the facts offer lots of hope for the continued rise of women's sports.
---
About Caroline Fitzgerald
Caroline Fitzgerald (she/her) is a contributing writer for Parity and the CEO & Founder of GOALS - a women's sports marketing consultancy & media platform. Caroline launched GOALS in 2020 after recognizing that there was an opportunity to help women's sports teams sign more sponsorship deals - and help brands see the business value around investing in women's sports. GOALS also produces the leading women's sports business podcast - The Business Case for Women's Sports, which is presented by Ally. For more information on GOALS, visit https://goals-sports.com or follow on Instagram, LinkedIn, Facebook, X (formerly Twitter) and Threads.
---
About Parity
Minority-founded in 2020, Parity's mission is to close the gender income and opportunity gap in professional sports. By developing high-impact collaborations between brands, professional women athletes and their fans, Parity has proudly put more than $2 million in the pockets of women athletes, attracting dozens of brands to the movement in the process. The platform offers connections to more than 850 women athletes from 70+ sports, including well over 200 Olympians and Paralympians. For more information on how to tap into the rapidly rising influence and popularity of women athletes, visit https://paritynow.co or follow us on Instagram, LinkedIn, Facebook, X (formerly Twitter) and Threads.
---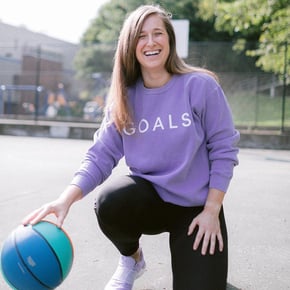 Caroline Fitzgerald
Caroline Fitzgerald is a contributing writer for Parity and the CEO & Founder of GOALS - a women's sports marketing consultancy & media platform. After launching GOALS in 2020, Caroline has quickly become a force for good and thought leader in the women's sports space.