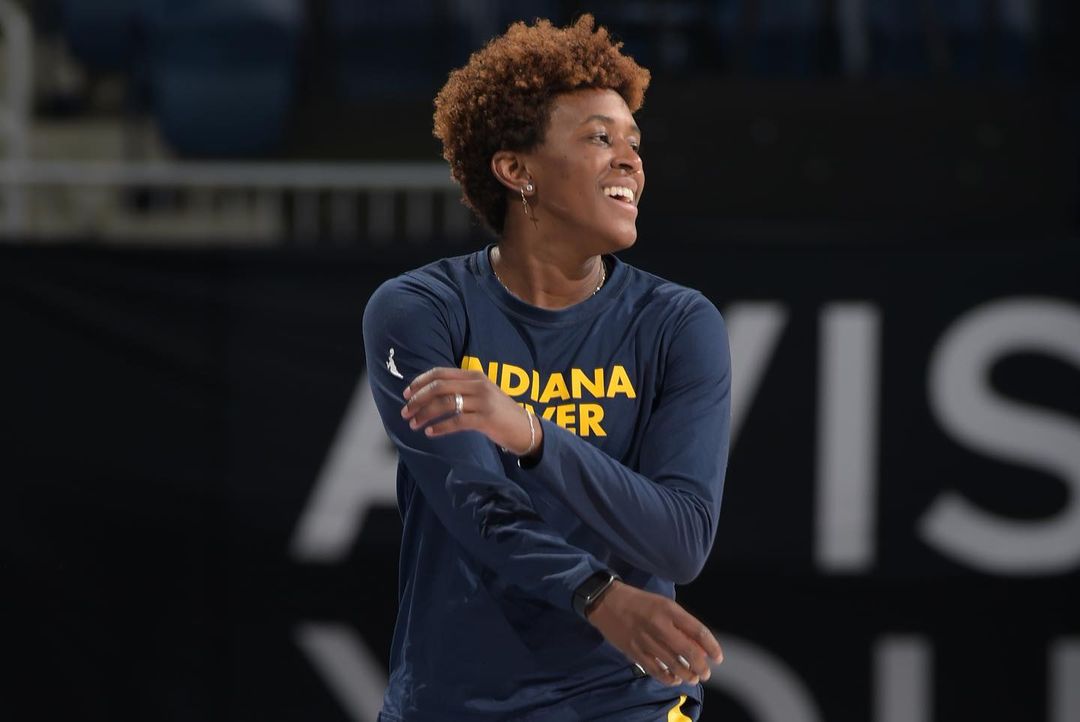 Credit: Dani Robinson (Instagram)
We celebrate Pride all year round at Parity. Here, we take a look at representation in the WNBA through the lens of Indiana Fever athlete Dani Robinson, and how brands experience positive growth when they authentically engage with LGBTQIA+ audiences.
---
Dani Robinson, originally from San Jose, California, grew up in an active household.
"Both of my parents played sports. My mom actually played basketball at Hampton University and my dad was in the Air Force. I grew up with an older brother who also played basketball, so whatever he did, I wanted to do. It's an awesome connection."
The 33-year-old's love for basketball began in second grade while watching her brother at practice and playing against his team. "That's really how I grew up and learned the game. It helped me grow a lot as a basketball player... Coming from a family that played sports has made my journey so much easier."
"The support that I had was incredible," she continued. "My mom was my coach literally from second grade until eighth grade."
After playing with the Archbishop Mitty High School team and then at the University of Oklahoma, Robinson's successes lifted her to being drafted as the 6th overall pick by the WNBA's San Antonio Silver Stars.
Now with 11 years in the league under her belt and playing for the Indiana Fever, the three-time professional All-Star knows she can hold her own amongst the greatest.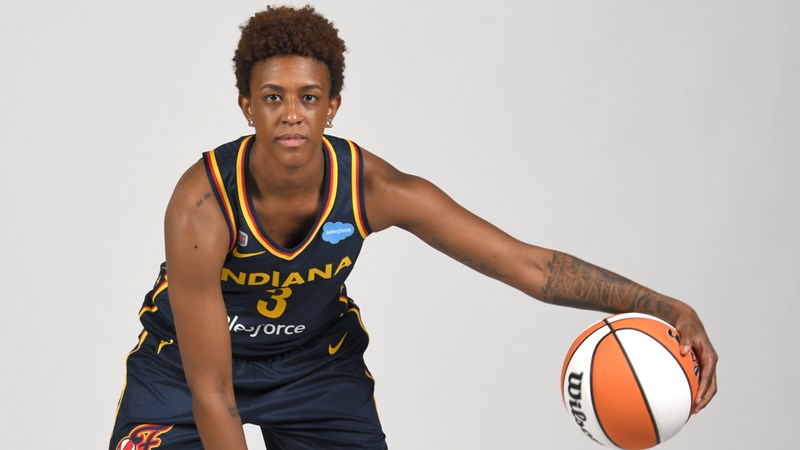 Credit: Indiana Fever
"Maya Moore, Diana Taurasi, Brittany Griner, A'ja Wilson — I'm playing with these people.

I feel so fortunate to have played with these amazing athletes, and that's what I think makes my journey so fun and incredible. It's been an honor."
With her career established and thriving, Dani has had more time to make her personal life a priority.
In 2020, she announced her engagement to partner Drey Mingo, and the two plan to get married later this year. A brief scan of Dani's Instagram shows how thrilled she is for their upcoming nuptials, punctuated by monthly countdown posts with adoring captions.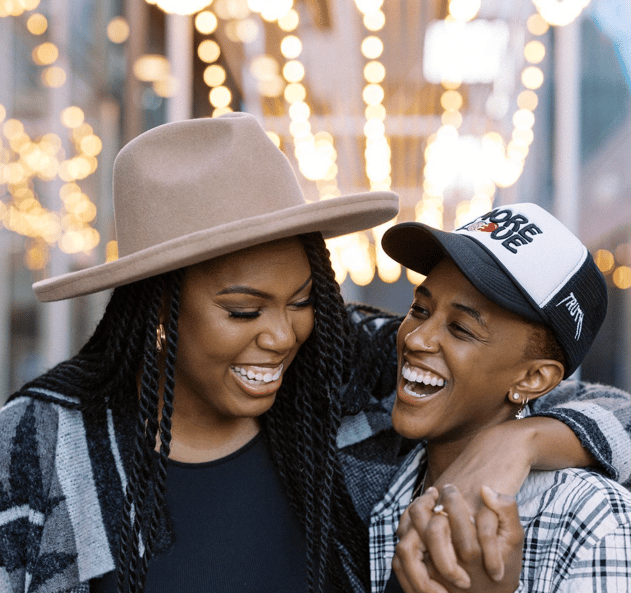 "T-6 months until our big day. She's absolutely beautiful." Credit: Andrea Baca
These public displays of affection are indicative of how open Dani is with her fans, and also how supported she feels by the larger WNBA community.
"I'm so proud to be part of a league that supports LGBTQIA+ athletes.

We have a really outspoken group of women who aren't afraid to stand up for each other and always have each other's backs.

We have people fighting for us, and it's always a conversation that's at the forefront of the table."
According to her, playing in the WNBA has been nothing but empowering, and the current stats would imply she's not alone. One in five WNBA players is publicly out as LGBTQIA+, which is possibly the highest of any pro league in the world.
The now-retired Sue Wicks was the first player to publicly identify as lesbian back in 2002. Fast forward more than a decade, still, a year before gay marriage was legalized in the U.S., and the league initiated Pride Nights in 2014. The themed events have since become a yearly celebration across all teams, inviting fans and athletes alike to participate.
The inclusion of trans and nonbinary athletes in the league, on the other hand, has only very recently progressed. In 2021 Layshia Clarendon signed with the Minnesota Lynx and became the WNBA's first openly trans and nonbinary athlete.
"The W is perfectly positioned to be the league that is for people who are marginalized because of gender," Clarendon told GQ last year. "That's why the W started in the first place, and I think that's the league that it still is." [Note: The Lynx waived Clarendon just before the 2022 season, citing them not being back to full strength after an injury.]
Other professional sports leagues have slowly but surely updated their inclusion policies to support the participation of trans and nonbinary athletes. The PHF was the first professional women's sports league to have a formal policy in place regarding the participation of non-cisgender athletes in 2016. Over the past two years, the USTA, WNFC, NWSL, and LPGA have all eliminated the requirement that players be "female at birth" to compete.
An athlete's choice to not share details of their private life reflects the cultural tug-of-war for acceptance and equal rights that could put them at risk of losing playing time, sponsorships, and even personal safety.
"The biggest thing for me is whatever people feel comfortable doing and having that sense of community, that sense of support," Robinson told us. "Obviously there are people in the league that are out, and there are some that are not, so basically just do what makes you feel comfortable."
"I've been really, really private," she continued. "And then as [Drey and I] got more comfortable with [our relationship], we decided that we wanted to share our love. Drey played basketball too, but people that have played before us have paved the way… not everybody's journey is the same."
---
Brands respond to positive change
The voices of outspoken LGBTQIA+ athletes and allies have undeniably influenced society to take steps towards a more inclusive environment for players of all identities.
Brands that have genuinely embraced progress have seen not only a rise in sales but also in public goodwill among those that support equal rights for all. Back in 2014, the LGBTQIA+ community held an estimated $800B in spending power. Social media's limitless reach means that the dollar amount has grown even more since.
Per The Pride Co-Op, "According to 2021 U.S. government census data, the LGBTQIA+ community is the fastest-growing minority segment in the U.S., with close to

$1.4 Trillion spending power."
And fan access to connecting with their favorite athletes outside of competition translates to increased engagement and even greater reach. Opportunities for influencer campaigns led by LGBTQIA+ athletes, including Dani, bring us closer to bridging the gender pay gap in sports.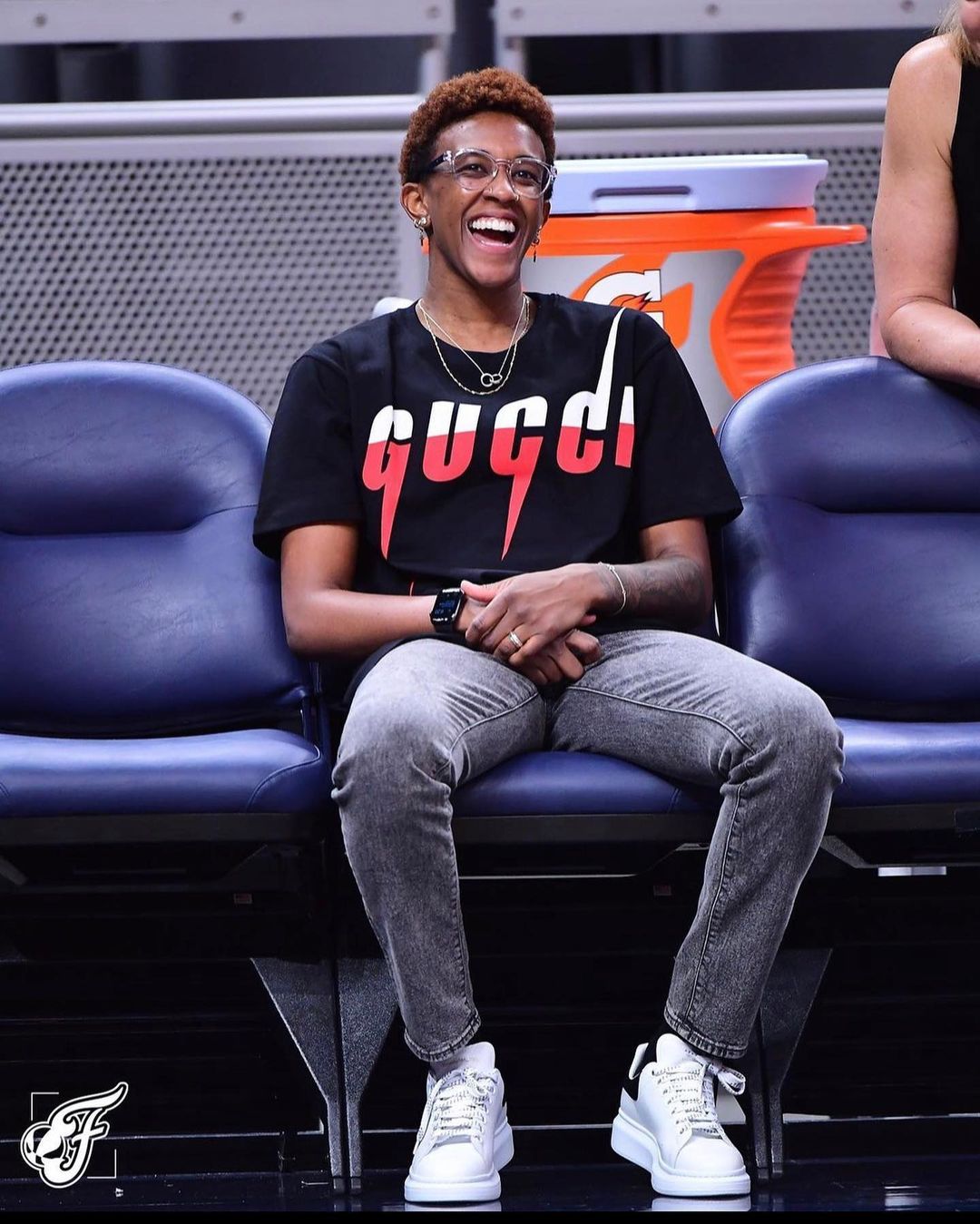 Credit: Indiana Fever
"I think it's so important that right now our group – Millennials, Gen Z-ers – are fighting for more because

as much as we are thankful for this, we still want more. And I think we deserve more.

I'm proud to be part of the group fighting right now for more and thankful to be a role model for young girls that want to play as well."
---
Just as Black History Month doesn't truly end in March, the time to celebrate Pride and the multitude of intersectional identifiers isn't limited to June. The WBNA has come a long way in making its athletes feel seen year-round.
"I'm so proud to be a part of a league that supports us in this way," Dani said. "Like just to show that they're allies. I think that we're in a really good space right now."
Brands that consider themselves part of the LGBTQIA+ community may want to pay attention to the ever-growing wedding influencer category, in particular. What better way to reach both LGBTQIA+ members and allies than by teaming up with athletes preparing for the happiest day of their lives (post a Championship win, of course)?
We know one athlete that is excitedly counting down the days until she says, "I do."
Fans can follow Dani on Instagram at @danirob13.
---
We work with brands big and small to engage their target audiences, utilizing our 750+ athlete roster to develop impactful influencer campaigns. Schedule a chat with our sales team today!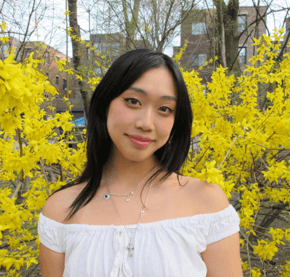 Emmy Ma
Emmy Ma works as a Content Intern at Parity. She has been involved with the company since 2021, not long after retiring from professional figure skating at age 20. During her athletic career, she represented both Taiwan and Team USA at international events. She graduated from Boston University in 2022 with a B.A. in Advertising and a minor in Psychology.