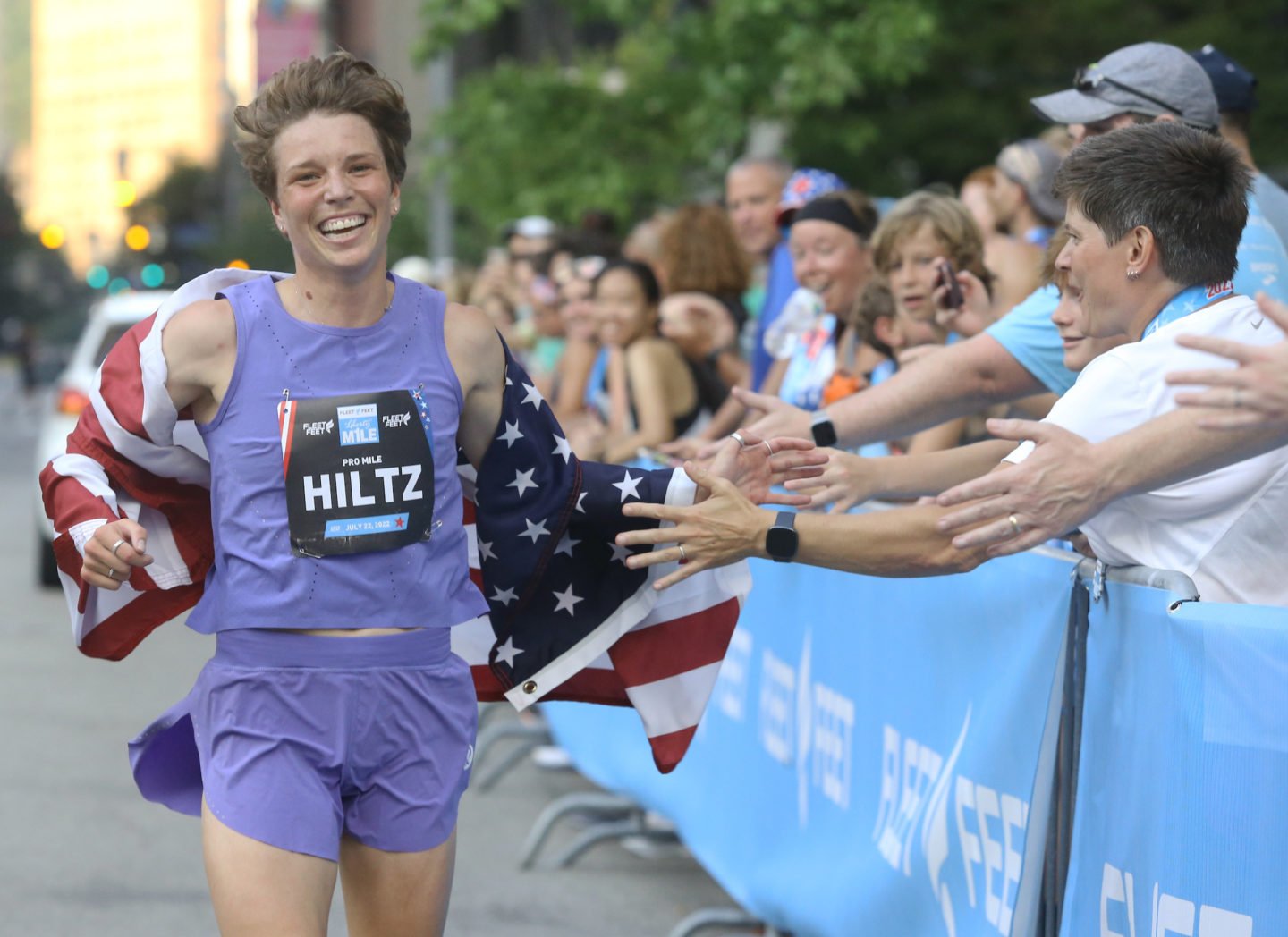 Credit: Running USA/Chuck LeClaire
We spoke with professional runner Nikki Hiltz (they/them/theirs) about their many accomplishments as a six-time NCAA Division I All-American and 2019 Pan Am Games Champion, as well as their experience coming out as transgender, gay, and nonbinary.
---
You've spoken about your life experiences and it's so inspiring how you've navigated the paths of your identity while still excelling in your athletic career. How has it been with Lululemon as your new primary sponsor?
It's been awesome! The first phone call I had with them, it was just like, okay, this company gets it. I think the main difference [between them and other sponsor experiences] is it's just so authentic.
They're like, "What you're doing is awesome and we recognize that. How can we help you elevate that even more?" Some [brands] are like, "We came out with this sports bra, post about this." And I'm thinking, well, I hate my boobs sometimes… this isn't authentic.
I can tell Lululemon wants to work with me on what I want on the track and off the track. I feel that the transparency is there, the authenticity is there.
It's definitely a new area where I'm opening up and being more transparent. Lululemon actually did this whole media push and campaign [ahead of the announcement], which was cool. All of a sudden, I was given a space to share my story.
The Pride 5K is a race that you managed to organize and run during a crazy 2020. It was great to see how it brought so many people together for a great cause. What were your motivations for creating this event?
It was obviously a crazy time. All of our worlds were flipped upside down.
With the pandemic and professional running pretty much getting shut down [in 2020], this gave me an outlet to discover my gender identity and the fluidity I had with my gender. Ultimately, I was a queer person desperately wanting to create a safe space for other queer people because I felt like I didn't have that fully.
I was really lost in trying to figure out what I could do during this downtime. I'd always wanted to put on a race, and me and a couple of my teammates at the time were making shirts in my garage thinking we could design a shirt and then have everyone run on a certain day.
It was kind of a selfish endeavor, wanting to create this thing for myself, but of course, it was also for everyone else. That first summer we opened registration and 2,000 people signed up! It was essentially a virtual Pride parade, but through running.
I think people were excited because all the Pride events had gotten canceled, and here was this activity that almost anyone could do and have their money go to a good cause, supporting a queer athlete. It was kind of a perfect storm, especially because people were getting into running at the start of quarantine.
On that day in June, four people used the Pride 5K to publicly come out and posted about it on social media. I got chills everywhere. I knew then that this was not just a one-time quarantine special. This was something I wanted to do for the rest of my life.
The next summer I was able to talk to those people and recorded podcasts with them. It was during the conversation with my first podcast guest that I was like, "I want to come out too!"
It started as this journey where I told myself, "I'm going to do something during quarantine and also maybe help make a safe space for myself."
A year later, I felt safe enough to come out about my gender identity with the Pride 5K community.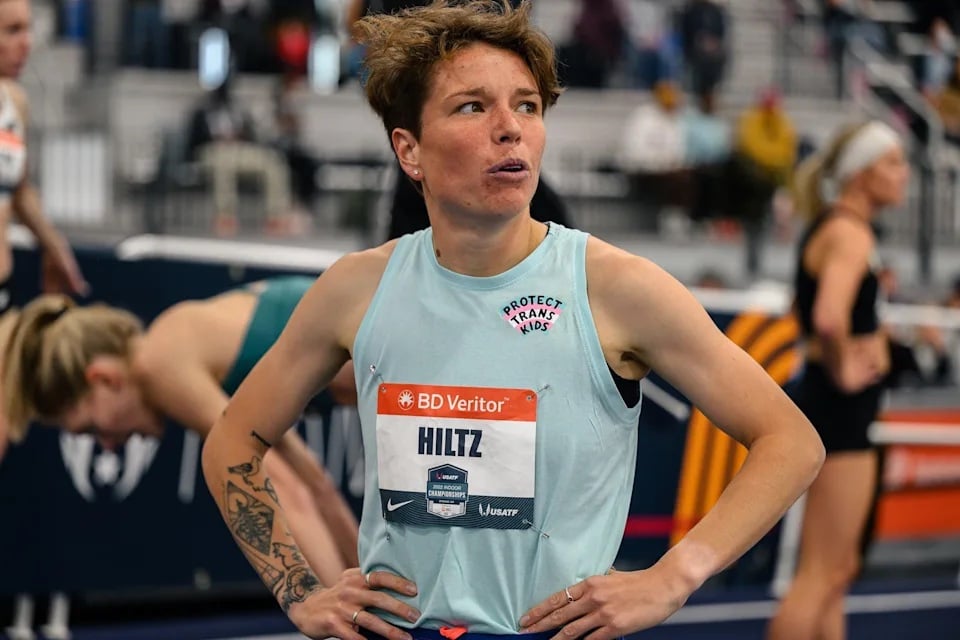 Credit: John Nepolitan
What would it have meant to you to have seen a nonbinary professional runner as a kid?
I guess we'll never know, but I think I would've known sooner that my gender is fluid and that my pronouns are they/them. I think I would've definitely come out earlier.
Representation is just so important across all genders, races, and sexualities, because the more you can see a little bit of yourself in someone, the less alone you feel and the more you can imagine yourself like that, too.
It's very vulnerable to be out, especially in a sport where there aren't very many out trans athletes. I think about it all the time – I know how important it would've been for me to see that person being themselves.
Talking about this always brings me back to why I'm doing it, for the next generation to see a space for themselves.
How do you think the professional sports world is doing right now in terms of supporting athletes who aren't cis/het/white? What would you change for it to become a more inclusive environment?
There definitely are pockets of representation, but we still have a long way to go. In the media tent at this year's USATF Outdoor Championships, it was nearly all straight, white, old guys. CITIUS MAG was there, who I love, and they're a young, diverse media outlet. They were the only ones that I felt comfortable talking to.
CITIUS does a good job of hiring woman reporters, Black reporters, queer reporters. You can just tell that athletes are more comfortable talking to them than this old white guy who's judging you.
But in all spaces, it's hard because the running community itself, I feel, is one of the most progressive. I put on the Pride 5K and so many runners signed up for it without hesitation, even people I've raced against.
I have really strong allies when it comes to the actual runners. It's the people in power — media, officials, race directors — who I don't really feel safe with. I feel they're not doing the work to make everyone feel safe, and it's a bummer. It's very rare when I'm in a race and the announcer who's calling it gets my pronouns correct.
I'm used to it, but now it kind of bounces off of me. It makes me so sad to think of a trans kid or nonbinary person watching me run because they're like, oh my gosh, representation, and then I get misgendered. And then they're crushed as well.
The New York Road Runners are doing an incredible job with the races they put on, like the 5th Ave Mile, which I always do. They have a nonbinary division, and when I ran it last year there was an "X" next to my name instead of an "F." Little things like that make me feel so seen and safe.
When I was checking my results after the race, I clicked on the nonbinary division. I was expecting to see me and one other person, but there were 10 people… It's cool that we can do the little things to help people feel more included.
The track and field world is a little bit behind on that, but I think that there are organizations that are slowly getting there. It's a little bit of progress here and there, but we can do better.
What challenges have you faced in the track and field world because of your identity?
I was always so afraid to come out. I feel like I built it up to be this huge thing, because it is. Back then, it felt like I couldn't come out because I thought everyone was going to hate me, especially because I went to school in Arkansas. It's not a thing to be gay there. But, as soon as I came out as gay back in 2016, people surprised me.
It's easy to have an opinion about something, but once you can put a name to it, a face to it, a person to it, it's like oh, okay. I know a trans person or I know a gay person — this isn't that scary.
Within the past year, I don't know if people are ready to learn and unlearn what they know about gender. There's been pushback, like a lot of people just not getting my pronouns right. It's been hard, but it comes down to authenticity to me. If I were to choose to not be vocal about this, or not be myself, it feels like I'm choosing a life of discomfort.
Being closeted was so uncomfortable at times. Even though being out can have its uncomfortable moments, it doesn't compare to how affirmed I feel when people do use my correct pronouns, or how cool it is to meet people who tell me they came out because of me. I've even met parents who have told me about their children coming out as nonbinary because they saw or met me. Those moments will always outweigh the ignorant people.
I've also been recognizing my privilege. My whiteness will always trump any sort of other minority that's part of my identity. I know I can use that to get into spaces because I am the queer white person. When I'm in those spaces, how do I make room for the people of color who are queer? How can I definitely not speak for them, but help get them in the room with me?
Like everything else, it's been a journey, feeling like you're a hidden minority. Being queer is definitely a hidden thing that you come out about, but I can go into any space and essentially be back in the closet. On an airplane, no one knows — I'm not holding this sign that says, "I'm gay." I've learned a lot from helping lift others up through my privilege.
You recently moved to Arizona to train with Mike Smith, Rachel Schneider, and Elly Henes. How has that been for you? What are your goals for the rest of the season?
It's been awesome! I just moved in March, so it's still relatively new, but it's been so awesome.
Mike Smith is notorious for coaching 5K and 10K runners, so even though I run the 1500m, my strength is getting really good. Rachel and Elly are two of the best U.S. 5K runners right now. I run the 1500 to the event below them, and it's been so incredible getting stronger with them.
Rachel and Elly and Mike have also been so good about using my pronouns. I feel so safe and affirmed to my gender here. When I feel safe, that's when I can run my best. It's been an incredible move and this is where we're hosting the Pride 5K! The Flagstaff community and the running community have been so helpful.
My goals for this summer are honestly just to have fun, race as many times as I possibly can, and travel all over the U.S. This is the fun part of this season. You get to go to all these cities and meet their running communities.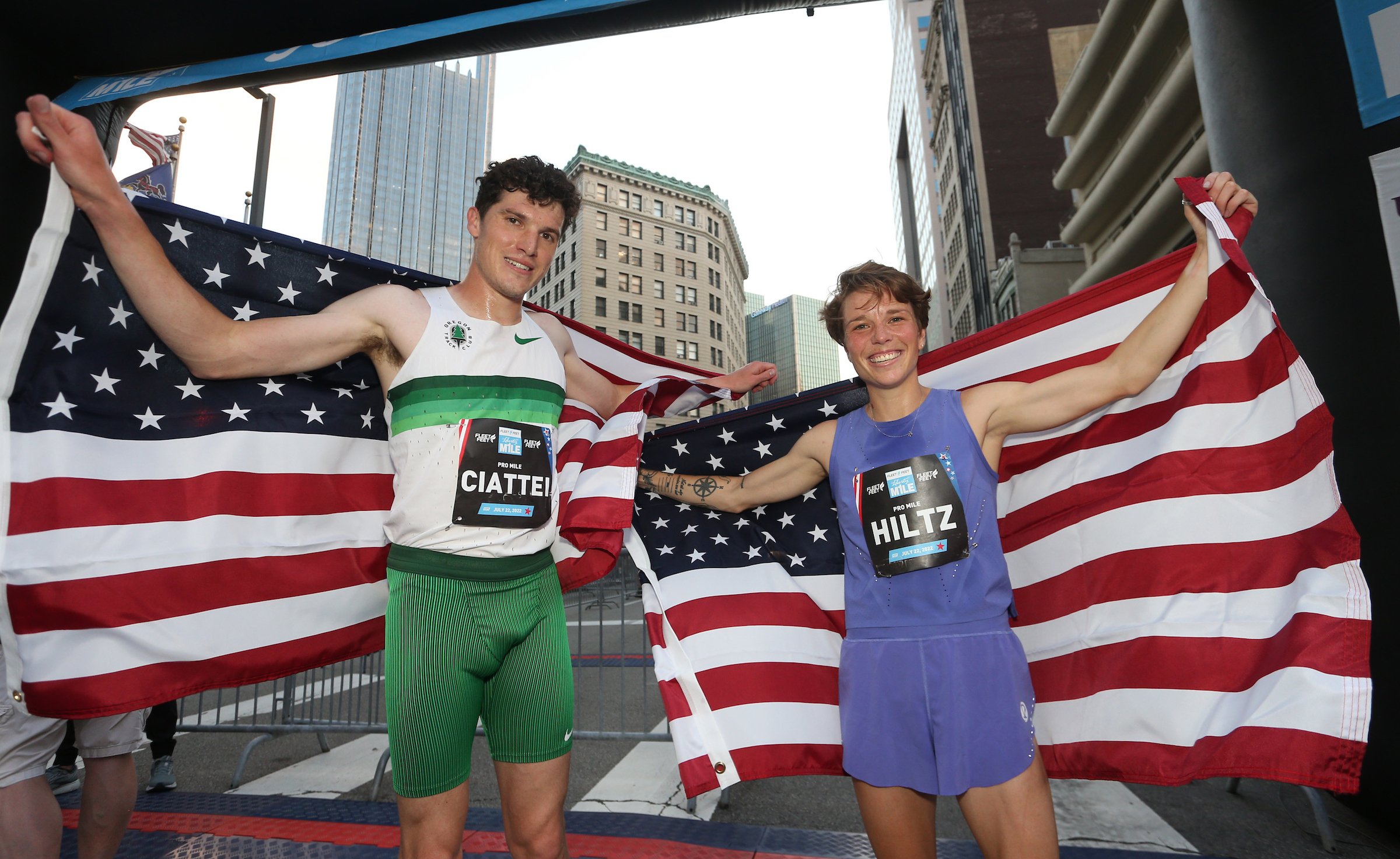 Credit: Liberty Mile
Are there any other brands that you'd like to work with?
This is the first year that the Pride 5K is going to be in-person. It's been awesome seeing the kinds of brands that want to be involved. We've also been cautious noticing if companies actually want to be involved, promote, and post stuff about this, or if they're just trying to check off a box to make them look inclusive.
My girlfriend and I are going through these emails from brands that want to send sunblock or sports drinks, but we need money. We need brands to support queer people and what we're doing.
Any company that's doing it right is a brand that I'd be happy to partner with. I feel it's so easy to say, "Oh it's Pride Month, we're going to come out with a rainbow product for all these gay people." That's actually not what gay people want. We want support with all this legislation happening.
We want donations to be made to the organizations that are doing the work. We don't need another rainbow hat.
Any brand that gets that and says, "We made this rainbow thing, but all of our proceeds are going to this organization," or "We're hiring X amount of queer employees," or even brands that are fully queer-owned and operated — those are the partnerships that I would love to support because that's super authentic to me and what I'm doing as well.
What are your future goals to help the LGBTQIA+ community?
The Pride 5K is focused on The Trevor Project, but I want to do more for the trans community. Now, I live in Arizona, where there are trans athlete bans and gender-affirming care bans. I would love to do more work focused on trans kids and protecting them. I wore the "Protect Trans Kids" singlet during the indoor season just to raise awareness, but I want to do more than that.
For the past year, I've been wearing binders. I would love to work with Lululemon to create a sports binder, or even maybe start a program to help fund trans men or nonbinary people who want top surgery but don't have access to it.
I have ideas to help specifically trans people, but they're all just ideas right now. Nothing's cemented yet. But like I said earlier, I feel I could get on the Zoom call with Lululemon and tell them what I'm thinking. I'm confident they'd say, "Let's find a way to help you do that!"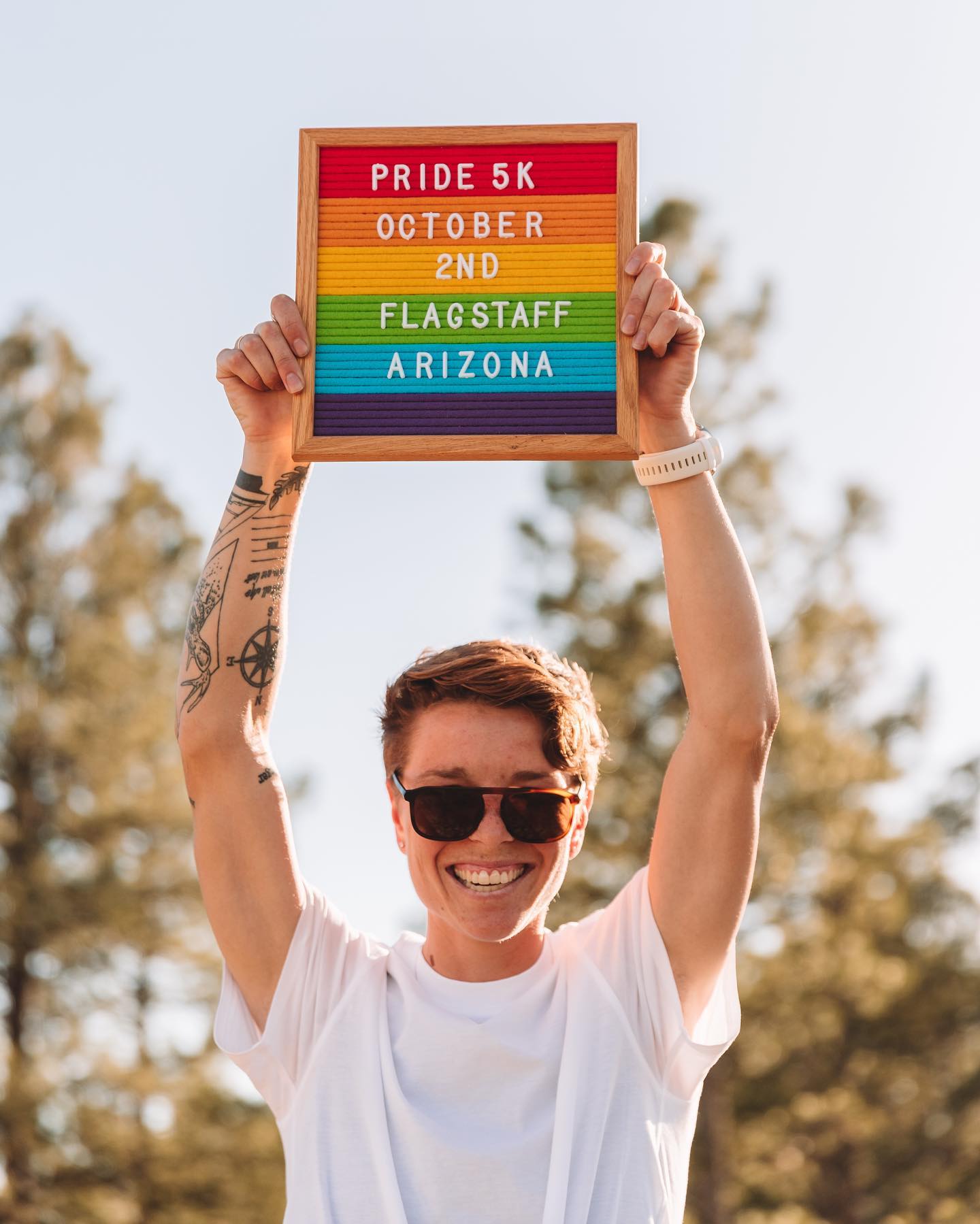 Credit: Nikki Hiltz (Instagram)
Do you have any advice for nonbinary athletes who are navigating our predominantly binary culture?
It's hard, but I would say to lean into the people and things that make you feel safe. There are so many people who are willing to learn and unlearn, want to understand you, and want to be corrected. It also doesn't have to be this big, huge post or media campaign when you come out. It can literally just be telling one person, starting small. For me, I told my best friend and then the next time I came out, I told my girlfriend. That weight can be lifted even by telling just one person.
Tell the people that love you no matter what, and then go from there. You can tell as many or little people as you want.
It was another journey recognizing that. I came out a year ago and I still feel I have to come out every day when it comes to correcting others. We live in a society where people just assume that you're cis and straight no matter what.
You can follow Nikki on Instagram @nikkihiltz & sign up for the Pride 5K taking place on October 2, 2022 (in-person or virtually!) here.
---
We work with brands big and small to engage their target audiences, utilizing our 750+ athlete roster to develop impactful influencer campaigns. Schedule a chat with our sales team today!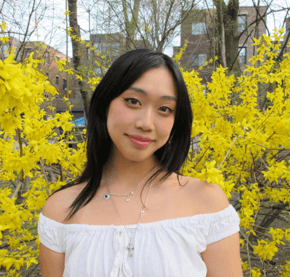 Emmy Ma
Emmy Ma works as a Content Intern at Parity. She has been involved with the company since 2021, not long after retiring from professional figure skating at age 20. During her athletic career, she represented both Taiwan and Team USA at international events. She graduated from Boston University in 2022 with a B.A. in Advertising and a minor in Psychology.