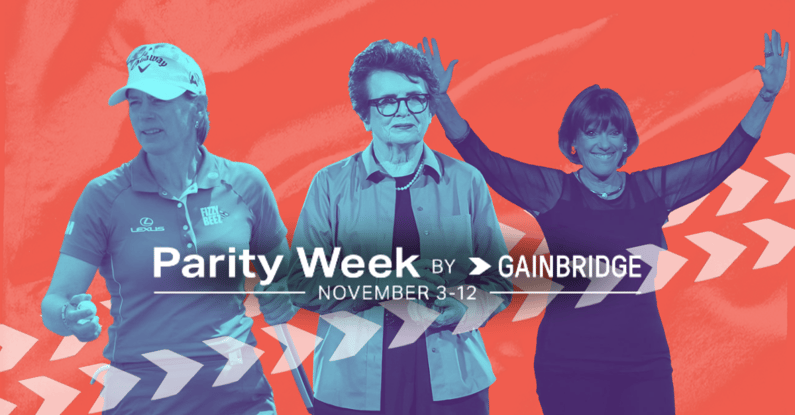 Pioneers Billie Jean King, Annika Sorenstam and Lyn St. James to be honored in Gainbridge's first-ever Parity Week, where 180 women will compete for nearly $13 million.
(Zionsville, Ind.), October 26, 2023 – Gainbridge®, a Group 1001 company, announced today the launch of "Parity Week by Gainbridge," a celebration of three pioneers in women's sports centered around three flagship events the week of November 6-12, hosted by Billie Jean King, Annika Sorenstam and Lyn. St. James, respectively.

The Billie Jean King Cup by Gainbridge Finals, known as the "World Cup of Women's Tennis," will take place in Seville, Spain, on indoor hard courts at Estadio de La Cartuja from November 7-12. The ANNIKA driven by Gainbridge at Pelican will feature the best of the LPGA Tour at Pelican Golf Club in Belleair, Florida, with tournament rounds scheduled for November 9-12. The WIMNA's "Women with Drive III – Driven by Mobil 1" summit will be co-chaired by Lyn St. James at Phoenix Raceway on November 7-8.
Between the golf and tennis events, 180 women athletes will compete for $12.85 million in total prize money during Parity Week.
The namesake for "Parity Week" is Gainbridge's sister company Parity, a brand sponsorship platform committed to closing the gender income and opportunity gap in professional sports.
"Our sponsorships reflect our belief that sports and education are meaningful vehicles to impact the communities in which we work and play," said Dan Towriss, President and CEO of Group 1001. "We believe our spending should serve as an opportunity to lead, which is why we've chosen to align our sponsorship efforts with Billie Jean, Annika and Lyn – three pioneers of not just women's sports but all sports. To be able to highlight these events alongside Parity's mission to support women athletes will make for an impactful week."
"Parity Week by Gainbridge is a great opportunity to celebrate women's sports and the athletes that are following in the footsteps of these legends," said Parity CEO Leela Srinivasan. "The week is a tribute to their enduring legacies and another opportunity to champion gender equality and opportunity in sports. Parity exists to generate income opportunities for pro women athletes from all sports through powerful brand partnerships, and our mission perfectly aligns with how Gainbridge is investing in these major events and leading the way in the women's sports sponsorship space."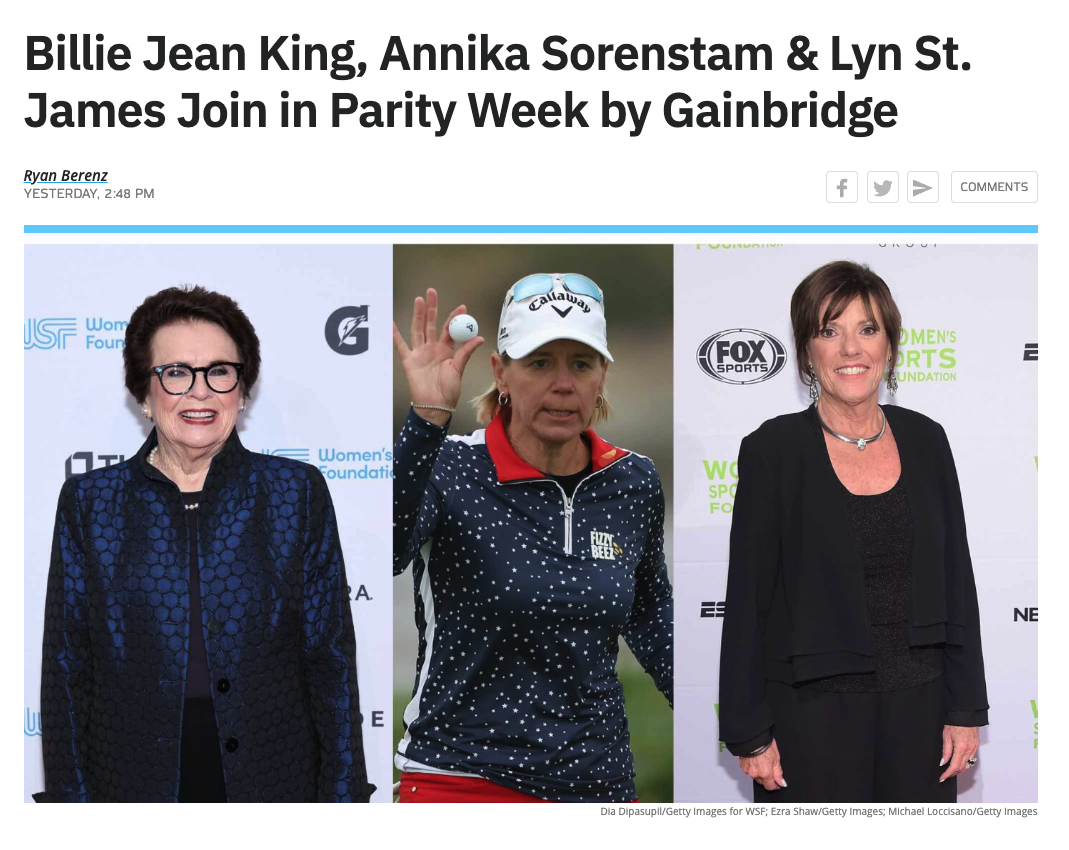 In addition to the sporting contests, each event will feature panels with these icons alongside successful executives making an impact in both sports and business. As a part of The ANNIKA driven by Gainbridge at Pelican and Women with Drive III – Driven by Mobil 1 summit, Gainbridge® will sponsor a livestream of all panels, expanding the reach of these thought leaders.
"In order to make the most widespread, meaningful impact, we wanted to have these events reach beyond those fortunate enough to be in the room. By making the livestream free to people around the world to attend virtually, we hope to expand awareness of Parity's efforts in this space and encourage others to join Gainbridge in the journey," Towriss said.
Srinivasan will be speaking on the panel that includes top women executives at the Women's Leadership Summit on November 7 during The ANNIKA driven by Gainbridge at Pelican, while Liz Dorrance, AVP of Digital Marketing & Strategy at Group 1001, will be a panelist speaking on "The Secret Sauce" of sponsorships in motorsports at the Women with Drive III – Driven by Mobil 1 summit on November 8.
To commemorate the start of Parity Week, NASCAR Cup driver Ty Dillon will pilot the #77 Gainbridge Chevrolet in a special paint scheme highlighting the three events at the season-ending NASCAR Championship Weekend race on Sunday, November 5.
Back at Group 1001 headquarters in Zionsville, Indiana, there will be several events connected to Parity Week which employees will have the opportunity to participate in. The company has organized a Habitat for Humanity Women Build for employees on November 7, 8 and 11. Plus, the NBA's Indiana Pacers are hosting Parity Night on November 9th at Gainbridge Fieldhouse. Finally, employees will gather for a watch party on November 7 in our corporate café for the livestream of the Women's Leadership Summit at The ANNIKA driven by Gainbridge at Pelican.
"It's important to connect our sponsorship initiatives to our corporate culture of giving back through sports and education," said Towriss. "Our employees are the backbone of the company and involving them in initiatives like Parity Week helps to build culture while making the week more meaningful and impactful."
For more information about Parity Week and a full schedule of events, visit paritynow.co/parityweek.
---
About Gainbridge®
Founded in 2018, Gainbridge® is an insurtech subsidiary of Group 1001 that empowers consumers to take control of their financial future with solutions that are accessible to everyone no matter their budget or financial knowledge. Its platform provides access to financial products that are simple, intuitive, and backed by smart technology with no complexity or hidden fees. Gainbridge® is headquartered in Zionsville, Indianapolis. For more information, visit www.gainbridge.io or follow and connect with us on X (formerly Twitter) and LinkedIn.
About Group 1001
Group 1001 Insurance Holdings, LLC ("Group 1001") is a technology-driven financial services company with a mission to empower customers, employees, and communities by making innovative products accessible to everyone. Group 1001 strives to demystify how insurance and annuity products are purchased today by leveraging technology to provide intuitive financial solutions for all Americans. As part of its mission, Group 1001 invests in strategic partnerships to connect with and transform communities through education and sports. As of June 30, 2023, Group 1001 had combined assets under management of approximately $60.9 billion and comprises the following brands: Delaware Life, Gainbridge®, Clear Spring Health, Clear Spring Property and Casualty Group, and Clear Spring Life.
About Parity
Minority-founded in 2020, Parity's mission is to close the gender income and opportunity gap in professional sports. By developing high-impact collaborations between brands, professional women athletes and their fans, Parity has proudly put more than $2 million in the pockets of women athletes, attracting dozens of brands to the movement in the process. The platform offers connections to more than 850 women athletes from 70+ sports, including well over 200 Olympians and Paralympians. For more information on how to tap into the rapidly rising influence and popularity of women athletes, visit https://paritynow.co or follow us on Instagram, LinkedIn, Facebook, X (formerly Twitter) and Threads.
---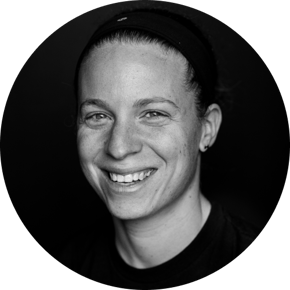 Alana Casner
Alana Casner works at Parity as Vice President of Content & Strategy. Her background includes 15 years of content creation and digital partnership experience. Prior to joining Parity in 2021, she served as Director of Creative Strategy at The Players' Tribune, a role in which she focused on cornerstone activism initiatives like women in sport, LGBTQIA+, mental health and more. As a multi-sport collegiate athlete while at Pomona College, she competed as starting point guard and also in Track and Field.