Credit: Jim Ramos
Parity's newest series breaks down all that collegiate student-athletes need to know about name, image, and likeness (NIL) including personal branding, approaching brands, monetization, and financial literacy!
Keep reading to see exactly what you'll be learning in this video series, led by U.S. Olympians Kara Winger, Lauryn Williams, and Lauren Gibbs, as well as viral sensation and Oregon basketball star Sedona Prince and Euroleague champion Karlie Samuelson.
---
What is NIL in college sports?
So, what is name, image, and likeness?
In June of 2021, the NCAA passed a policy following the ruling of the NCAA vs. Alston case, allowing collegiate athletes "the opportunity to benefit from their name, image, and likeness." Basically, student-athletes were given the OK to be compensated for their likeness and athletic performances, obtain sponsorships, get paid for social media posts, and to sign endorsement deals or with agents. Prior to this, athletes were unable to receive any money for sales using their NIL.
With the policy passing fairly recently, there's a lot of information that you may not quite be sure how to navigate.
Thankfully, these videos in our newest video series lay the foundation for how you can make the most of the latest NIL Guidelines — learn how to maneuver new opportunities, build your network, and create lasting partnerships with brands that you want to work with!
---
Boosting your brand
In these next few clips, hear from Sedona Prince herself, who created a ripple of lasting change in the NCAA with just one viral Tik Tok. You can, too!
The more successful your content, the more likely you are to have a wider range of opportunities. Learn about how Sedona makes the most of the content she creates by navigating the nuances of NIL, like choosing your main social platforms and appropriately communicating with brands.
---
You've got a brand deal... now what?
Now, you know what you're working with. Perhaps you've even started brainstorming where you're setting up your phone to record your next few TikToks. Then what?
The next set of videos in this series have tips to help you maximize the quality of your content. TL;DR: Stay authentic!
---
How do athletes stay on top of their finances?
We've got tips to help you manage your money as simply as possible. These videos expand on how you can stay on top of all the activations you've secured (like the beast you are 🔥) and a not-so-secret three-step money management tip that you'll never forget.
---
What's next?
There's more! Check out our complete playlist of NIL 101 videos on YouTube. Now you're primed to make the most of your NIL opportunities and navigate this new venture with confidence.
If you're looking for more guidance, Parity works with collegiate and professional women athletes to provide career coaching, paid brand opportunities, and more. Oh, and it doesn't cost you anything.
---
We work with brands big and small to engage their target audiences, utilizing our 750+ athlete roster to develop impactful influencer campaigns.
If you're an interested brand, schedule a chat with our sales team today!
---
Follow us on Instagram, LinkedIn, Twitter, Facebook, and TikTok to stay up-to-date on Parity news.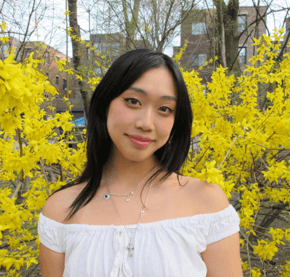 Emmy Ma
Emmy Ma works as a Content Intern at Parity. She has been involved with the company since 2021, not long after retiring from professional figure skating at age 20. During her athletic career, she represented both Taiwan and Team USA at international events. She graduated from Boston University in 2022 with a B.A. in Advertising and a minor in Psychology.