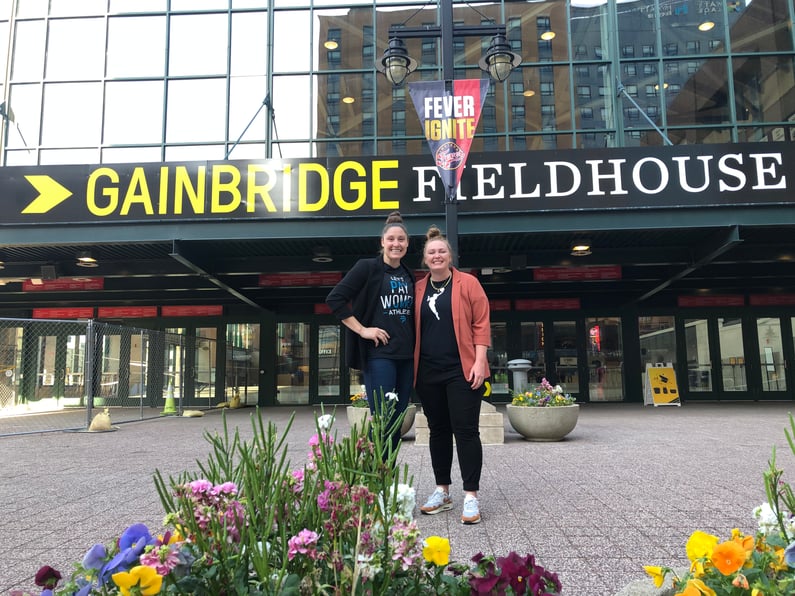 With a growing fanbase that craves more action, steady viewership growth, and skyrocketing in-person game attendance, women's sports are taking center stage. By sponsoring women athletes and telling their real stories, your brand can disrupt the status quo and create an authentic bond with the ever-expanding fanbase. Investing in women's sports now presents an affordable opportunity that will surely pay off as women's sports continue their upward trajectory.
In the dynamic world of sports, women's sports are emerging as an investment goldmine, and it's high time that brands take notice. The evidence is clear—fans are rallying behind women's sports, driving growing viewership and smashing attendance records. Beyond the numbers, women athletes are trailblazers, breaking barriers and conquering the world of sports. Yet, they face unique challenges, and there's a story to be told. Investing in women's sports not only makes financial sense but also aligns with the values of purpose-driven consumers. And there's no better time to jump on board, as women's sports present an affordable and promising opportunity for brands willing to make a difference.
Here's seven reasons why women's sports should be the top priority for your brand's investment strategy:
---
1. Fans are into it.
Fans want more women's sports. That's it. The Women's Sport Trust, the BBC, Front Office Sports, and a 2018 Nielson Sports report, among others, all state growing interest in women's sports, every year, for over a decade. Most recently, Parity conducted a fan survey of 850 followers of the Parity community who are classified as sports fans, and the results corroborated the story: These fans want more. Fan bases of women's sports are more diverse and younger than men's sports fans, and gender distribution among that fan base is more balanced than one might expect: Men want to see more women's sports just about as much as women do.
Steadily increasing interest is showing its mettle in tangibly growing viewership. While Nielson Sports reported in 2018 that 46% of the general population in the eight markets surveyed would watch more women's sports if they were available on free TV, that general interest has now turned specific, and, when necessary, viewers will put money behind their fandom: 59% of Parity fans watch women's sports on subscription services; 47% of viewers of women's sports research them ahead of time so they know where and when to tune in; and 22% of fans find games to watch via buzz from friends and social media. When you break it down by generation, 39% of Gen Z, 29% of Millenials, 23% of Gen X, and 19% of Baby Boomers, who consider themselves sports fans, are watching more women's sports than they were a year ago.
Generally, viewership numbers are increasing across the board, year over year, in multiple sports (Soccer, Basketball, Softball, Tennis, women's events specifically at the Olympics, and more), and at multiple points throughout sport seasons (not just during Championships). Sports fans believe that increased opportunities to watch events on streaming platforms will only bolster this trend. Multiple kinds of fans' appetites for watching women's sports, on all platforms, at all times, are only growing.
It should be easy to connect the dots, but I'll do it for you: More eyes are drawn to women's sports all the time. Investing in this industry means you have access to growing, diverse, passionate markets. Get in here.
2. Fans will come.
In-person game attendance records have been shattered in the women's sports universe repeatedly in the last year. The 2018 Nielson Sports report stated that 45% of the general population surveyed in eight markets would consider attending a live women's sporting event. The 2022 UEFA Barcelona-Real Madrid Champions League quarterfinal was the most-attended ever with 91,000+ spectators. Twenty three days later, FC Barcelona set another world attendance record at just a few more fans in the seats, and sold out in 24 hours for the semifinal. During that semifinal, Relo Metrics solidified their findings that value for in-stadium sponsorships in the global women's soccer space has increased 200% year over year. The first 32 NCAA Basketball games of the 2023 season (aka non-Championship season) set attendance records for the women at 217,000 total spectators. Then the Women's World Cup began, and New Zealand's all-time soccer game attendance record was demolished (42,137 people showed up to the first game).
We all understood cabin fever better than we ever have during the 2020 global pandemic and its aftermath. Interest in sports continued due to extensive safety measures taken to allow seasons to continue (the Wubble made history in many ways, the Tokyo Olympic and Paralympic Games' daily COVID testing procedures were wild, and Athletes Unlimited launched anyway amid all that uncertainty).
And now, fans are flocking to games, eager to be involved, share the experience with humans in ways they haven't been able to in years, and be part of still-growing franchises and leagues in their infancy.
Make your brand's presence known in these arenas, and reap the benefits with thousands of eager spectators' feet on the ground.
3. You can tell the real stories.
Women athletes face systemic challenges that men simply don't. Women have done equal work, training, and competing. Women win more medals for Team USA. Women can run ultramarathons, arguably, better than men. Women have the most alpine World Cup skiing victories. They're powerful, marketable, relatable, etc. And yet.
According to a 2021 study by USC and Purdue University, women's sports continue to be presented as more boring than men's on mainstream media, due to language used and lack of visual highlights. The study hypothesized that women's sports coverage would increase with accessibility tools like streaming and social media avenues, but that simply wasn't true according to coverage analyzed. Marketing budgets in the WNBA are a fraction of the proportion that they are for NBA teams: Less marketing means smaller fan bases, and revenues suffer.
On top of that, the way that WNBA athletes have been marketed by their teams and the league over time has been widely criticized: Some of them are Oppenheimers, not Barbies, and that needs to be celebrated.
Women continue to face and choose to fight - thankfully successfully – sexist uniform policies, even at the Olympic level. Conversations about natural testosterone levels in women and the discouragement of participation of women by certain countries for religious reasons distract from the simple reasons the world loves sport: Fun, competition, victory and defeat, badassery.
You, a brand, have the power to tell real athlete stories and disrupt the status quo. Established systems in women's sport aren't quite doing it, so step in. Get to the root of the issue, expose the truth: Women athletes are amazing. Direct a docuseries on the astounding challenge of chronic illness, invisible disability, and elite triathlon racing as a woman seeks her third straight Paralympic gold. Sponsor an ice swimmer as an environmental organization and use an individual with intimate knowledge of how the seascape has changed over time to hammer this important point home to the world. Chronicle an American Record-holding heavyweight transitioning from Track and Field to the weightlifting gym in search of an Olympic debut. Tell the story, through your brand's lens, of a basketball player who simply won't give up: She loves the game, her teammates, the family aspect of what she does, and she might never be the superstar you thought you wanted, but she's here to stay.
No matter your niche, or if you're mainstream, you have the power to tell the stories that aren't yet being told, to a rabid, rapidly-growing consumer base that is desperate to hear them.
4. It's affordable — for now.
At this point — although you should hurry, because it won't be for long — women's sports are affordable. It took decades for men's sports to reach the massive level that they're at, and experts agree that women's sports will quickly catch up, but with growing systems on the women's side come flexible ways to be involved, and at a much lower price point than the established men's leagues, coverage rights webs, and complex sponsorship structures. Investing in women's sports now is like buying a house in the U.S. in 2012: It is absolutely going to pay off.
A lower financial barrier to entry means many brands that might be outbid on the men's side have the opportunity to invest in women's sports (again, for now). This potential diversity in sponsor/brand/entity doing the investing speaks directly to the fan base of women's sports: Younger, more diverse, and more technology-savvy than men's sports fans. With more kinds of investors comes more opportunity for creativity in that investment, and the multi-faceted nature of the fan base responds to the sort of marketing ingenuity that results.
The women athletes themselves drive creativity in marketing, too: There are simply more stories to tell, because women have always had to be more than athletes in order to be athletes. They're incredible, whole, super interesting humans AND phenomenal sports talents, and can be matched genuinely and powerfully with the plethora of brands out there who can invest right now in their journeys and reach their equally interesting and passionate fans.
TLDR: You can afford to sponsor women athletes, and be creative in the process to reach their fans in a super authentic way.
5. It's the right thing to do.
Customers notice, care, and act accordingly (they spend their dollars) when they see companies prioritizing women. Stakeholders, according to Roberta Bowman in a 2023 piece in SBJ titled "Reframing the Business Case for Women's Professional Sports", are paying attention to whether a company's words and actions are aligned. Consumers who care about women athletes put their money where their mouths are: In the coffers of brands who invest in women's sports.
Bowman also mentions in the article linked above that when companies committed to diversity and inclusion actually invest in women's sports, that's a visible, tangible representation of their commitment to women and girls.
CNBC states that purpose-driven consumers now make up the largest portion of the buying public (44%). Many customers will pay higher prices when they know a company is aligned with their socio-political issues (a.list daily, 2022). With an endless supply of brands to choose from in 2023, differentiating yours by aligning your values with the investments you make is not only the "right" thing, it's the lucrative thing.
Do the right thing, and get rewarded with loyal passion-driven customers who also care about that thing and want your product as a result of your values-driven action.
6. Medical and technological research are rife with opportunity to include women.
We are all too familiar with the phrase, "Shrink it and pink it." Women are no longer standing for it, and you, a brand, can be part of the revolution.
Shoe companies now exist solely for women. Apparel companies are focusing just on women and girls. There is more research – and more, much-needed public conversation – all the time about the effects of menstrual cycles on athletic development, training, and injuries in women athletes and girls. In this burgeoning women-first research environment, sports technology is a promising way forward for women in sport.
Historically, medical and sports science research has largely focused on men. Finally, that's changing. And your brand can be part of it.
Biometrics data is cool. I have an Oura ring, and since I'm not an athlete anymore, I love setting sleep goals and hitting my Calorie expenditure mark on my second dog walk of the day. My Mom and I are in our own Circle. I absolutely want to know how I measure up against my former teammates, now that I'm firmly in the fan base! What if you, a technology company, could collect, analyze, and disseminate that information in a motivating way for the masses? Tell me how I measure up to women in my favorite sport! How about you, melatonin company, sponsor a study across the 875 women of Parity in conjunction with a wearable that shows how much better sleep gets with the intentional use of your product? I bet incredible performances follow, too.
No matter what industry you belong to, it has probably been shaped by research on men. Get in on the action and champion women as the focus of your research and development. Powerful women consumers will flock to your product that relates exactly to their experience.
7. You'll be amazed.
If you, a brand, have never delved into the women's sports space, get excited.
Women are freaking good at stuff.
In the Tokyo Olympic Games, 58.4% of Team USA medals were won by women. Tokyo was the fourth straight Summer Games in which Team USA women earned more medals than Team USA men. Jessica Long owns 29 Paralympic Swimming medals, 16 of them gold. The U.S. Women's National Team is currently playing in the FIFA World Cup, attempting a third straight title (would be fifth overall). The U.S. Men's National Team has never won, and in fact hasn't gotten past a quarterfinal match in 90 years. Sabrina Ionescu just broke the 3-point shooting contest record during WNBA All-Star weekend, shattering Steph Curry's NBA record 31 points with her 37. Some Parity athletes are FIBA World Cup 3x3 Champions. Adeline Gray is slated to become USA Wrestling's record-holder for most World Titles as she seeks her seventh global gold this fall, having qualified for the team at 10-months postpartum: Her twins were born July of 2022. Women athletes are equality advocates, inclusion champions, and so much more, all while dominating on the field of play.
---
Fans are watching and attending events in droves. Incredible women athletes in every sport have been writing their own stories for decades, and you can tell the real ones, affordably (for now), while affirming your company's values. Consumers will notice. Everyone will win. Savvy, passionate, devoted fans have found the hidden streams to watch the athletes they love for years, and are now flocking to increased media coverage. Athletes, leagues, and fans have started the smoke. You, a brand, get to bring the fire with your investment. Call Parity today to light the match.
Learn more about what we do here or request a consultation with our team of women's sports activation experts here.
---
Follow Parity on

Instagram, LinkedIn, Twitter, Facebook, and TikTok

to stay up-to-date on news surrounding elite women athletes and sports marketing.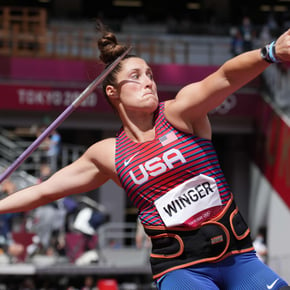 Kara Winger
Kara Winger is a four-time Olympian in the javelin, as well as a World Championships medalist and the current American record holder. She completed her final season as a professional athlete ranked #1 in the world (2022). She works at Parity as Senior Director, Integrated Marketing.