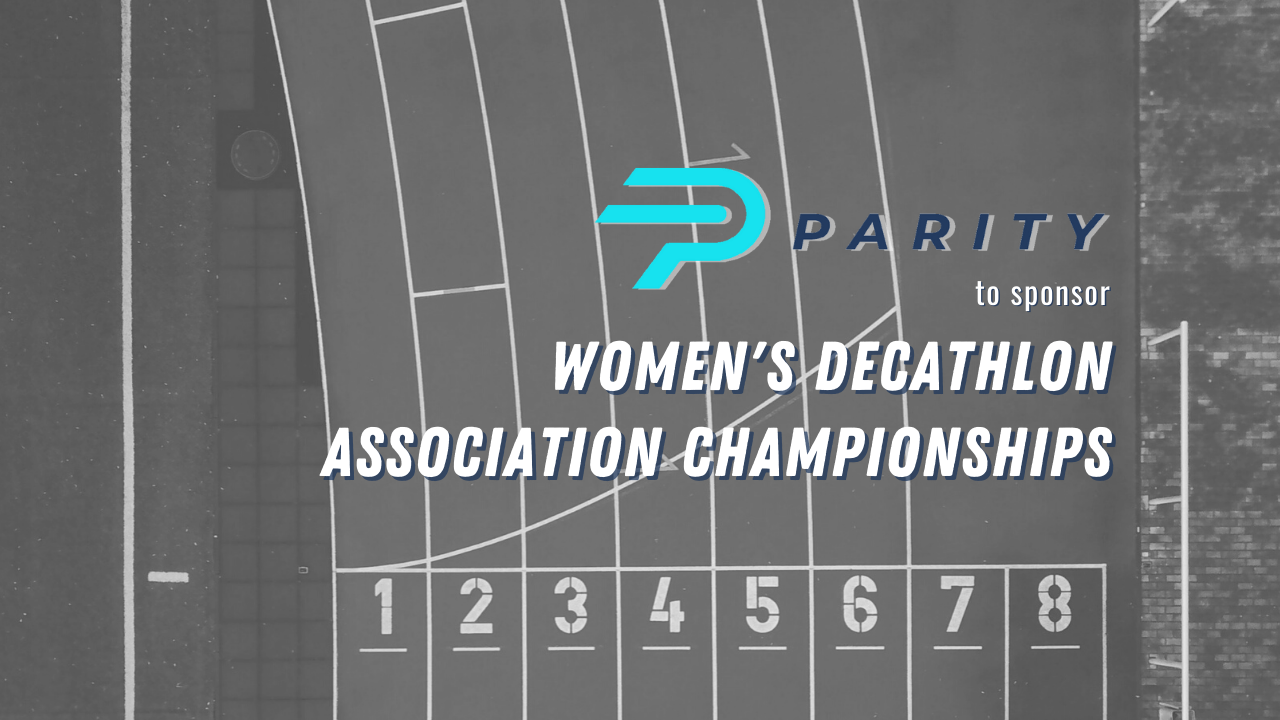 NEW YORK (August 12, 2021) – Parity has signed on as presenting sponsor of the Women's Decathlon Association Championships, to be held August 21-22 at College of San Mateo, San Mateo, California.
First contested in 2019, and then postponed in 2020 due to the pandemic, this will be the second year for the Women's Decathlon Association Championships Presented by Parity stand-alone event.
The decathlon and heptathlon are the only track & field events contested at the Olympics where men and women do not compete in the same events and/or distances. Men compete in a 10-event decathlon (100m, long jump, shot put, high jump, 400m, 110m hurdles, discus, pole vault, javelin, 1,500m), while women compete in a 7-event heptathlon (100m hurdles, high jump, shot put, 200m, long jump, javelin, 800m).
"There is no reason for women not to compete in the decathlon, but they have very few opportunities to do so," Women's Decathlon Association co-founder Dimitry Yakousshkin said. "Thanks to Parity's support, we are able to offer prize money, a stellar facility and meet management, and top-flight competition to athletes who are striving for equality. The world's greatest athlete, a title reserved for the winner of the decathlon, deserves to be a woman."
"Parity is proud to support an event that provides equal opportunity for women," said Alana Casner, Vice President, Athlete Content and Strategy at Parity. "It defies logic that women are still not given the same competitive opportunities as men in the 21st century. We hope that our sponsorship is just a start for the continued growth of the event."
The inaugural Women's Decathlon Association Championship in 2019 was won by former ASUN conference javelin champion and NCAA all-American in the heptathlon, Jordan Gray. Her winning total of 7,921 points broke the American record in the women's decathlon, which had stood for 19 years, and is the third-best performance all-time in the world.
For information on the Women's Decathlon Association Championships Presented by Parity, including entry information, visit https://womensdecathlonassociation.com/
About Parity - Established by and for women's sports advocates, Parity is revolutionizing the financial model for women athletes by providing a direct revenue stream from brands to athletes who authentically reach highly engaged consumers. An online and digital community, Parity unites data analytics and cultural relevance to match professional women athletes with sponsorship and revenue opportunities, primarily via social and digital media. With a current roster of 600 athletes from more than 40 sports, and more than 20 corporate partners, Parity pairs athletes with brands and causes whose values align. To learn more about Parity, visit www.paritynow.co
About the Women's Decathlon Association - The Women's Decathlon Association was founded in 2019 by Becca Peter and Dimitry Yakoushkin to promote the Women's Decathlon, provide competitive opportunities for athletes wishing to compete in the event, and to work with governing bodies to add the decathlon to major competitions. To learn more, visit visit https://womensdecathlonassociation.com