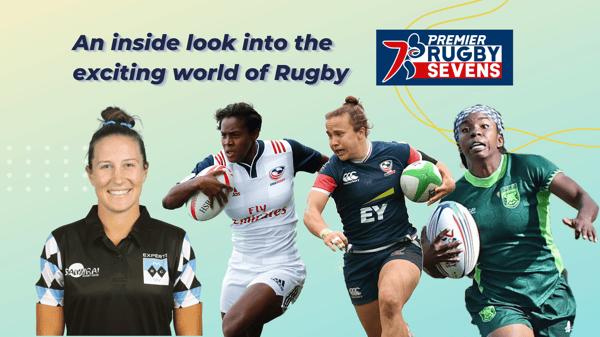 The first ever Premier Rugby Sevens League had its inaugural Championship this month. We asked some members of the Parity community about participating in the league kickoff and how they got into the sport!
Here are some of their answers:
Where are you from and how long have you been playing rugby?
Jaz Gray: Raleigh, North Carolina. I've been playing 7's rugby for 2.5 years.
Lauren Doyle: Boody, Illinois. 12 years.
Naya Tapper: Charlotte, North Carolina. I have been playing rugby for 9 years.
Kristi Kirshe: I am originally from Franklin, MA and now live and train full-time in San Diego, CA. I picked up rugby in 2018 after I graduated college, so about 3.5 years.
Abby Gustaitis: Baltimore, Maryland. 11 years.
How did you get started playing rugby?
Jaz: After college I worked as a personal trainer. One day a client asked me to come out to her club rugby team practice. Reluctantly I went and, boom, I loved it.
Lauren: I got recruited to play at Eastern Illinois University.
Naya: I heard about rugby in high school, but I was running track so I didn't have the opportunity to do it then. I came across tryouts for the club rugby team at UNC-Chapel Hill and signed up. I tried out and made the team!
Kristi: I got into rugby as a suggestion from a high school friend. I had graduated from Williams College, where I was an All-American soccer player, and when I was in the working world, I missed competition so much. My friend suggested I give rugby a shot, and after about 9 months of convincing, I caved and went to my first rugby practice in Feb 2018 and it just absolutely clicked for me. 11 months later, I made my debut for the National team at Sydney Sevens 2019.
Abby: I started playing club rugby at the University of Maryland during my freshman year of college. I have been playing ever since including club women's rugby and eventually the National team and Olympic team!
What is your favorite part about playing the sport?
Jaz: Competition. I am very, very competitive.
Lauren: Getting to physically compete everyday against the best. Winning.
Naya: My favorite part about playing the sport is being able to be aggressive and powerful with no judgment. The confidence the sport gives me and the stress I'm able to release from playing is incredible. The sport makes me feel good!
Kristi: Rugby is the most demanding sport I've ever played but my favorite part is the trust and reliance on your teammates that is necessary to succeed. Whether you're getting tackled or your teammate is, you have to rely on your teammates to be there to support you. It creates a teammate bond unlike anything else.
Abby: I love the kickoffs! They are essentially onside kicks in American football. You go and chase the kickoff in order to keep possession for your team. Another comparison would be a jump ball in basketball aka a 1-v-1 opportunity in the air. I love how physical the game is but there's a lot of finesse as well.
What is your favorite thing about rugby that people aren't aware of by just watching?
Jaz: It's all inclusive. Everyone can play. You don't have to look a certain way or fit a certain mold to play rugby.
Lauren: The community between teams. We really do hang out and know each other outside of the pitch.
Naya: My favorite thing about rugby is the culture. The people in rugby are so accepting, non-judgmental, open-minded, and just great people over all. We respect each other regardless of race, gender, or how we grew up. It's a circle of love.
Kristi: Rugby has the most amazing culture. It can be deemed violent on the field but there is nothing but the utmost respect for your opponents off the field. The community and social aspect of rugby, and the connection with other teams, is part of the game from the club to international levels.
Abby: The camaraderie of the team. Rugby is such a welcoming community that embraces every single person regardless. There is truly a place for each person on a rugby team. Body positivity is encouraged as well as teamwork, discipline and respect for yourself, your teammates and your opponents.
Describe the feeling of being on the rugby pitch.
Jaz: Have you ever been jump started by jumper cables? Well, me either but I would imagine it's something like that. Your body gets full of energy and suddenly you can feel nothing. Your body just goes and moves and does things without you putting any thought into it.
Lauren: Excitement, joy, nervous, anxious, proud.
Naya: Being on a rugby pitch is like being on an island or your own little world with the best rugby players in the world. I am not aware of the fans very often because I'm so in tune with the game and playing on the pitch. It feels empowering being praised when you do see the crowd and people supporting you.
Kristi: Being on the rugby pitch is exhilarating. So much is happening so fast that you need to constantly be making decisions and reacting to things around you. It is also the most confident and powerful that I ever feel because of the nature and the power of the sport.
Abby: Indescribable honestly. There's so much adrenaline pumping through your body, yet you are so utterly exhausted at the same time. It's 14 minutes of all out sprinting and tackling. It's like soccer combined with jiu jitsu, all while trying to solve a puzzle.
How was your experience in participating in the first ever Premier Rugby Sevens League in the U.S.?
Jaz: I didn't know what to expect going in, but ended up having a blast. The fans were great and playing was extremely fun as well.
Lauren: Really cool. It was my first time ever assistant coaching. So it was interesting seeing how that side of it works and what goes into it. I have a whole new appreciation for coaches!
Naya: It was amazing! I was a part of history and not many people can say that. I felt appreciated and valued as a player there and I also felt like an inspiration.
Kristi: It was such an honor. Rugby is an amazing game and as professional players, we just want to be part of growing the game and helping other people fall in love with it the way we have. Rugby has changed my life in so many ways that having the opportunity to help promote it was a special experience that I hold very dear. Also, it was amazing to be part of promoting a league that is promoting equality between the men and women's players.
Abby: Unfortunately, I did not get to play but I still went and enjoyed being on the sideline. I look forward to playing next year as PR7s continues to grow. I love that it is all based on equality, which is so important in sport and something we are constantly battling as female athletes.
What do you hope to see in the future for professional rugby in the U.S.?
Jaz: I hope that it can be more than just one weekend out of the year. I think this can progress and become just as big as the NFL.
Lauren: I hope that the game grows and the fan base grows. And becomes as popular as the NFL.
Naya: I hope to see more opportunities for people in the U.S. to try or play rugby at a level that values and appreciates them compensation-wise and as a human in general. The more opportunities we have for people to play, the bigger the sport will get in the U.S., which is the goal!
Kristi: I want rugby to grow. I think that there is an incredible market and opportunity for rugby to capture the hearts of Americans, if we can just keep exposing people to it. I want rugby to be available to people of all ages.
Abby: I want to see more eyes on the sport! So many people fall in love with rugby when they see it but it is simply not televised or marketed enough. I want to see more young girls picking up a rugby ball and joining local clubs.
What is one piece of advice you would give someone who is thinking about trying rugby?
Jaz: Don't wait, start today. You won't be sorry.
Lauren: Do it. It's a fun sport that has a place for every type of person.
Naya: Try it! And also have an open mind. It will be a new experience that will require the uptake of many new skills. Be patient with yourself and work hard and rugby will show to be the greatest sport you've ever come across.
Kristi: Take a chance and you will be welcomed with open arms. In rugby there is truly a place for anyone who wants to play and learn. And my other advice is always to dream big and work your ass off and you'll make incredible things happen.
Abby: Yes, you can! Many people are hesitant to try rugby due to the physicality but I am confident each and every person who enjoys sport could thrive in rugby. You will be scared at times but I encourage you to try it anyway!
Thank you for your time and great insights!
Jaz Gray (@j.grayfitness)
Lauren Doyle (@lauren.doyle23)
Naya Tapper (@nayatapper)
Kristi Kirshe (@klkirshe)
Abby Gustaitis (@atown1022)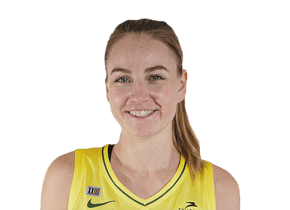 Karlie Samuelson
Karlie Samuelson is a current professional basketball player who has competed in the WNBA, FIBA, and WNBL. She is also a two-time Liga Feminina de Baloncesto champion and has represented Great Britain at international competitions. She works at Parity as Athlete Engagement Manager to recruit and support the Parity athlete community.