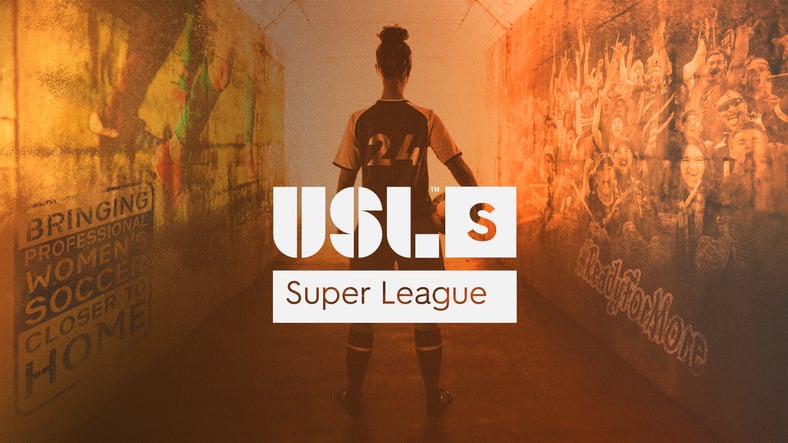 In May, the United Soccer League (USL) announced their plans to launch a first division women's soccer league – titled the USL Super League – in the U.S., with the inaugural season set to begin in August 2024. They plan to start with 10-12 teams, including markets like Charlotte, N.C., Phoenix, Ariz., and Lexington, Ky. Many women's soccer fans responded to this announcement with surprise and confusion. Although the NWSL is expanding at a breakneck pace, it would surely benefit from the pool of resources that is feeding the USL Super League. Why would these investors, owners, and sponsors so eager to grow women's soccer in the U.S. choose to instead birth an entirely new product? Though it may seem otherwise, the emergence of the USL Super League could actually help the NWSL, and women's professional soccer as a whole.
As we all know, there is a long history of underinvestment in women's sports. However, there's another, more unexpected dimension to this issue – lack of opportunity to invest. Many brands seeking to buy ad placement at women's sporting events struggle to find the available space.
Earlier this year, Kate Johnson, Director of Global Sports, Media, and Entertainment Marketing for Google, told Forbes of Google's aspirations to invest more heavily in women's sports, saying that "even if we did want to up level our spend, there's actually not enough inventory for us to spend in." If the ultimate goal is to increase the flow of money in the women's sports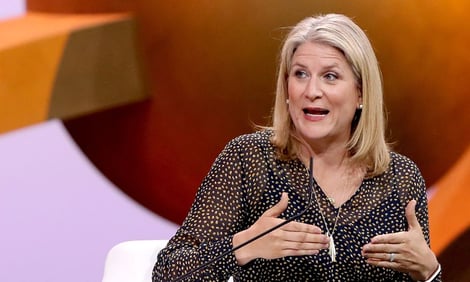 ecosystem, the existence of the USL Super League will facilitate exactly that. It opens up more opportunities for televised game coverage, more ad spaces, and more chances for companies to invest in women's sports in a big way. The USL Super League season will not overlap with the NWSL season — running from fall to spring, while the NWSL plays through the summer — so they will not be competing as directly for airtime and media coverage.
The NWSL has 12 active teams, with plans to expand to 14 teams in 2024 and a fifteenth team expected further in the future. Compare this number with the sizes of the "Big Four" professional leagues (NBA, NFL, NHL, MLB), which have 30-32 teams each. A professional league half the size of these is unable to tap into over a dozen major and mid-major sports markets across the country. Out of the ten largest sports market cities in the U.S., only five of them have an NWSL team for the 2023 season (New York, Los Angeles, Chicago, Houston, and Washington D.C.). While it is undeniably difficult to gain traction in cities that are already saturated with professional sport, this arrangement is clearly leaving money on the table – money that could be going towards women's soccer. The USL seems to recognize this, with three of their announced host cities in top-10 markets (Dallas-Ft. Worth, Washington D.C., and the Bay Area; they will also field a team in Phoenix, which is #11).
Though a handful of their cities overlap with NWSL cities, many of them will cater to markets unfamiliar with professional women's soccer, which presents massive opportunity for the sport's exposure and growth across the country.
The discussed benefits so far largely serve investors and fans – but how do the players benefit from a new league? The maximum number of players allowed in the NWSL according to current roster rules is 312 – which sounds like a lot until you realize there are over 10,000 D1 women's soccer players, with nearly 20,000 more in D2 and D3. There are also players who go pro out of high school, players coming from overseas, and veterans that fill most existing roster spots already. What it boils down to is this: a lot of talent is slipping through the cracks. The USL Super League is effectively doubling the number of professional roster spots available in the U.S., opening pathways for more people to pursue the sport at the highest level.
Super League President Amanda Vandervort told The Athletic in May that they intend to be "competitive" within the U.S. and the global marketplace with regards to "the details of player compensation [and] player standards." This is a benefit for the players in the Super League, but also potentially for those in the NWSL. If the Super League elevates the standards for professional women's soccer in the U.S., pressure then falls on the NWSL to follow suit in order to hold onto their reputation and their talent. The Super League will present the NWSL with its first true domestic competitor, and the added pressure of an alternative league for players and fans could catalyze more aggressive growth intiatives from the NWSL internally.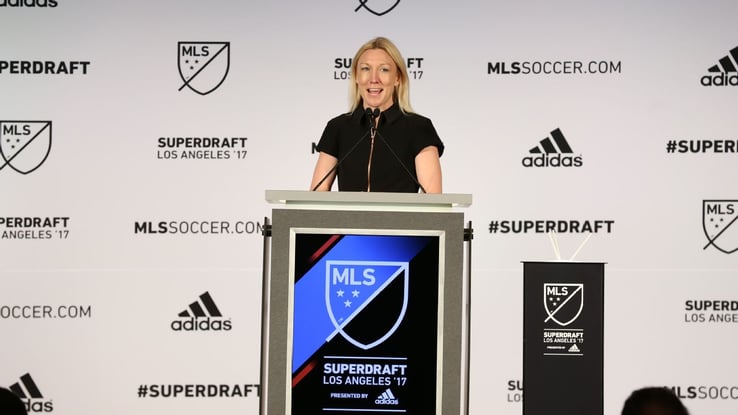 Image: Amanda Vandervort; Andy Mead/YCJ/Icon Sportswire via Getty Images
Although history does not repeat itself, it does rhyme, and exploring the histories of competing U.S. leagues can help crystallize the potential relationship between the Super League and NWSL. In 1960, the AFL was formed as a direct competitor with the NFL and did unexpectedly well due to its wealthy owners, presence in non-NFL markets, and competitive salary offerings. This clash eventually led to bidding wars for players and media rights, and ended six years later in a league merger that formed much of the modern NFL. Could the NWSL and the Super League merge in the future? There are already two NWSL teams with USL men's affiliates, and a merged league would be the largest professional women's league in the country.
Of course, this is largely speculation, and much of the Super League's fate will remain unknown until they kick off next August. But who knows: the Super League could be exactly what the sport needs.
---
About Parity
Minority-founded in 2020, Parity's mission is to close the gender income and opportunity gap in professional sports. By developing high-impact collaborations between brands, professional women athletes and their fans, Parity has proudly put more than $2 million in the pockets of women athletes, attracting dozens of brands to the movement in the process. The platform offers connections to more than 850 women athletes from 70+ sports, including well over 200 Olympians and Paralympians. For more information on how to tap into the rapidly rising influence and popularity of women athletes, visit https://paritynow.co or follow us on Instagram, LinkedIn, Facebook, X (formerly Twitter) and Threads.
---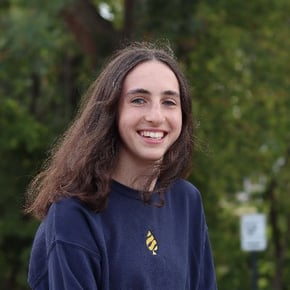 Charlotte Ebel
Charlotte Ebel is a freelance writer for Parity. She is currently an undergraduate student majoring in Public Relations and a member of the Rowing team at Syracuse University.