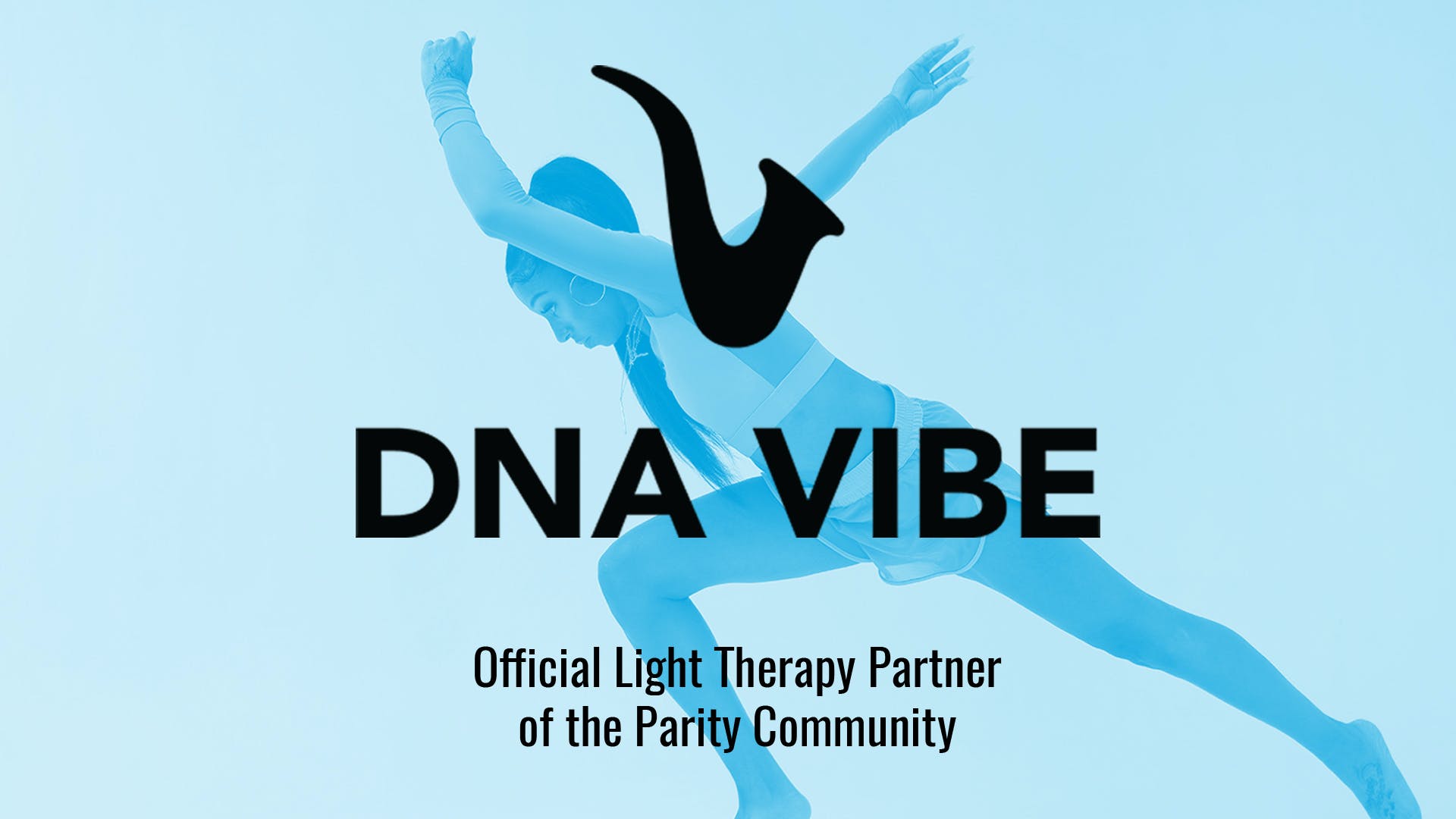 NEW YORK (August 3, 2021) – DNA Vibe, pioneer of Intelligent Light Therapy that helps enhance recovery, combat pain, and boost performance, has joined the Parity family as the Official Light Therapy Partner, Parity announced Tuesday.
DNA Vibe joins a growing family of more than 20 companies and brands partnering with Parity, including Microsoft, Gainbridge, Morgan Stanley, Strava, Thule, Literati and more.
"We are all excited to partner with DNA Vibe," said Lauren Gibbs, a director at Parity and Winter Olympic silver medalist. "They are a remarkable company with a mission to help athletes at every level reach their highest potential. Our athletes have been using DNA Vibe's technology throughout the summer and are excited to share their experience with this incredible recovery technology."
As part of the partnership, select Parity athletes are using DNA Vibe's flagship product, the "Jazz Band," to enhance their training, recovery, and overall quality of life while sharing their experiences on Instagram. The Jazz Band has already become an integral part of their training.
"DNA Vibe, Parity, and the amazing athletes we are privileged to work with could not be more aligned," said Sam Shaheen, DNA Vibe's Head of Marketing. "We share a passion for making the world a better place one better life at a time, while creating opportunities for everyone to do more of what they love at a higher level. Parity athletes are incredibly inspiring and relatable, and we are honored and excited to help them make the most of their athletic journeys."
About Parity
Established by and for women's sports advocates, Parity is revolutionizing the financial model for women athletes by providing a direct revenue stream from brands to athletes who authentically reach highly engaged consumers. Parity unites data analytics and cultural relevance to match professional women athletes with sponsorship and revenue opportunities, primarily via digital media platforms. With a current roster of nearly 600 athletes from more than 35 sports, and more than 20 corporate partners, Parity pairs athletes with brands and causes whose values align. To learn more about Parity, visit www.paritynow.co
About DNA Vibe:
DNA Vibe is a pioneer in intelligent wearable technologies that combat pain, improve performance and accelerate recovery without drugs or invasive procedures. Their proprietary Intelligent Light Therapy technology sits at the intersection of human genomics and wave-particle physics, and harmonize with the body's natural processes to promote health and wellness. DNA Vibe's mission is to help make the world a better place, one better life at a time. From young athletes (or those young at heart) who want to maximize and sustain performance and/or accelerate recovery; to weekend warriors who just want to get back on their feet; or grandparents who simply want to remain active with their grandkids, DNA Vibe is passionate about helping more people do more of what they love at a higher level for a longer time. A US-based Veteran-owned business, DNA Vibe's technologies are Made in the USA at its Colorado Advanced Manufacturing Center (aka "Vibe Labs"). To learn more about DNA Vibe, visit https://dnavibe.com/